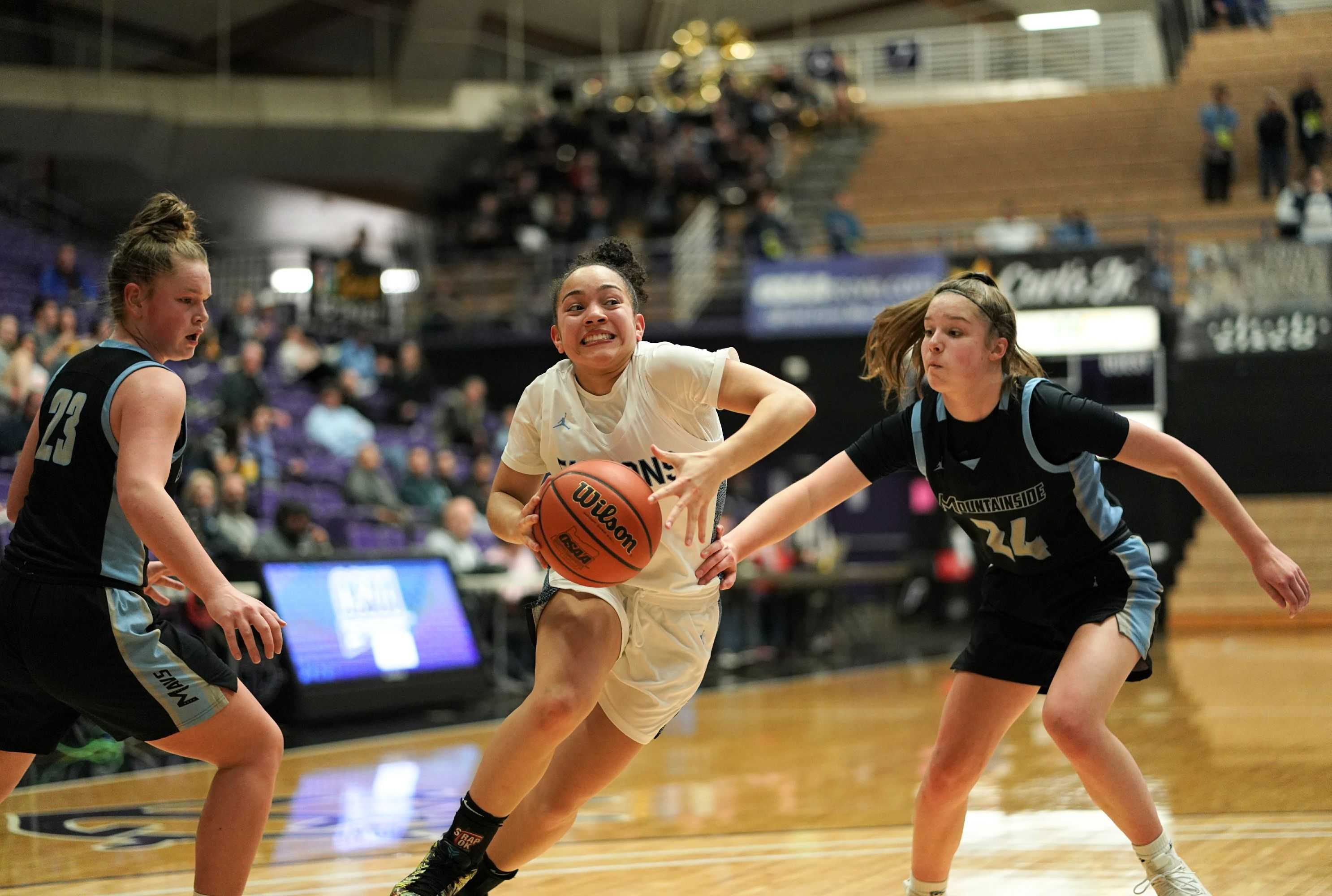 PORTLAND -- For a team making its first appearance in the state tournament, Liberty sure looked comfortable Wednesday at the Chiles Center.
Undaunted by the environment and facing one of the nation's top seniors in Stanford-bound Cameron Brink, the fourth-seeded Falcons found a groove from behind the arc and throttled the No. 12 Mavericks 62-44 in the quarterfinals of the OSAA/OnPoint Community Credit Union 6A girls basketball tournament.
Liberty (24-3) made 14 of 26 shots from three-point range, getting five triples from junior guard Taylin Smith and four each from senior guards Bella Hamel and Alexa Smith. The Falcons advance to Friday's semifinals, where they will meet No. 1 Beaverton.
"It's a tough place to score the ball from the perimeter," Liberty coach Melanie Wagoner said. "But that first one went in, and you just feel so good about it. Then the second one goes."
The Falcons said that it helped that they played a game at the Chiles Center on Jan. 20, beating Rainier Beach of Seattle in the MLK Classic.
"Being able to know that we've played here before, and we've won here before, it was a little bit of a confidence booster," said Taylin Smith, who scored a team-high 21 points.
The Falcons also are determined to prove their doubters wrong. Despite entering with the No. 4 seed, they were heavy underdogs against the Mavericks, according to newspaper predictions.
"Thirteen out of 15 people predicted us to lose," Taylin Smith said. "We still believe that no one respects us, and we definitely have that chip on our shoulder every game, every practice, trying to prove people wrong."
Liberty knows it will continue to be underdogs in the semifinals against Beaverton, which has not lost to an Oregon team this season.
"Liberty's not done yet," Hamel said. "We're going all the way. We have the confidence. Unlike any other team, we have a team that plays off each other.
"No one has confidence in us, but at least we have confidence in ourselves. So that's what's going to get us there."
Liberty led 21-20 in the second quarter when it took control of the game. Hamel hit a three-pointer and Taylin Smith struck twice from deep as the Falcons opened a 35-25 lead at half.
They broke it open at the start of the third quarter as Hamel connected on back-to-back three-pointers and Taylin Smith hit another, making it 44-25.
The 6-foot-5 Brink scored six points to help Mountainside draw within 48-38 with 1:46 left in the third quarter, but the Mavericks could not sustain the push as their offense dried up, failing to score for the next eight minutes.
"We needed to be a little more patient in terms of getting the ball to the right people at the right times, making some smarter decisions," Mountainside coach Glen Lee said.
Brink finished with nine points, nine rebounds and three assists, but had six turnovers as the Falcons swarmed her inside.
"Cam's been here before, but we came and battled," said Wagoner, whose team forced 16 turnovers and committed six. "We know she's a great player, so she requires a lot of attention. We had to make sure we were on it."
Hamel didn't back down from Brink on either end of the floor. She shot over the long arms of Brink, and even went under her for a nifty scoop shot in the second half.
"She puts her shoes on the same way I put my shoes on," said Hamel, a transfer from Arizona. "It's not going to stop me from playing my game."
Hamel finished with 16 points and Alexa Smith added 12 off the bench. Taylin Smith was 5 of 8 from three-point range and Hamel and Alexa Smith each went 4 for 6.
"The bottom line is they shot the ball really well," Lee said. "Kudos to Liberty. Phenomenal job moving the ball."
Mountainside falls into the consolation bracket, where -- in an ironic twist -- it will face Southridge. Brink led the Skyhawks to three state finals, winning in 2017 and 2018, before transferring to Mountainside for her senior year.
The Mavericks, who start four sophomores alongside Brink, are looking to make the best of the experience.
"Hopefully they'll learn from this situation," Lee said. "Hopefully we can get back here."