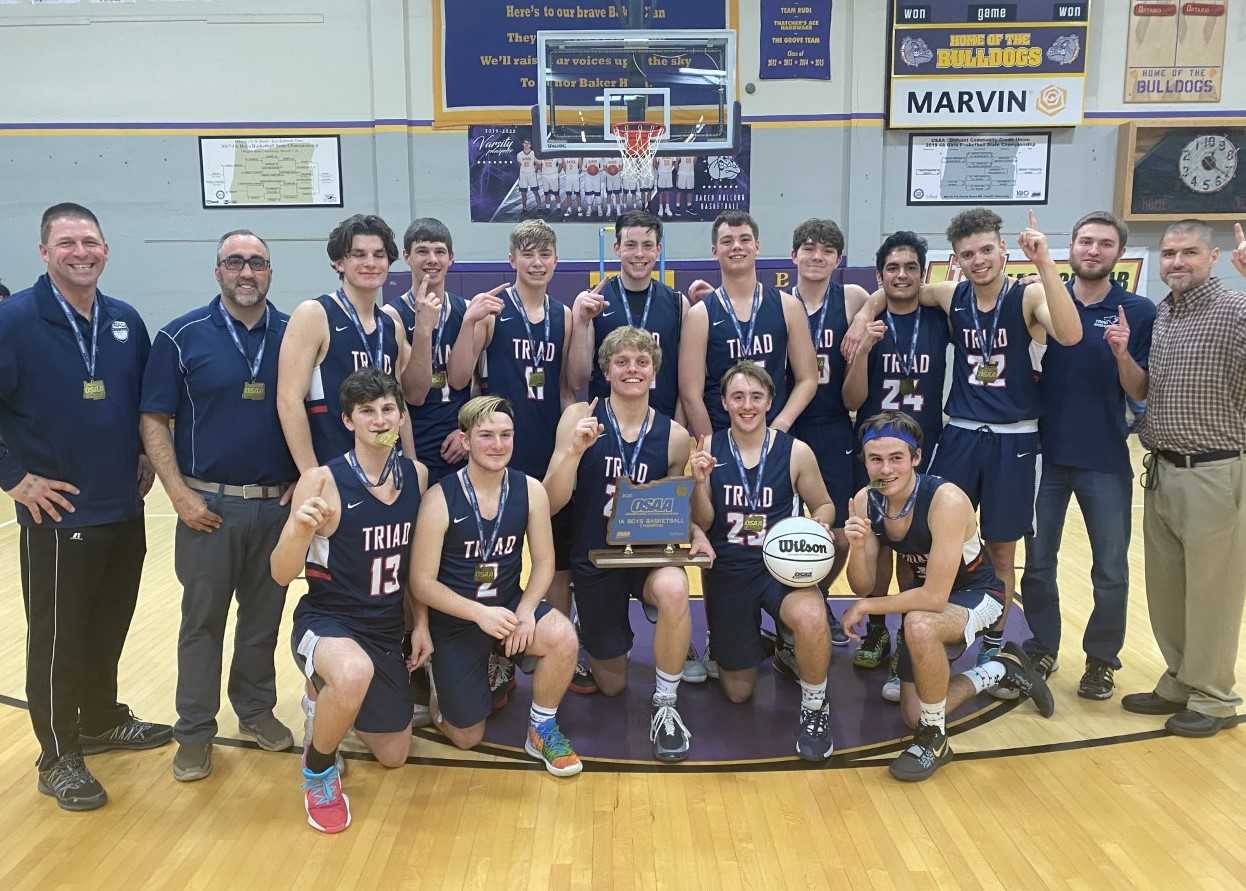 BAKER CITY – No. 2 seed Triad survived the hot three-point shooting of No. 1 Damascus Christian and poor free-throw shooting in the final minute to win its first ever title Saturday in the OSAA/OnPoint Community Credit Union 1A boys basketball final at Baker High School.
The Timberwolves of Klamath Falls held on for a 58-56 in a wild, back-and-forth affair that featured five ties and 14 lead changes.
Triad (27-4), which lost to Damascus Christian 61-48 in its second game of the season Jan. 7 at the Hawk Invite in Hood River, prevailed by shooting 53.5 percent (23 of 43) and owning a 34-19 edge in rebounds. It was enough to offset the deep shooting of the Eagles (27-2), who made 13 of 25 from three-point range.
The Timberwolves led 29-28 at half and took control in the third quarter as junior guard Micah Young and senior guard Zane Napoli-Sorg hit three-pointers to help open a 37-30 lead. The lead grew to 43-35 on a basket by senior forward Michael Irvine late in the third quarter.
But Damascus Christian went on an 11-0 run to pull ahead 46-43 early in the fourth quarter. Senior guard Jacob Zakharyuk made back-to-back three-pointers and junior guard Micah Colburn hit a three-pointer and a jumper during the surge.
Triad countered and led 55-51 on a free throw by senior guard Ethan Roe with 2:13 remaining. The Eagles got within 57-56 on a three-pointer by senior guard Spencer Powers with 1:12 left, and resorted to fouling to get the ball back.
Inside the final minute, Napoli-Sorg and Young both missed on the front end of one-and-one free throw opportunities, but on both occasions, the Timberwolves got offensive rebounds.
Damascus Christian finally got the ball after Triad senior post Ethan Moritz split two free throws to make it 58-56 with 41 seconds to go, but Colburn misfired on a three-pointer and Moritz rebounded.
The Eagles fouled Moritz, who missed two free throws with 23 seconds left. Damascus Christian had one last possession, but Zakharyuk missed from three-point range with six seconds remaining, Moritz rebounded and Triad ran out the clock.
Napoli-Sorg finished with a team-high 16 points and six rebounds for the Timberwolves, who lost in the semifinals in 2018 and the quarterfinals last year. Irvine had 14 points and five rebounds, Moritz had 13 points and 11 rebounds and Young added 12 points.
Zakharyuk led Damascus Christian with 18 points, making five three-pointers. Colburn made four three-pointers and had 16 points and Powers made three three-pointers and had 11 points.
The loss ended a 20-game winning streak for Damascus Christian. The Eagles won their only title in 2006.