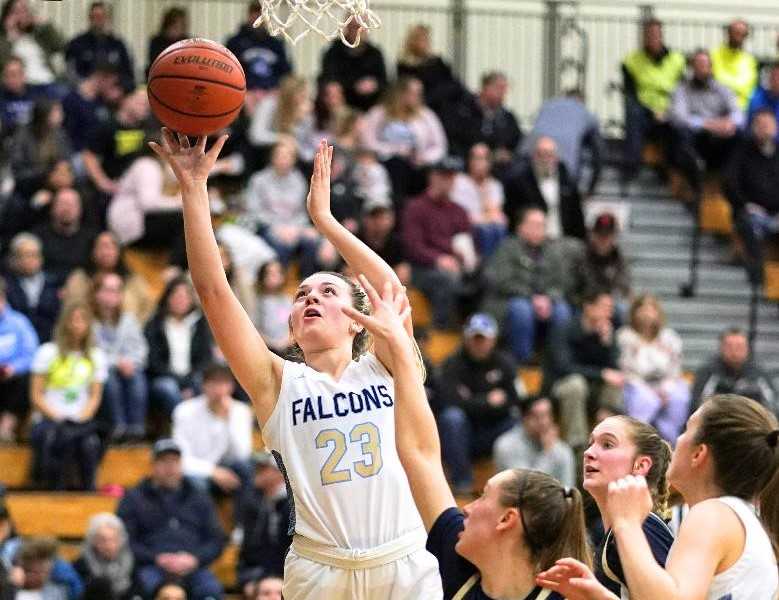 HILLSBORO – A year ago, when Liberty's girls basketball team came within an eyelash of making the state tournament for the first time, Bella Hamel was nearly 1,500 miles away in Tucson, Ariz., playing for Ironwood Ridge High School.
Friday night, with the Falcons back at the brink of making the 6A tournament, Hamel was front and center, making several key plays down the stretch to help host Liberty to the biggest win in the program's 17-year history.
The 5-foot-11 senior guard scored nine of her team-high 13 points in the fourth quarter as No. 4-seeded Liberty (23-3) held off No. 13 Canby 52-42 in the 6A playoff round of 16, earning a spot in the eight-team state tournament next week at the Chiles Center.
"It's unbelievable," said Hamel, who grew up in Hillsboro, moved away after her eighth-grade year and moved back for her senior year. "In Arizona, basketball is nothing like this. And to be back in this setting, where people strive for success, it's just unbelievable.
"Even though I'm new, I feel like I have contributed to the team, and I wanted them to get what they wanted, and their goals were to get here."
Hamel has helped Liberty reach a new level this season.
"Bella is a great addition to the team," junior guard Taylin Smith said. "She makes us 10 times better. I love having her on the team."
Liberty will carry a 16-game winning streak into a Wednesday quarterfinal against No. 12 Mountainside. After losing at Jesuit 40-32 in the round of 16 last year, clearing the final hurdle to the state tournament was particularly gratifying for the Falcons.
"It feels amazing," Smith said. "It's been my goal since my freshman year to get to the Chiles Center. Losing last year definitely fueled us to want to do better. To finally go to the next level, and make it past the second round, it's an unreal feeling to have."
Eighth-year coach Melanie Wagoner beamed with pride when speaking about how her players have grown in recent seasons and taken ownership of the program.
"A lot of them have been in the program since they were youth kids, and as freshmen were playing in the Metro League on varsity," Wagoner said. "They took their lumps along the way. We had a tough playoff loss last year. But they didn't put their heads down, they came back and worked. In order to build a program with that culture, the kids have to lead, and that's what this group did."
Liberty needed to tap into that perseverance Friday against Canby (15-10), a battle-tested team from the rugged Three Rivers League. The Falcons never trailed, but the Cougars were nipping at their heels all night, twice cutting the lead to three points in the fourth quarter.
Liberty entered averaging 65.4 points per game – the No. 3 offense in 6A – but had to adjust to a slower tempo and work for every basket.
"A lot of credit to Canby. They battled really tough," Wagoner said. "It was physical right from the beginning."
The Cougars suffered a blow with 5:11 left in the third quarter when their best player, 6-0 senior forward Nicole Mickelson, landed awkwardly on a fast-break layup attempt after drawing a foul from Liberty senior Clara Robbins.
Mickelson was helped off the court, favoring her right leg. She returned in the final minute of the third quarter but left for good after she appeared to aggravate the injury with Canby trailing 35-29 with 7:23 left in the fourth quarter. It was a gutsy effort by Mickelson, who finished with five points.
"She's done that the last two years, gutted it out with injuries, so I'm not surprised," Canby coach Chuck Knight said. "But it was just a little too much this time."
The Cougars got to within 35-32 on a three-pointer by junior Zoe Thompson. After Liberty answered with six consecutive points – four by Hamel – to lead 41-32, Thompson hit back-to-back three-pointers to make it 41-38 with 2:00 left.
But Hamel swished two free throws, then made a steal and added another free throw for a 44-38 lead. A Robbins steal led to a layup by Smith, and Liberty was up 46-38 with 1:20 to go. Game over.
The fourth-quarter push from Hamel, who sat the last 5:41 of the third quarter after picking up her fourth foul, was just what the Falcons needed.
"I said, 'You know what, I'm just going to play my game,'" Hamel said.
Smith said of Hamel: "I'm glad she finally figured it out. She was a little nervous before the game. I believed in her, and I kept pushing her to have confidence in herself. She finally came out and did that. That was the extra boost we needed to win this game."
Hamel, who is averaging 10 points per game, has fit in seamlessly.
"Bella's phenomenal," Wagoner said. "I've always said she's the most underrated player in the state of Oregon, because she can do anything. This is her first year of playing high school basketball here, so people don't really know who she is. She got off to a rough start, and got in foul trouble, but when she got her chance in the fourth quarter, she went out and made a difference."
Smith added 10 points, but more important, helped keep the Falcons locked in, according to Wagoner.
"Taylin is just a junior, but I thought her leadership was huge," Wagoner said. "She never wanted anyone to put their head down. It was like constant, 'Let's go, let's go.'"
Liberty, which also got eight points each from Robbins and senior guard Talia Kahakai-Wyatt, now will turn its attention to the state tournament.
"I definitely feel like we're underrated," Smith said. "I feel like we have a chance to make a run."
Canby, which hasn't made the tournament since reaching the semifinals in 2016, fell in the round of 16 for the third time in four seasons. Thompson made four three-pointers and scored 14 points for the Cougars, who committed 22 turnovers and shot 7 of 26 from three-point range.
"The game went the way we needed it to go, but there were two key things," Knight said. "One, we missed probably 10 wide-open threes. And second, when Nicole went down. You've got to be able to knock down shots, and we just didn't hit enough of them tonight."
Other games from Friday's round of 16:
No. 1 Beaverton 56, No. 17 St. Mary's Academy 36: Mary Kay Naro scored 19 points to lead the Beavers, who got 12 points from Sydney Erikstrup and 10 points from Laura Erikstrup. Sofia Bell paced the Blues with 13 points.
No. 9 Southridge 51, No. 8 Tualatin 38: McKelle Meek scored 20 points to lead the Skyhawks, who return to the Chiles Center, where they have appeared in the last three finals, winning in 2017 and 2018. Natalie Lathrop scored 13 points for Tualatin.
No. 12 Mountainside 41, No. 5 Oregon City 39: Shaylee Gonzalez made two free throws with 4.9 seconds left to lift the Mavericks over the Pioneers. After missing five games with a high ankle sprain, Stanford-bound Cameron Brink came back to score 13 points for Mountainside, which prevailed despite losing a 12-point lead in the third quarter. Mia Martineau and Katie Kathan scored 13 points each for Oregon City.
No. 14 McMinnville 57, No. 3 West Linn 53: Junior forward Kylee Arzner erupted for 31 points as the Grizzlies stunned the foul-plagued Lions. Audrey Roden scored 19 points and Aaronette Vonleh added 16 points before fouling out for West Linn. McMinnville made 13 of 19 free throws; West Linn was 4 of 5 from the line.
No. 6 South Salem 65, No. 11 Benson 57: Hilary James scored 19 points to lead the Saxons past the reigning state champion Techsters. Gretchen Olsen and Delaney Keith added 17 and 14 points, respectively, for South Salem.
No. 7 Sheldon 47, No. 10 West Salem 29: Aly Mirabile had 17 points, six assists, six rebounds and three steals, Reilly Kelty had 12 points, 13 rebounds and five blocks and Makayla Scurlock added 11 points and five rebounds for the Irish, who led 27-8 at half. Paige Alexander scored 10 points for the Titans.
No. 2 South Medford 70, No. 15 Bend 34: The Panthers rolled past the Lava Bears as Emma Schmerbach had 18 points, five rebounds and four steals and Kaili Chamberlin added 15 points. Kaycee Brown led Bend with 12 points.