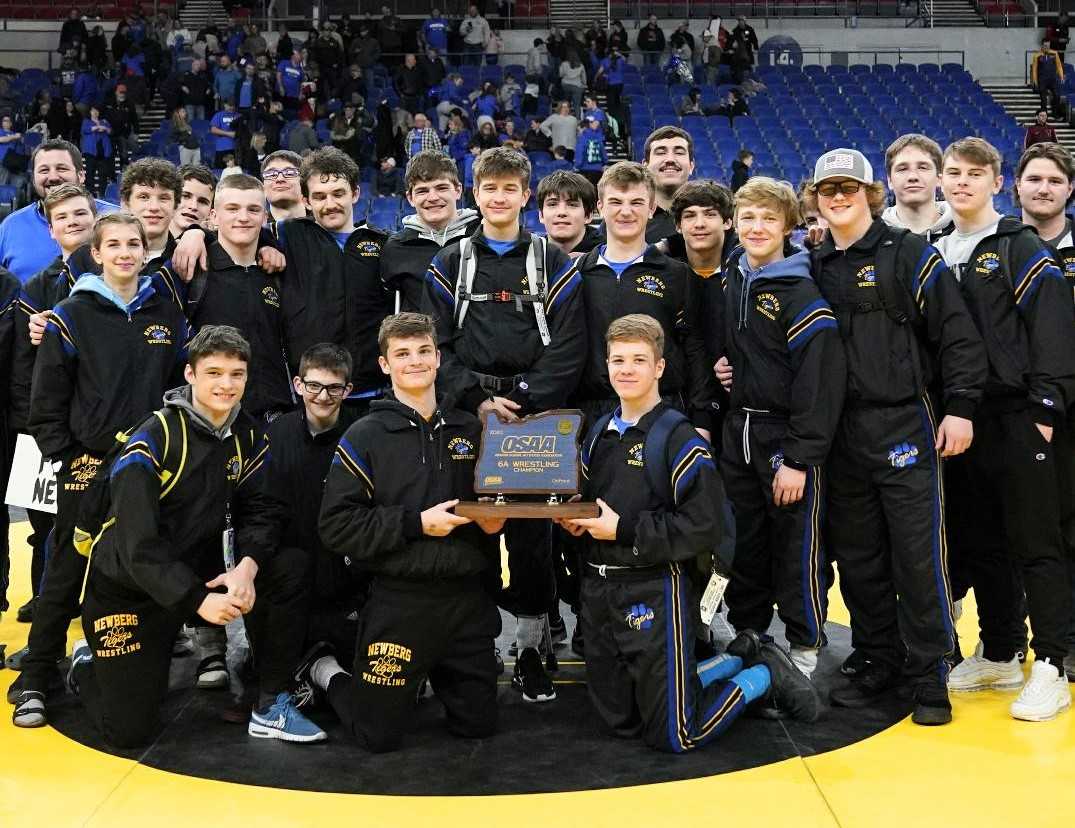 PORTLAND – For a tradition-rich wrestling program like Newberg, simply winning a trophy at the state tournament just wasn't cutting it anymore.
The Tigers had won 11 state championships, but despite repeated strong showings in the past decade, they kept coming up short in the 6A tournament.
"We had some outstanding performances that were just one-upped by a team," coach Neil Russo said. "Last year, we had six in the finals, seven in the top three, and we walked out of here just shaking our heads."
The Tigers finally put that frustration behind them Saturday when they won their first state championship since 2009 in the OSAA/OnPoint Community Credit Union 6A tournament at Veterans Memorial Coliseum. Newberg scored 310.5 points to defeat runner-up Roseburg (262.5), ending the Indians' six-year reign and matching them with 12 overall titles.
After finishing second to Roseburg by 28.5 points in 2018 and by seven points last year, the Tigers were too much for the Indians. Of Newberg's 6A-high 22 qualifiers, 20 scored points.
"It's satisfying," Russo said. "Our kids put on a show this weekend that even I wasn't prepared for. Far above and beyond."
Newberg got a repeat title from sophomore Ayden Garver (126) as well as titles from sophomore Charlie Evans (132) and senior Hunter James (195) to delight their blue-clad throng of supporters.
"This has been a big one for us," Evans said. "We finally grabbed it this year. Going into the season, I knew we had the people to do it. A bunch of seniors from last year are in the stands right now, and they're super proud of us. I love doing it for everyone, Newberg in general."
Mountain View senior Beau Ohlson (145) won his fourth state title and West Linn junior Cael Brunson (152) picked up his second title. Another reigning state champion, Newberg sophomore Nicky Olmstead (120), dropped out of the semifinals due to illness.
Ohlson, who won two 5A titles at Mountain View before his team climbed to 6A, joins an elite group of four-time champions.
"I'm still shocked. It's a blur to me, man," Ohlson said. "It definitely hasn't hit me yet, but I know it will. One hundred percent, this has been a dream for years. This is a lifetime goal, so I'm very blessed to achieve it."
Ohlson's triplet siblings also wrestled in finals for the Cougars, with his sister, Taylor, picking up a title in the girls tournament and his brother, Blake, losing to Newberg's James 6-3 at 195.
Evans was among three wrestlers who lost in the finals last year to win their first titles, the others being West Linn junior Ricky Bell (113) and Roseburg sophomore Nash Singleton (120).
"I don't know what I've done different this year, but I've just been so much more open-minded," Bell said. "I'm open to losing. I haven't tried to stall. I've just been on top of my game. I keep attacking, just doing what I'm supposed to."
The tournament ended with two upsets as Mountain View senior Titus Schulz (220) and Century junior Broderick Reese (285) took down No. 1 seeds.
Schulz won 11-7 in the final over Sherwood junior Bryan Cuthbertson, who settled for second place for the second year in a row. And Reese recorded a first-round pin of previously unbeaten McMinnville junior Jacob Barnes, who had lost in the semifinals the previous two years.
Reese beat Barnes in the third-place match last year but lost to him in both previous meetings this season.
"I just kept wrestling until I got to where I wanted to be," Reese said. "I just kept the leg bent, because I never really let go of it. And I just got into a scramble, and I caught him on his back in a scramble."
Other champions were Sprague sophomore Brayden Boyd (106), Westview senior Angel Sanchez (138), Sprague sophomore Brook Byers (160), Roseburg junior Darian Thacker (170) and Bend junior Nathan Denney (182).
5A
One year after needing a heavyweight pin in the finals to capture its first title, Crescent Valley rolled to its second 5A championship, outscoring runner-up Crook County 303 to 226.5.
The Raiders put on a show by going 9-1 in the finals. Senior Santos Cantu (195), a transfer from 6A Sprague, notched his fourth state championship. Junior Chance Lamer (126) won his third title and sophomores Gabe Whisenhunt (113) and James Rowley (160) repeated as champions.
Crescent Valley matched the record for most points scored in a 5A tournament, set by Hermiston in 2009.
"It's pretty amazing to get 10 in the finals. We've got a lot of studs in the room," Crescent Valley coach Chad Lamer said. "They wrestle hard every day, and I could see them get better as the year went on. It's a lot of fun to watch practice, to watch those guys wrestle against each other every day."
The Raiders' other titles came from freshmen DJ Gillett (106), Daschle Lamer (120) and Hayden Walters (182) and juniors Hunter Eveland (132) and Jackson Rosado (170), a transfer from Aloha. Junior Tyson Resko (152), a transfer from Wilsonville, finished second.
Cantu, who has signed with Indiana, left his shoes on the mat in a gesture that he said marked the end of a chapter in his life. After pinning Crater sophomore Joseph Jordahl in the second round in the finals, he reflected on his move to Crescent Valley.
"It's something unique, something special," Cantu said. "Like I've been saying this whole year, to be a part of those guys … I'm really just trying to push myself and be the best person I can be.
"I'll look at it as a privilege. … It was really just an amazing blessing."
Chance Lamer won the night's biggest showdown, producing a third-round pin over Silverton senior Kaden Kuenzi, a two-time state champion. He went 4-0 against Kuenzi this season, but it was the first pin.
"It couldn't have ended more perfectly, wrestling debatedly one of the toughest, pound-for-pound kids in the state," said Chance Lamer, who finished the season 49-1, his only loss coming out of state.
Daschle Lamer followed in the footsteps of his brothers Legend, a four-time state champion, and Chance by winning a state title as a freshman. The No. 4 seed, he won 13-2 in the semifinals over the No. 1 seed, Crook County junior Steven Ware, and pinned the No. 3 seed, Thurston freshman Kolton Malone, in the first round of the final.
Walters was sensational in the finals with a 13-2 win over Crook County senior Kyle Knudtson, a reigning state champion who had beaten him twice in three meetings this season.
"Our game plan didn't really change, I just went to try to gas him out because I knew I had a better gas tank," Walters said.
Crook County senior Hunter Mode (152) picked up his third title with a pin of Silverton senior Robert Guenther. North Salem senior Antonio Garcia (220) won his second title, pinning Hillsboro senior Trevor Schubmehl to finish the season 27-0.
Thurston junior Asher Ruchti (152), who won a 3A title for Pleasant Hill last year, edged Crescent Valley's Resko 5-3 in the finals. Afterward, he talked of his decision to transfer.
"I found a way to be negative after my title last year," Ruchti said. "I was like, 'I walked through this bracket.' Nobody was really that challenging for me. So personally I was like, 'That's not enough for me. I want to get a taste of what's harder.'"
Lebanon sophomore Austin Dalton (145), the No. 7 seed, won 5-3 in the finals over top-seeded Silverton senior Kody Koumentis, a transfer from 4A Marshfield, where he was a two-time state champion. Dallas senior Ashten Brecht, a runner-up last year, won the heavyweight title.
4A
Led by many of the same athletes, La Grande followed its first football state title since 1974 by capturing its first wrestling championship since 1996.
The Tigers put seven wrestlers in the finals – winning four – to overtake Sweet Home 261 to 254.5 in the 4A tournament. The Huskies led La Grande by 1.5 points after the semifinals but could not hold off the impending onslaught from the Tigers, who had finalists in the last five weights.
"Sweet Home yesterday, they were throwing headlocks, and pinning people all over the place, and scoring a lot of points," La Grande coach Klel Carson said. "You've got to give credit to those guys.
"It came down to our tough guys. I feel like the state tournament should showcase those kids, and it really did right there towards the end of the night. It made it fun. To come from behind like that, and bounce back and forth, that's how a state championship should be."
La Grande got repeat titles from sophomore Braden Carson (126) and seniors Parker Robinson (170) and Chris Woodworth (195). Senior heavyweight Gabe Shukle also prevailed for the Tigers, who needed some time to find their wrestling legs after an extended football season.
"It took us probably three weeks before we really started jumping on top of teams," said Robinson, the quarterback of the football team.
From an early age, the Tigers sensed they were building toward something special together.
"I knew we could do this for wrestling," Robinson said. "I've got such an awesome group of friends around me that are just a bunch of athletes. I knew wrestling was a for sure, we could make a run. … This was just a picture-perfect story for us this year so far."
Just don't say that the football players are tough wrestlers.
"I like to say that our wrestlers are tough football players," Klel Carson said. "I think they'd all say the same thing."
Cascade had three champions as sophomore Mauro Michel (113) and junior Noah Thompson (152) picked up their second titles and senior Kane Nixon (145) nabbed his first. Michel finished the season 45-0 with an 11-4 decision over La Grande freshman Joshua Collins.
"He has the best body awareness and positioning that I've ever seen in a kid," Cascade coach Jason Lovell said. "He can cradle from anywhere. Everyone knows he's got one of the best cradles around."
Banks senior James Ellis (220) won his third title and Sweet Home seniors Travis Thorpe (160) and Jackson Royer (138) added second titles.
Ellis, who suffered a setback during football season when he injured his arms from overtraining, said after beating La Grande senior Spencer Gerst 8-0 that he has yet to return to full strength.
"I lost about half the muscle mass in my arms," he said. "I was working out too hard. … I honestly would love to be stronger. As you could see in that match, he was a lot stronger than me, but I wanted it more. That's all it was."
Junction City junior Evan Potter (120) defeated Woodburn senior Wesley Vasquez 10-3 in the final, avenging an 8-7 loss to Vasquez in last year's 113 final.
"I felt like, 'Man, I put all that hard work in, why isn't it working?'" Potter said of last year's loss. "I found that out the hard way. Hard work does pay off in the long run. You may not see it now, but in the long run, it'll be worth it."
Also claiming titles were Junction City senior Cameron Truesdell (106), Woodburn senior Freddy Hernandez (132) and Baker/Powder Valley junior MaHonri Rushton (182).
3A
Burns won its first state title since a streak of 10 straight ended in 2011, outpointing Dayton 180 to 144.5, with Nyssa a distant third at 112. The Hilanders did the trick by bringing more wrestlers to the state tournament – 15 – than anyone else in 3A and by qualifying as many wrestlers for the semifinals – nine -- as any other team had wrestlers.
"It's been a while since we've been winning like that," said assistant coach Ben Cate, himself a former state champion for Burns during the run. "It's good to be back on top. Our kids really stepped up. Everybody got a win. 15 guys here and all scored points. Five in the finals, four champs…it's going to be a satisfying ride home."
The first title came out of the box when top-seeded Oliver Barnes took a 3-0 decision at 106 over Carmelo Farfaglia in a match pitting two sophomores. Barnes got to the final by pinning teammate Carter Lardy in the semis, a match distinguished by the lack of coaches matside for either wrestler.
Justin Winn (132), Cody King (145) and Wyatt Epling (160) also won titles for Burns. Winn, a junior, won a 3-2 decision over top-seeded Ryan Ruiz of Nyssa, a senior he lost to in the District final. The fourth-seeded King, also a junior, needed late back points to earn a 9-6 win over third-seeded Brandon Isaacson of Rainier. Epling, a sophomore, stunned top-seeded senior Jacob Mask of Scio, pinning last year's state champion at 138 in the third round after the wrestlers were deadlocked at 2-2 after two.
Five defending state champions repeated in 3A. Gabe Vidlak of Cascade Christian (126), Blake Larsen of Dayton (285) and Elijah Cleaver of Nyssa (152) captured their third state titles. Moses Mercier of Willamina/Falls City (120) won his second in a row, as did Chandler Strauss of Harrisburg (170). Mercier won by decision, Cleaver by injury forfeit and Strauss by pin, which completed an undefeated season.
Two other notable 3A results: Adam Simpson of Nyssa (182) won a state title for the second time in three years. Leithan Briggs of Harrisburg (225), going for his second straight title, was defeated by Bryan Flores of Nyssa, 8-5.
-- John Tawa
2A/1A
Reedsport Charter stunned Culver 106.5-103, ending the Bulldogs' six-year run atop 2A/1A. Reedsport won in dramatic fashion, as unseeded sophomore Miguel Velasquez needed to defeat top-seeded senior Austin Van Houten of Oakland at 170 pounds to give the Brave the team title. He did so in dominating fashion, wrestling perhaps his best match of the year.
"All year I wasn't very good; I wasn't confident enough," Velasquez said. "I just went out there and tried my best to do what's good for the team."
Culver, working on a run of 12 state titles over the past 13 years, built a comfortable lead in the team standings after Friday wrestling and had six in the semifinals to five for Reedsport. But the Bulldogs could only get defending champion Lane Downing into the championship match while the Brave put three in the finals. Reedsport surged into the lead on Saturday afternoon only to see Culver retake the lead thanks to clutch wins in third-place matches by Brody Piercy, Anthony Hood and Isaish Toomey.
Culver's lead was 3.5 points until Reedsport sophomore Aaron Soloman took a hard-fought decision over top-seeded Tyler Patton of Santiam in the first 2A/1A final at 106 pounds. Soloman led 4-2 late in the second period then voluntarily gave up an escape point in search of one final takedown, which he got in the 7-5 win.
"Honestly, I thought it would be harder because I haven't been wrestling that long," said Soloman. "It's the best feeling in my life."
The win gave Reedsport a half-point lead over Culver. Braves coach Bo Hampton, who'd been doing the math, was confident that his team needed just one more win to clinch their first team title since 1967.
"That would be amazing!" Soloman exclaimed. "That's what we all want."
Reedsport got that win from junior Elijah Carson at 120 pounds. Carson and Blake Owens of Central Linn wrestled to a scoreless draw after one period. In the second, Carson gave up an escape then immediately took Owens down and put him on his back for a near pin and 5-1 lead.
"He tried to swim my head and I knew he was going to be off balance," Carson explained. "So I just did a cow catcher and caught him on his back. I definitely had a pin. I don't know what the ref was looking for."
Carson ended up winning a simple decision, good for four points.
"Oh man I've been working all summer, all season just for this moment here," said Carson. "Our coaches have been telling us that we could beat Culver. I didn't think we could until now and I think we've got it in the bag."
That Carson didn't get the pin was significant: the Reedsport lead was now 4.5 points rather than an insurmountable 6.5 points had he gotten the two-point pin bonus.
Thus, when senior Lane Downing of Culver pinned his opponent in the first round at 145 to repeat as state champion, Culver was back in the lead by 1.5 points. Hampton's math had been faulty: Reedsport would need to go 3-for-3 to topple King Culver!
Downing's pin came with 10 seconds remaining in what had been an uneventful first period with Zeb Ramsden of Joseph/Wallowa. The wrestlers were largely feeling each other out when Downing struck with speed and finality.
"Normally I start off a match differently," said Downing. "I hit that move once and it didn't work out. As soon as I hit it again I knew I had to get back inbounds and I had it."
Downing said that he did not know he needed to win by pin to keep Culver's hopes alive.
"I hadn't taken a look at the scores yet," he explained. "I was just coming out here to wrestle. I did my part; I'm just hoping it's enough."
It would not be, because of Velasquez. The unheralded sophomore, wrestling in his first state final, bolted to an 8-2 lead after one period over Van Houten and never let the top seed get into the match. After a scoreless second period, Velasquez added to his lead in a 14-3 majority decision that clinched the title for Reedsport.
"My coaches kept telling me to be angry, be angry," Velasquez explained. "I just gave it my best."
"We knew our guy was going to get it," said Hampton. "He's worked hard for it. I didn't know he'd win like that but we figured he'd pull it off.
"It's amazing. Culver's an incredible team. We've talked about [beating them] for three years. Everything had to go our way. I knew it was possible. They came together three years ago and said they were going to do it. They wrestled all summer three years in a row and did it."
Other 2A/1A highlights included Kaleb Oliver of Oakland completing an undefeated season at 132 pounds, Seth Butler of Pine Eagle edging defending state champion Brayden Clyburn of Coquille at 182 pounds and Travis Bennett of Neah-Kah-Nie, Jimmy North of Central Linn and Drew Lusco of Grant Union finishing off dominating seasons with state titles at the upper three weight classes.
Oliver, who moved from outside of Boulder to Oakland after his parents got new jobs, led 7-0 after one period, 13-2 after two and won by pin with just over one minute left in the match.
"It feels awesome," he said. "I breathed a sigh of relief."
The sophomore said that going undefeated was unexpected and that capping his season with a pin makes it more special.
"You just know you've put that much more hard work in than the other guy," he said.
Clyburn and Butler were scoreless through the better part of two periods when Butler got a reversal to take the lead going to the third. Clyburn, visibly exhausted, could not mount a challenge late to successfully defend his title.
-- John Tawa