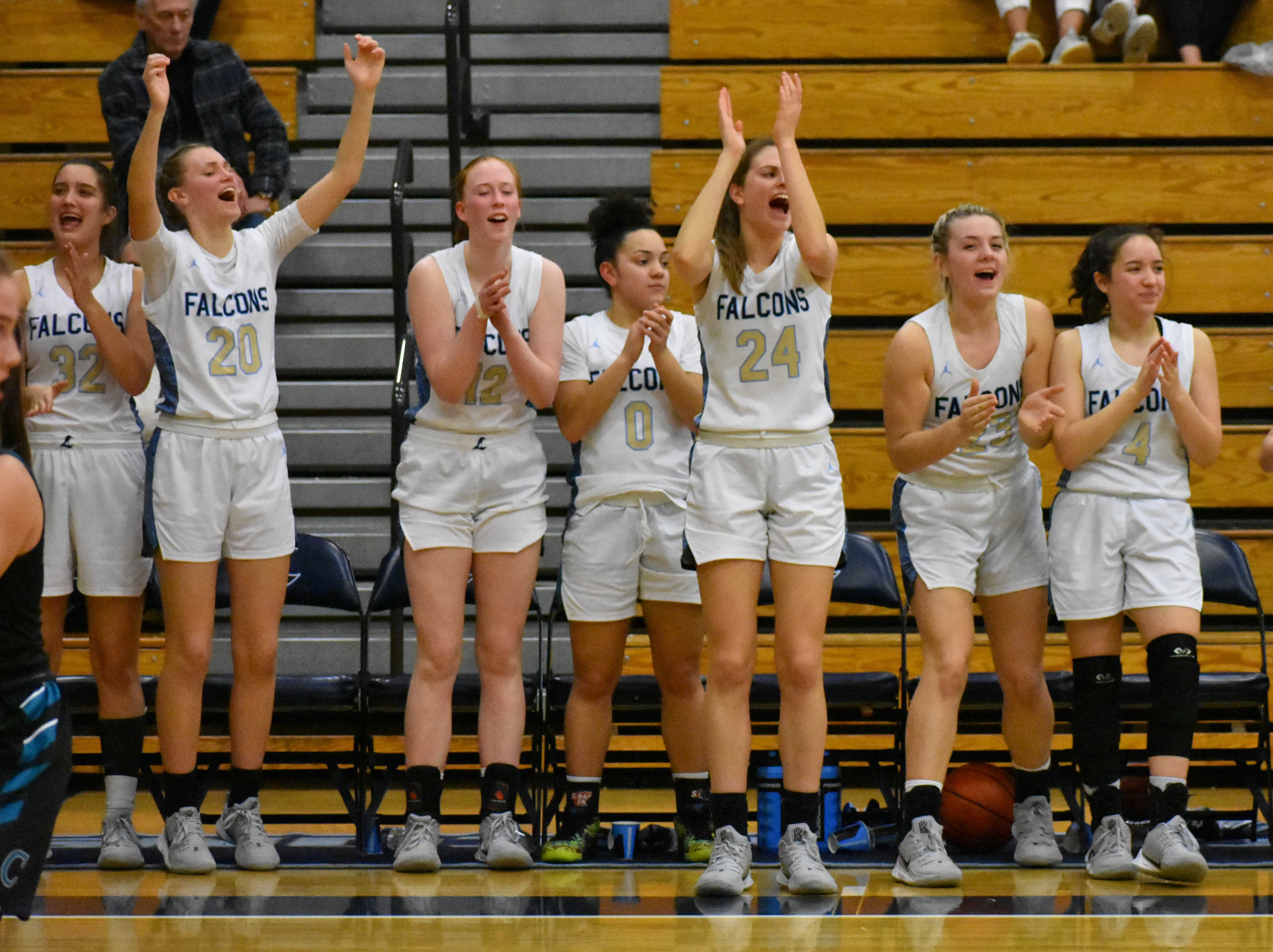 No question, last season was a breakthrough for Liberty girls basketball. But the Falcons can't help but feel as if they left something on the table.
Yes, they won their first league championship, but the outright Pacific Conference title slipped from their grasp. And yes, they posted their first playoff win in school history, but they were so close to making the 6A tournament, they could taste it.
So Liberty entered this season with high goals. And after wrapping up the outright conference title this week, the Falcons (21-3, 12-0) are right on course.
"Last year was a big step for all these kids," said coach Melanie Wagoner, whose team concluded the regular season Thursday with a 69-26 home win over Forest Grove. "This year, we want to take another step and move forward, but in order to do that, we have to take it one day at a time."
Liberty has quietly risen to No. 4 in the OSAA power rankings and stands at No. 6 in the OSAAtoday 6A coaches poll. But the Falcons have been flying under the radar in a conference where the next-highest team in the power rankings is McMinnville at No. 15.
Are they getting their due respect?
"It's one of those things where it has to be earned," Wagoner said. "Because our program doesn't have the tradition, we probably do get overlooked and not respected at the level that these kids probably deserve. But it also gives you a lot of fire."
Liberty has not beaten a team currently ranked in the top 10 of the coaches poll. The Falcons' resume includes a 62-53 win at West Salem (18-5) and a 74-56 victory over Portland Interscholastic League co-champion Grant (18-7) – teams at No. 9 and No. 18 in the OSAA power rankings, respectively – and two wins each over Forest Grove (18-6) and McMinnville (15-8).
The Falcons' three losses came in an eight-day span during the holiday break, when they fell 60-46 to Cashmere, Wash. (21-0), 70-49 to No. 8 South Salem (19-4) and 63-45 to 5A No. 2 Wilsonville (20-3), teams with a combined record of 60-7.
They played Cashmere tough into the fourth quarter at the POA Holiday Classic, and after losing, had to turn around 14 hours later to face South Salem at 9 a.m.
"We just didn't bring what we needed to in that morning game," Wagoner said. "Mentally it was a battle."
Liberty returned the nucleus of a team that finished 16-10, shared the Pacific title with McMinnville and advanced to the playoff round of 16, where it lost at Jesuit 40-32.
Junior guards Taylin Smith (15.2 points, 3.5 steals) and Livia Knapp (11.0 points, 3.3 rebounds, 2.9 steals) are third-year starters and senior post Clara Robbins (8.5 points, 6.8 rebounds) is a fourth-year starter. Senior Bella Hamel (10.0 points, 8.1 rebounds), a 5-11 guard who transferred from Arizona, has provided a lift.
Wagoner said the team's maturity is the biggest difference from last season.
"They look like seniors out there," Wagoner said. "They're tough kids that play hard. They've matured in all aspects – confidence, game management, belief, just going out and getting it done. They've always had talent, but they've really shown that growth and maturity this year."
Smith is a creative scorer who doesn't back down from challenges, putting up 18 points in a matchup against Cashmere's Louisville-bound point guard, Hailey Van Lith. Knapp, a 40-percent three-point shooter, is the "heart and soul of our team," according to Wagoner. The 6-foot Robbins is a force inside on defense and has extended her shooting range this season to help spread the court.
The 5-11 Hamel has been a key addition. The daughter of Tim Hamel, a member of Glencoe's 1983 state title team, she grew up in Hillsboro, moved to Arizona after her eighth-grade year and moved back for her senior year.
"She's known most of these kids for quite a while," Wagoner said of Hamel, whose two sisters played at Glencoe.
The strong, quick Hamel has the versatility to play multiple positions. She has deep shooting range and is one of the best rebounders ever to come through Liberty, the coach said. Local small colleges are showing interest in her.
"Bella just adds that extra piece that really does take us to another level," Wagoner said. "She has the most complete game."
With their position in the power rankings, the Falcons are two home playoff wins away from making their first state tournament. But they are keeping their eyes on the task at hand.
"When you want to go somewhere you haven't been before, you can't just be looking at the end product," Wagoner said. "You can't overlook any of the steps along the way."