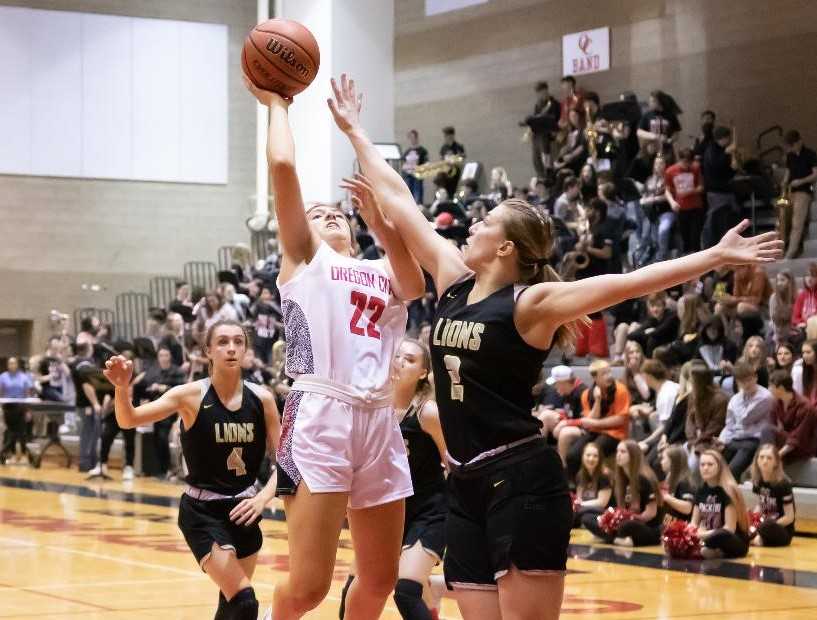 OREGON CITY – For much of Friday night, the ghost of Oregon City past seemed to be haunting West Linn's girls basketball team.
With a chance to wrap up their first Three Rivers League title in as long as anyone can remember – and get some payback for a two-point home loss in late January -- the visiting Lions sputtered and fell behind by 10 points in the third quarter.
But West Linn halted the damage, and behind 6-foot-3 junior post Aaronette Vonleh and junior point guard Cami Fulcher, the third-ranked Lions (17-5, 11-1) scratched out a 52-49 overtime win over the No. 7 Pioneers (17-5, 9-3) to clinch at least a share of the league title.
West Linn can claim the Three Rivers title outright by beating either St. Mary's Academy or Lake Oswego in their final two regular season games.
"It's awesome. It's just another step, because we're going for the state championship this year," Fulcher said. "Honestly, I think we deserve it. We work super hard."
Vonleh scored 22 points and Fulcher added 16 points for West Linn. The Lions, who do not have a senior on their roster, savored their rare feat.
"We just want to leave a legacy, win a league title, and keep it going for future generations, because it's been a while," Vonleh said.
So when did the Lions last win a league title? Records are sketchy, but the best guess seems to be 1985, when they were state runners-up and finished 22-2.
West Linn finished second in the Three Rivers the last five seasons, and prior to that, Oregon City's dominance accounted for most of the league titles going back to the 1980s.
"To do it here, against Oregon City, such a storied program – they're always great, and they're a really, really good team," West Linn coach Brooke Cates said. "It's a little bit of payback, and with a great reward in that we've won the league. Our kids showed a lot of grit. They got down but they stayed in it and really came back that second half and played for each other."
Oregon City, which won at West Linn 48-46 on Jan. 28 on two free throws with no time left, needed a win Friday to pull into a first-place tie. The Pioneers, led by senior guard Katie Kathan and junior guard Mia Martineau, led 27-23 at half, and extended their edge to 37-27 midway through the third quarter on a three-pointer by Martineau.
"We were making shots we normally make, and getting plays that we wanted, and winning the rebound battle," Kathan said.
The Lions, who won their previous six games by an average of 31.0 points, couldn't get untracked.
"We were just kind of panicking a little bit," Fulcher said. "I think they got in our heads a little bit."
West Linn held Oregon City scoreless for the next five minutes, though, to draw within 37-33 early in the fourth quarter. When Vonleh scored inside to complete an 8-0 run, the Lions took the lead 41-40 with 4:30 remaining.
"Our passes got a lot better," Fulcher said. "We started taking the right shots, not forcing things, and just started to get into the flow of the game."
Oregon City senior Tyra Bradford made a three-pointer to put her team ahead 45-43 with 1:32 left, but moments later, Vonleh converted from close range to tie 45-45, leading to overtime.
Fulcher scored on a drive and assisted Vonleh for another basket as West Linn took a 49-46 lead, but Oregon City sophomore Anya Remsburg drilled a three-pointer to make it 49-49 with 1:31 to go.
West Linn junior Audrey Roden split two free throws for a 50-49 lead, then blocked a three-point attempt by Martineau. Fulcher made two free throws to give the Lions a 52-49 lead with 23 seconds remaining, and Bradford and Martineau missed on three-point attempts in the closing seconds.
"Last time they won, but this time we got them, so I was real happy about that," Fulcher said. "Kudos to them. Playing them is always so fun because both teams always battle so hard, especially, the Battle for the Bridge. It's super fun. This time I think we stuck together and we were able to pull out the win."
Fulcher scored 13 of her 16 points after halftime. For Fulcher, who entered averaging 7.4 points, it was her highest-scoring game since going for 21 in the season opener against Camas (Wash.).
Fulcher's offense was desperately needed considering Roden, the team's leading scorer, (17.5 points per game), finished with seven points on 3-for-13 shooting.
"Cami is our leader," Cates said. "She is the heart and glue of this team, day in and day out. What you saw tonight is what she plays like every night, that hard and that gritty. She is tremendous. She put us on her back and just took us across the finish line."
Vonleh also had 13 points after halftime, using her size and strength to shrug off defenders inside.
"She's an excellent basketball player, and it's hard to match her," Oregon City city coach Tiffani Traver said of Vonleh. "We had a guard behind her, and she's a big kid, so it didn't faze her at all. They kept going into her, and it's hard to defend that."
Kathan and Martineau finished with 15 points each for the Pioneers, who took some consolation in their ability to trade blows with the Lions for a second time this season.
"That shows that our girls are ready to compete at the higher level, and they're not afraid to compete at the higher level," Traver said. "They're ready for a challenge, which is good."