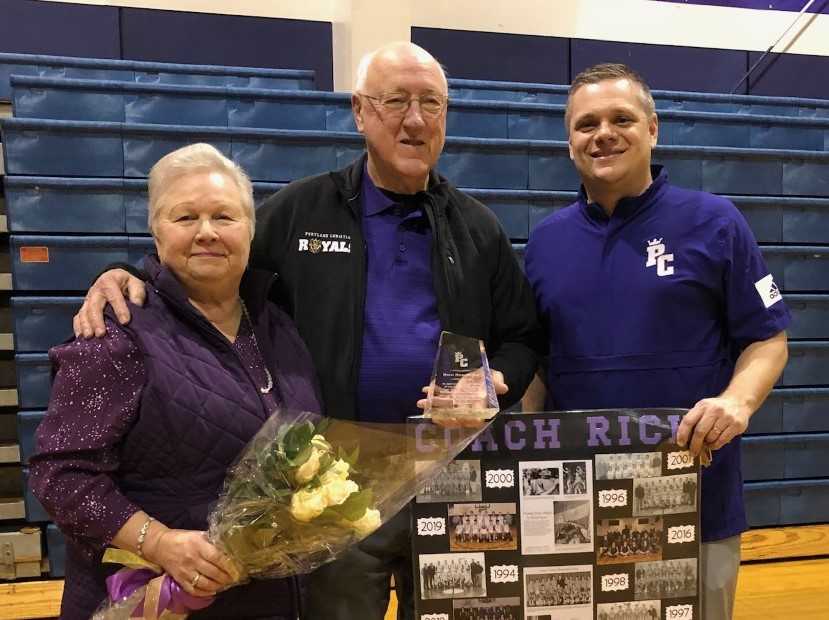 More than a half-century after coaching his first boys basketball game for Portland Christian, Rich Remsburg has decided that this season will be his last with the Royals.
Remsburg was the team's head coach for 35 seasons (1968-2003), going 537-304 with a 2A championship in 1992, before leaving to become the assistant athletic director at Warner Pacific University. He returned to Portland Christian in 2015 as an assistant to coach Kyle Cowan.
But Remsburg, 76, won't be back next season.
"For one thing, it's my 42nd year that my wife (Sue) has sat in the bleachers," Remsburg said. "And we've got grandkids playing ball. It just seemed like the right time."
The last five seasons at Portland Christian were an unexpected bonus for Remsburg, who was coaxed back to the bench by Cowan.
"It was really good. I appreciated Kyle when he asked me," Remsburg said. "I told him, 'I don't want to just be there, I want to coach, too.' He said, 'That's what I want.' So I felt complete freedom to coach with him."
The school recognized Remsburg during a ceremony at a home game Wednesday.
"Rich's impact on the Portland Christian community is far reaching," Cowan said. "He has former players in nearly every state of the country, men who have grown to be great husbands, fathers, employees, and most importantly, because of the impact Rich has had on their lives, great men of God."
Remsburg graduated from Del Norte High School in Crescent City, Calif, and played college basketball in Portland at Multnomah School of the Bible, now Multnomah University. He learned of the opportunity at Portland Christian in 1966 when a friend saw an ad for a JV boys basketball coach on a bulletin board.
"I went and checked it out, and the next day I was coaching," Remsburg said. "At that time, their only sport was boys basketball.
"Basically I had no clue. I learned on the job. As I got involved, I said, 'I kind of like this.' I just stayed on and grew with it."
Remsburg coached JV for two seasons before taking over as the varsity coach. He also served as the school's athletic director, overseeing the start of each program.
Remsburg's sons -- Greg and Brian, graduates in 1987 and 1992, respectively – played for him at Portland Christian. Brian was the 2A player of the year in 1992, when he and Eric Chirgwin led the Royals to a 26-1 record and the 2A title.
Brian Remsburg and Chirgwin went on to play at Western Baptist and Westmont College, respectively. Rich Remsburg also coached Keith Balderston, who transferred from Portland Christian to Wilson as a senior and had a college career at Oregon.
Chirgwin now assists for the boys team at Oregon City, where Brian Remsburg's son, Corban, played the last two seasons. Rich Remsburg has granddaughters in the programs at Oregon City and Sandy.
Pioneer marksman
Western Christian senior guard Alexander Nicoli, the state's all-time leading three-point shooter, reached a milestone Thursday when the No. 1 Pioneers beat visiting Culver 67-28 in a 2A Tri-River Conference game.
Nicoli made his 300th career three-pointer during the game, finishing with 303. He has made 93 three-pointers this season, taking over the No. 1 spot from Lowell's Brenson Parks (1994-97), who made 262.
The 6-2 Nicoli has made 19, 104, 87 and 93 three-pointers in his four varsity seasons. In his career, he is shooting 43 percent from three-point range.
Western Christian coach Gary Hull said that Nicoli is among the top five shooters for the Pioneers during his tenure, which began in 1986-87.
"Great shooter that's really developed into a very consistent form shooter," Hull said. "Great muscle memory each and every time he lets it go."
This season, Nicoli is averaging a 18.3 points per game and shooting 44 percent from three-point range for the reigning state champion Pioneers (22-3, 16-0).
Moore puts up 49
Senior guard James Moore put his name in the Blanchet Catholic record book Tuesday with his performance in the team's 76-67 loss to Salem Academy in a 3A PacWest Conference game.
The 6-foot-4 Moore made eight three-pointers and scored 49 points, both school records, to go with 13 rebounds. He made seven three-pointers in the first half and finished 8 of 13 from behind the arc.
Moore is averaging team highs of 24.0 points, 8.8 rebounds and 5.0 assists this season. His scoring average is an all-time high for Blanchet Catholic.
He also leads the Cavaliers (6-17, 1-9) in field-goal percentage, free-throw percentage, three-point percentage, steals and blocked shots.
Cavaliers coach Max Goodman said that Moore is a "tremendous basketball player."
"He is one of the most talented players I have ever coached," Goodman said. "But he doesn't just rely on talent alone, he is one of the hardest-working young men I have ever been around. He wants to be the best in everything that he does. … He will go down as one of the all-time greats to wear a Blanchet Catholic jersey."
Eagle eruption
Junior forward Kaiona Menguita stole the show on senior night for East Linn Christian on Tuesday.
The 5-11 Menguita, a role player off the bench for much of the season, erupted for a school-record 10 three-pointers and 35 points as the Eagles (11-13, 6-6 2A Central Valley Conference) rolled to a 72-59 nonleague win over Umpqua Valley Christian.
"I've never seen a junior come off to a standing ovation on senior night before," East Linn Christian coach Jonathan Whitehead said. "It was a pretty special night for him.
"He was kind of mixed in off the bench, and maybe started a couple games, but not one of our main scorers all year. It was one of those nights where he couldn't miss."
Menguita finished 10 of 19 from three-point range in the game. He stayed hot Friday, hitting 6 of 10 from deep and scoring 22 points in a 60-59 conference loss at Monroe.
Stunning comeback
Down by 27 points with 6:30 left, Milwaukie responded with a comeback for the ages Tuesday to beat visiting Parkrose 75-72 in a 5A Northwest Oregon Conference game.
After a timeout, the Mustangs went to a press and began chipping away at the lead, cutting it in half by the four-minute mark. Down the stretch, freshman Logan Law pulled Milwaukie within one point on three free throws after being fouled on a three-pointer, and senior Keshawn Myles scored the game's final four points on a pull-up jumper and two free throws.
"At the start of the fourth, I said, 'Can you win one quarter?' And they said, 'Yes,'" Milwaukie coach Don Law said. "The guys just played their tails off for seven minutes. I have never seen this before in my 44 years living in the community."
Myles finished with 16 points and nine rebounds for the Mustangs (14-6, 7-3), who moved one game ahead of Parkrose (11-9, 6-4) in second place. Milwaukie also got 12 points from Law, 11 points from senior Alileyon Ford and 10 points from senior Mason Plumb.