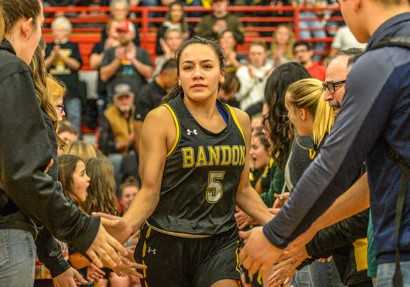 As far as transformations go, few have been more dramatic than the one Bandon's girls basketball team has undergone this season.
The Tigers, 4-19 and 6-17 in their first two seasons under coach Jordan Sammons, are 19-1 and No. 4 in the OSAAtoday 2A coaches poll. A year after being outscored by 9.2 points per game, they are plus-23.5 this season.
Bandon, which already has more wins than in any season since 1994, is bidding to make the state tournament for the first time since an eight-year run of appearances from 1988 to 1995.
The addition of two transfers and an exchange student to an experienced core – along with a commitment to offseason training -- has changed the team's fortunes. The Tigers' improvement was apparent last summer, when they went 21-7.
"We knew after the summer that we had a chance to be competitive," Sammons said. "This year our goal was to take that next step and win some more."
The catalyst is Traylyn Arana, a 5-foot-6 senior point guard who transferred from 1A Glendale, where she was the starting point guard for the boys team last season. She is averaging 19.0 points, 5.0 rebounds, 3.0 assists and 6.0 steals and is shooting 53 percent from the field.
"She's been a huge benefit to us," Sammons said of Arana, who played at Glendale as a freshman and 4A North Valley as a sophomore. "She really prides herself on playing tough defense. Having her come in and play point guard helped me move around some of the other girls into their true positions. Having a player like that makes everyone else better."
Arana joined a lineup that includes a fourth-year starter in guard Naomi Martin (4.5 points, 6.0 rebounds) and two third-year starters in senior forward Ashley Strain (10.0 points, 4.0 rebounds) and junior center Kennedy Turner (7.7 points, 10.6 rebounds).
Junior forward Sterling Williams (4.0 points, 3.0 rebounds) transferred over from 4A Marshfield, and the Tigers got a big boost during the holiday break when 5-9 senior guard Eduarda Reolon (10.3 points, 3.2 rebounds, 3.6 steals), a former member of Brazil's U-16 national team, joined the squad.
"We didn't know what to expect," Sammons said of Reolon, who lives with the family of senior center Allison Hennick. "She came to a couple practices and we found out pretty quick that she is definitely a very talented player. She's a real explosive guard. She's bought into our culture. She's been a huge spark in some of our bigger games."
Bandon's lineup got deeper in the past week with the return of senior Kylie Lakey, the starting point guard from last season. She had been out since suffering a dislocated shoulder in a preseason practice.
The Tigers have won 16 in a row since a 55-52 home loss to Brookings-Harbor, ranked No. 5 in 3A. The winning streak includes a 49-45 win at No. 5 Coquille that gave them sole possession of first place in the Sunset Conference.
Arana scored 18 points as Bandon ended Coquille's conference winning streak at 40. The Tigers had lost 21 in a row to the Red Devils since the 2008-09 season. In the previous four meetings with Coquille, they averaged a meager 14.3 points.
"In years past, I knew the girls dreaded the Coquille game," Sammons said. "They didn't even look forward to it. This year, it was kind of circled on the calendar. They felt like, 'We've put in the time, we're confident.' We felt we could go in there and give ourselves a chance. We got down eight or nine multiple times, and they just never gave up."
This season, the Tigers have the firepower to stay in games, improving their scoring to 52.8 points per game from 32.3 a year ago. During the offseason, five players met the challenge of Sammons' 10,000-shot club and the Tigers brushed up on their skills at Point Guard College camps.
The coach credited his captains – Strain, Martin and Arana – with their leadership.
"They push each other, and the other girls, to get in the gym," Sammons said. "They really wanted to have this year be their year. They wanted to put the time in to get better offensively."