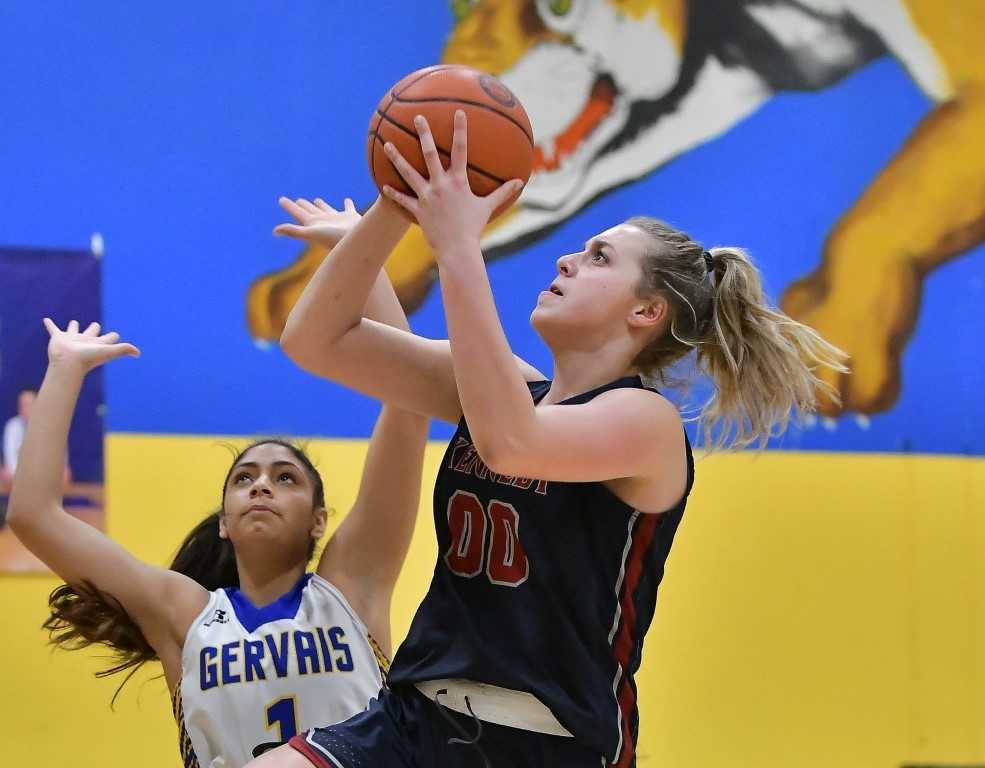 GERVAIS – No. 1 Kennedy scored the final seven points to come back for a 45-40 win at No. 2 Gervais in a 2A Tri-River Conference girls basketball showdown Friday night.
Gervais led 40-38 when freshman post Izzy Boyd made two free throws, but back-to-back baskets by junior guard Ellie Cantu and senior forward Sophia Carley put Kennedy up 42-40 with 1:28 left. The Trojans locked down on defense, and junior guard Hailey Arritola made 3 of 4 free throws to seal the win.
Kennedy (17-3, 11-0), which also beat Gervais 42-23 on Jan. 7, padded its lead in the standings over the second-place Cougars (17-3, 8-2).
Gervais, which had won seven in a row, led 26-18 at half behind the hot shooting of junior guard Celi Vasquez, who made three three-pointers and scored 17 of her team-high 19 points before the break.
But four-time reigning conference champion Kennedy slowed down Vasquez in the second half and made the key plays down the stretch to extend its Tri-River winning streak to 37.
"We really focused on defense," said Carley, who scored 21 points. "The first half was kind of rough so we came out there and gave it our all. We realized that we had to play really hard because we know they were going to play their very best against us,. They did awesome. That was a really fun game."
Keeping Vasquez in check was key.
"The big thing is that she's a three-point shooter so you have to have an hand in her face at all times or else she's going to drain the threes with ease," Arritola said. "So that was our main focus going into the second half because she was making them in the first. We had to put someone in their face."
The Trojans went on a 12-2 run at the start of the third quarter to lead 30-28, but Gervais pulled ahead 34-32 entering the fourth quarter.
The Cougars couldn't finish off Kennedy, but they left encouraged by the performance. The teams could be headed toward another meeting in the Tri-River playoffs.
"It showed us that we can," Boyd said. "Like they've been our rival for so long, being this close that we can contend at the same level with them. We're this close. We're going to get ready for league championships. We're going to go and play as hard as we can and go from there."