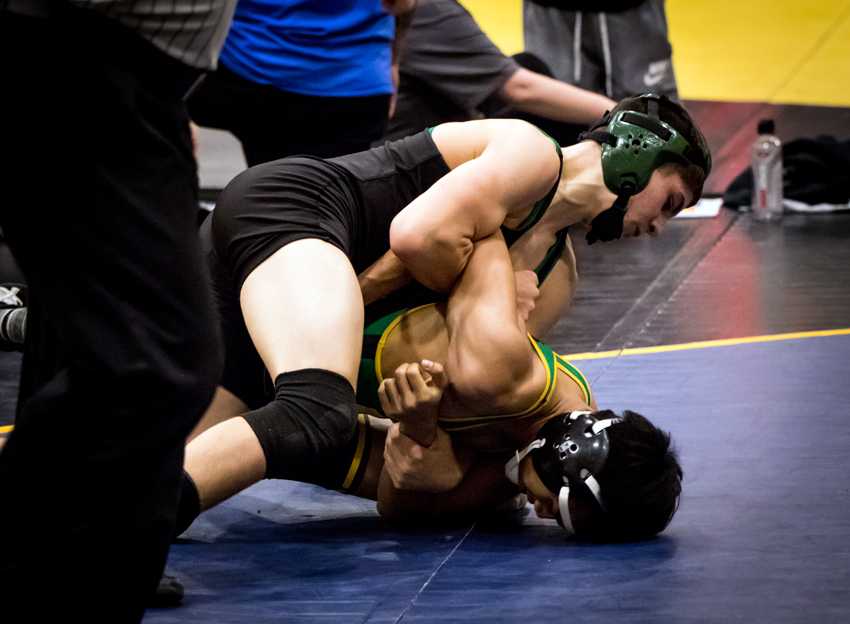 [Editor's note: "Take Five" is a recurring feature designed to offer a quick look at some of Oregon's most interesting high school sports standouts. Today, we chat with sophomore Drew Greco, a wrestler at Rex Putnam who won a District championship as a freshman and finished seventh in the state in 5A. He is wrestling this year at 126 pounds. We asked Greco to answer five questions from the 25 we sent his way. This is how he responded…]
OSAAtoday: How did you get your start in wrestling?
Drew Greco: My mom was a stat girl for Milwaukie High School when she went there and so she always had a love for wrestling. When I was about 3 years old my mom had me try out the Oregon City program with my brother. I instantly fell in love with the sport.
OSAAtoday: What kind of coach gets the best out of you?
Greco: The kind of coaches that get the best out of me are the kind that push me to work hard; coaches at practice that stay with me and help me perfect my shot or help me with my setups; coaches that care about helping me improve and take it as seriously as I do.
OSAAtoday: What was your first big success as an athlete and how did it impact you?
Greco: I went to Scappoose to wrestle at the 5A Districts last year. I took first place after a long day and I was so excited to have the opportunity to go to State. This impacted my life in a way because it pushed me to work harder and take wrestling to the next level.
OSAAtoday: What about going to college scares the bejeebers out of you?
Greco: College scares me a lot because there are so many opportunities and I feel like it will be very stressful to figure out which direction to go to figure out what career I want to pursue.
OSAAtoday: What is your go-to catch phrase and how did you develop it?
Greco: My go-to catch phrase is, "Hard Work Pays Off." I got it from the Milwaukie youth program when I wrestled for them in elementary school. We ended every practice saying that and it has stuck with me to this day because it is so true.
Read other Take Five articles published in connection with the 2019-2020 school season:
South Umpqua outside hitter Shalyn Gray
Lincoln distance runner Mia Kane
Madras football player Treyvon Easterling
Gladstone soccer player and cross country runner Derek Johnson
Canby soccer standout Ruby Kayser
Exceptional Scappoose athlete Emma Jones
Siuslaw harrier Brendon Jensen
Wilsonville volleyball attacker Lindsey Hartford
Lake Oswego runner Brogan Deem-Ranzetta
St. Mary's Academy long distance runner Fiona Lenth
Heppner hooper Madelyn Nichols
Sherwood swimmer Hunter Stewart
South Salem swimmer Julian Melton
West Albany swimmer Taylor Kelley
Wilsonville wing Keegan Shivers