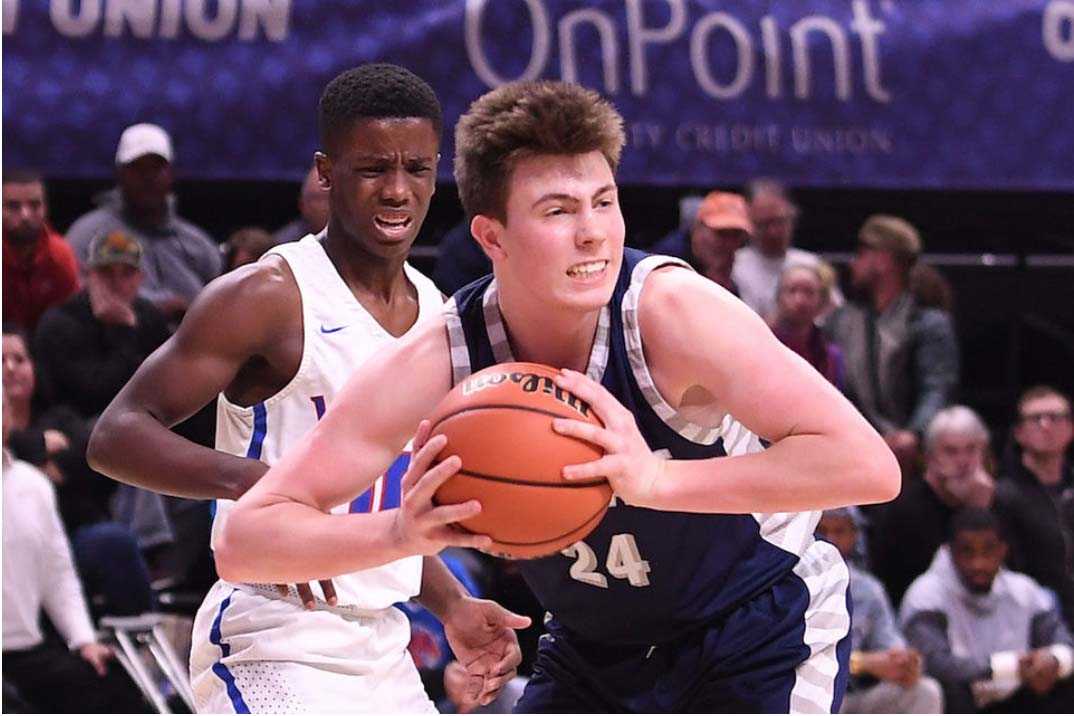 [Editor's note: "Take Five" is a recurring feature designed to offer a quick look at some of Oregon's most interesting high school sports standouts. Today, let's get to know Keegan Shivers, a 6-5 senior on the Wilsonville boys basketball team. Shivers is a scholar-athlete with a 3.8 GPA and two state championship rings in his three varsity seasons with the Wildcats. Last year, he was named First Team All-Conference and Second Team All-State and was a difference maker at the 5A state tournament. We asked Shivers to answer five questions from the 25 we sent his way. This is what he said…]
OSAAtoday: What was your first big success as an athlete and how did it impact you?
Keegan Shivers: In my mind, it was last year's state title run. It was just an amazing way to cap off the season with a great group of guys. Those seniors last year were my brothers and we played our hearts out for them. The journey throughout the season was what made it so perfect because we had some rough patches but we worked through it together and those rough patches were what made us so tough in the end. I am just excited for another shot at it this year!!
OSAAtoday: Tell us about a specific failure and how you learned from it.
Shivers: A big learning point in my life was the State Championship game my Sophomore year. I had never hurt that bad after a loss and that feeling of being so close but not finishing the job just gave me an extra chip on my shoulder to work even harder than I did before. It really taught me the lesson of perseverance and to make the most of your opportunities.
OSAAtoday: When the lights are out and you're just about to fall asleep, what do you think about?
Shivers: I usually think about basketball and all the situations that could happen in upcoming games...those are the nights when I don't sleep very well. Also I think about how lucky I am to have such a great family and such great friends that make me look forward to every day. I always sit in bed thinking about fun things I can do with my friends and family over the weekends because I love to go on hikes and enjoy doing stuff with the people I love.
OSAAtoday: Describe your scariest moment while learning how to drive.
Shivers: The scariest moment was right when I got my permit. Right after the test my mom told me I was going to drive home. I was not expecting to start driving that soon, especially since we had to get on the highway. I was doing great until we got to the highway and then I got stuck between two semi trucks and kind of freaked out a little and my mom freaked out, too. It was just a horrible moment, but a funny memory looking back now.
OSAAtoday: What kind of coach gets the best out of you as a player?
Shivers: A coach who really pushes me to not only be the best version of a basketball player I can be, but also pushes me to be the best overall person that I can be. A coach that I know really cares about me and one who will get on me when he knows I can do better. I love to be pushed, challenged and criticized because I can learn what specific areas I need to improve in and be tested. I believe Coach Roche has really been the perfect coach for me throughout high school because he really cares about everyone on the team, and from the start he believed in me. He also pushed me to become the player I am today and has gotten me ready for the next level. I just want to thank him for everything he has done, as well as my family for supporting me throughout high school.
Read other Take Five articles published in connection with the 2019-2020 school season:
South Umpqua outside hitter Shalyn Gray
Lincoln distance runner Mia Kane
Madras football player Treyvon Easterling
Gladstone soccer player and cross country runner Derek Johnson
Canby soccer standout Ruby Kayser
Exceptional Scappoose athlete Emma Jones
Siuslaw harrier Brendon Jensen
Wilsonville volleyball attacker Lindsey Hartford
Lake Oswego runner Brogan Deem-Ranzetta
St. Mary's Academy long distance runner Fiona Lenth
Heppner hooper Madelyn Nichols
Sherwood swimmer Hunter Stewart
South Salem swimmer Julian Melton