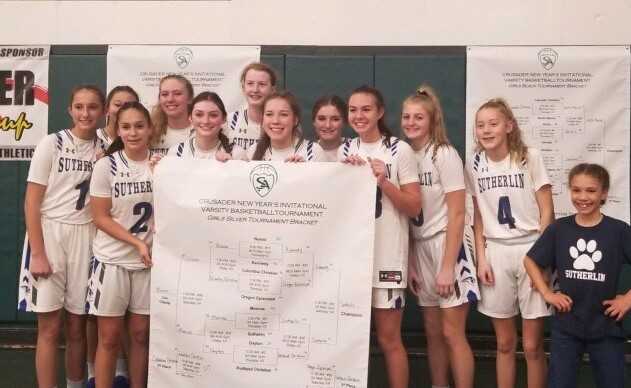 It didn't take long for Sutherlin's girls basketball team to re-emerge as a state championship contender.
The Bulldogs -- who won four consecutive 4A titles from 2014 to 2017 -- finished 11-14 and 14-12 the last two seasons, missing the playoffs in 2018 and losing in the first round last year.
But Sutherlin, which moved to 3A last season, is off to a 13-1 start and is ranked second in the OSAAtoday 3A coaches poll. The Bulldogs won the Bill Spelgatti Invitational, Willamina Tournament and Crusader Classic New Year's Invitational.
"Part of that was injuries got us last year," said coach Josh Grotting, who is 297-72 with five state titles in 14 seasons at Sutherlin. "We won 14 games and made it to the first round of the state tournament. That was a lot of young kids and we got a lot of experience.
"This past summer we were a totally different team maturity-wise on the basketball floor. This year's seniors won a state title as freshmen and lost in the first round, so it made us appreciate what we've done for a while."
Senior guard Kiersten Haines is averaging 12 points per game and shooting 40 percent from the three-point line. She is back after missing all of last season due to knee surgery.
"Kiersten was one of our best kids, but tore her ACL last year before the season started," Grotting said. "When you get something taken away from you, it makes you want to work that much harder to get back. Everything the seniors have gone through has been great motivation up to this point."
Junior guard Jadyn Vermillion is averaging 11 points, five assists and three steals a game. Junior forward Paige Bailey averages eight points, five rebounds and three assists.
Amy Dickover, a 6-foot-1 junior post, is averaging 14 points, 10 rebounds and three blocks. Freshman guard Micah Wicks is averaging 12 points, five assists and five steals.
Seniors Abby Masterfield and Carmen Ganger have started in years past but now play important roles coming off the bench.
Grotting said he is getting "100 percent buy-in" from the players.
"We've had five different leading scorers. That bodes well for us," Grotting said. "Abby and Carmen are coming off the bench and they are leaders with their attitudes and confidence. None of this would be happening right now without them."
Sutherlin's only loss was a 50-43 home defeat to Philomath, which is No. 1 in the 4A coaches poll. The Bulldogs beat 2A No. 1 Kennedy 41-30 in the Crusader Classic New Year's Invitational.
Sutherlin gets a big test Jan. 20 when it faces reigning 3A champion and top-ranked Clatskanie (10-1) in the MLK Showcase at Corban University in Salem.
"It'll be a good measuring stick for us," Grotting said.
Sutherlin kicked off Far West League on Friday with a 78-29 win at St. Mary's. In the league, the Bulldogs are likely to be challenged by No. 4 Brookings-Harbor and No. 10 South Umpqua.
"I think we have, top to bottom, the toughest league in the state," Grotting said. "We've had a good rivalry with Brookings over the years. They can beat anyone in the state on any given night, and same with South Umpqua."