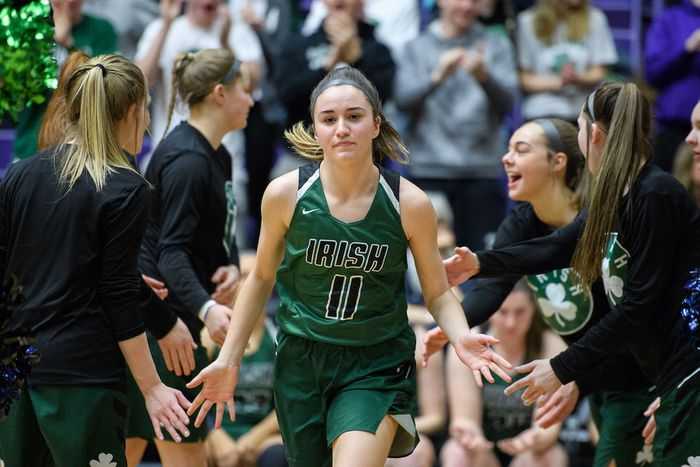 Coming off a 6A semifinal appearance, Sheldon's girls basketball team has changed its emphasis on offense this season.
The Irish, who pushed the pace and were fourth in 6A scoring last season, are taking a more patient approach as they look to pound the ball inside.
"Our post play is a little bit better this year, so we're trying to take advantage of that," coach Brian Brancato said. "We need to get the paint touches. We talk a lot about inside-out. We spend a lot of time finding ways to get mismatches and getting those kids on the block."
It seems to be paying off for Sheldon (10-2), which has won five in a row and is ranked sixth in the OSAAtoday 6A coaches poll. On a road trip last weekend, the Irish beat Camas 55-43 and Skyview 49-45 – two strong Washington teams -- then returned to Eugene to defeat No. 10 Canby 49-33 on Tuesday.
Sheldon has two fourth-year starters in guard Aly Mirabile (11.2 points, 4.8 assists, 2.3 steals) and forward Makayla Scurlock (14.5 points, 6.2 rebounds), and has added two key pieces in 6-foot-3 senior Reilly Kelty and 5-10 freshman Beaux Bruegman.
Kelty, a transfer from 4A Cottage Grove who has signed with Portland State, is averaging 7.6 points and 9.2 rebounds as she adjusts to 6A. She had 13 rebounds against Canby.
"We might move a little bit faster than they did where she was before," Brancato said of the switch from 4A. "Since winter break, once she committed to the value of defense and rebounding, she's been spectacular. I think where she was before, she was probably expected to carry a lot of the load offensively."
Bruegman (7.0 points, 6.5 rebounds) moved into the starting lineup last week and has combined with Kelty to dominate on the boards, similar to the way Emma Neuman and Kami Walk did last season.
"That was a real key to what we did last year," Brancato said.
Kelty and Bruegman are threats to score on the block, as is the sturdy Scurlock, who at 5-6 "can post up any guard there is," according to Brancato.
The 5-8 Mirabile has replaced junior Olivia Pierzina (5.1 points, 3.4 assists, 2.7 steals) as the starting point guard since Bruegman became a starter. Mirabile's game has changed a bit from last season, when she was Southwest Conference player of the year and first-team all-state.
"She's distributing a little more, where last year she was more of a two-guard, putting a lot of shots up," Brancato said. "Where Aly's improvement has come is on the defensive end of the floor, and in leadership, seeing the whole game. She just keeps us in the game. She's kind of a coach on the floor."
Mirabile has yet to receive a college offer. Brancato said she is hearing from schools such as Northwest Christian, Sonoma State and Pacific.
"I think some people are missing out on that kid," Brancato said.
For Sheldon to win its third consecutive Southwest title, it must get past No. 2 South Medford. The Irish have won four in a row over the Panthers since ending South Medford's 92-game conference winning streak in 2017-18. The teams meet Feb. 7 at South Medford and Feb. 28 in the regular-season finale at Sheldon.
The Irish's only losses this season are 50-48 to West Salem and 60-51 to La Salle Prep, the top-ranked team in 5A.
"If we continue to focus on getting better every single week, and we stay healthy, we like our chances to play with anybody," Brancato said. "This team in some ways is ahead of last year's team, but it's a different squad."