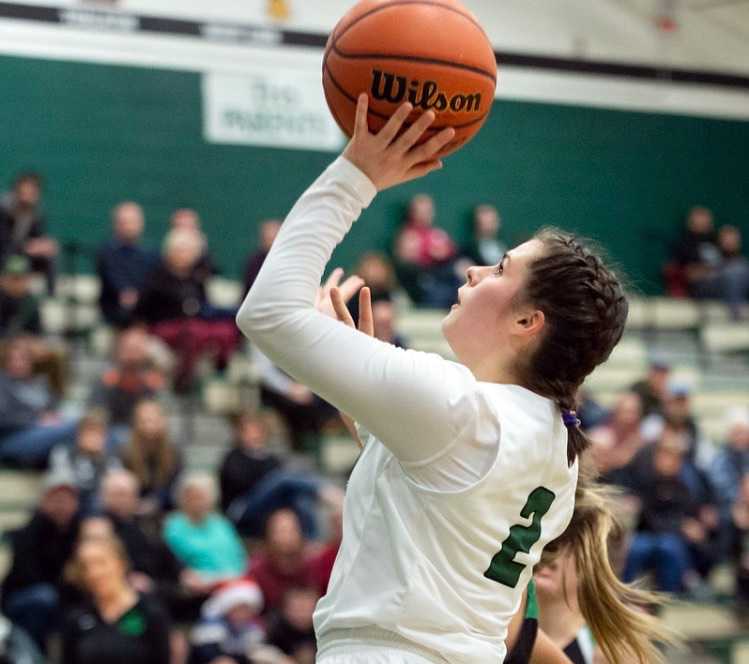 [Editor's note: "Take Five" is a recurring feature designed to offer a quick look at some of Oregon's most interesting high school sports standouts. Today, please meet senior Kennedy Brown, a 5-4 guard for the Tigard Tigers. Brown is back on the court after two ACL tears over the past three years. That takes persistence and grit! We asked Brown to answer five questions from the 25 we sent to her. This is what she said…]
OSAAtoday: What was your first big success as an athlete and how did it impact you?
Kennedy Brown: Overcoming my first ACL injury was a very big success for me personally. It was a very big setback and it was my first one so I was extremely upset and discouraged about the recovery time and how big of a change it was to my sports. I worked really hard to get back to playing basketball and it definitely taught me to keep my head up and work hard to achieve my goals. Although I tore my ACL again, I wouldn't have changed the way I trained or rehabbed my first one. I worked really hard and both injuries were freak accidents and through the process of coming back to basketball I was able to find my "why" and understand why I play and commit so much of myself to the game.
OSAAtoday: If you could have one superpower, what would it be and why?
Brown: It would be to talk to animals because it would be so interesting to finally understand and know what my dog thinks about throughout the day. I'm constantly wondering what dogs, specifically my dog, are thinking about or what they would be like if they talked and had a thought process like humans do. It would be super cool and really funny if I knew what dogs were thinking about.
OSAAtoday: You have to cook dinner for yourself and any three people in the world currently living. With whom do you dine and why and what are you serving?
Brown: I would have dinner with Ariana Grande, Jayson Tatum and his son Deuce. I chose those three people because Ariana Grande is my favorite artist and I think she is super talented and I only ever listen to her music when I'm in the car or working out. I chose Jayson Taytum and his son Deuce because Tatum is my favorite NBA player and I think he is cute so that's a plus. Obviously I would want to have dinner with his son, Deuce, too,,because Deuce is 10x cuter than Jayson Tatum plus I love babies and little kids. I would make quesadillas because I love quesadillas and I have my own quesadilla maker at home so it's super easy and quick. Since I have my own maker I'm really good at making them and I make quesadillas for my friends all the time so I know they would love them.
OSAAtoday: What about going to college scares the bejeebers out of you?
Brown: My scariest thought about going into college is living in a dorm. I think living in a dorm room is absolutely disgusting since there's been about hundreds of other students living there and I'm a very clean person so just the thought that other people have touched and used the things in my room is gross to me. I hate hotels and those are probably way cleaner than college dorm rooms so I'm really not excited about that.
OSAAtoday: If you HAD to go on a reality show, which would it be and why?
Brown: If I had to go on a reality show I'd go on "Keeping Up With the Kardashians" because I really like the Kardashians and I think they're funny. Living the life of a Kardashian is definitely not bad since they don't do anything but just sit around and gossip and make money by doing nothing. They have so much money and live such a lavish life and even though they are all psychotic I would love to live the life they live.
Read other Take Five articles published in connection with the 2019-2020 school season:
South Umpqua outside hitter Shalyn Gray
Lincoln distance runner Mia Kane
Madras football player Treyvon Easterling
Gladstone soccer player and cross country runner Derek Johnson
Canby soccer standout Ruby Kayser
Exceptional Scappoose athlete Emma Jones
Siuslaw harrier Brendon Jensen
Wilsonville volleyball attacker Lindsey Hartford
Lake Oswego runner Brogan Deem-Ranzetta
St. Mary's Academy long distance runner Fiona Lenth
Heppner hooper Madelyn Nichols
Sherwood swimmer Hunter Stewart