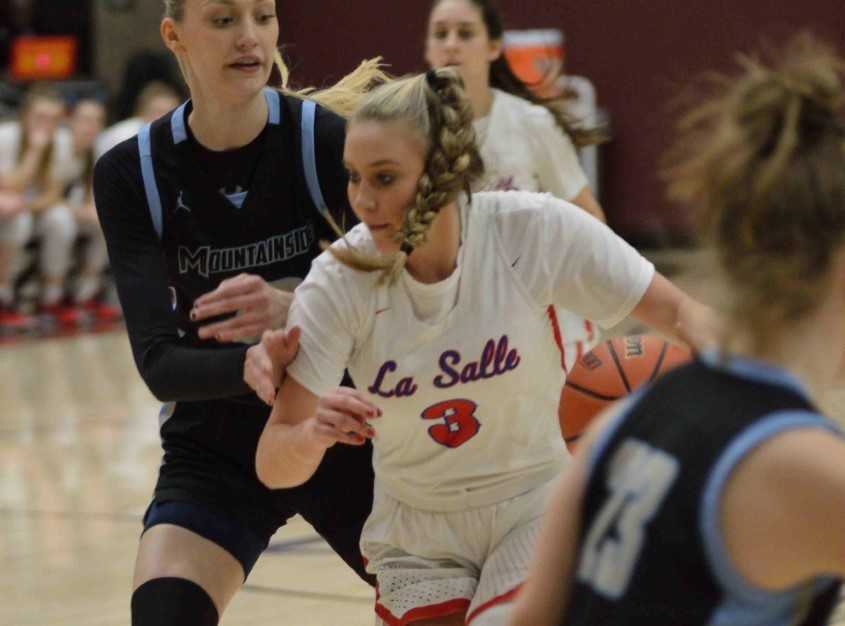 PORTLAND – A national free-throw champion in her youth, La Salle Prep junior point guard Addi Wedin isn't lacking for confidence when she steps to the line in pressure situations.
So she was as surprised as anyone when – with a chance to put away Mountainside in the semifinals of the POA Holiday Classic on Saturday at Franklin High School – she missed the front end of two one-and-one free-throw opportunities in the closing minutes.
Fortunately for the Falcons, Wedin got another chance, and delivered by making two free throws with 3.9 seconds left to give La Salle Prep a 42-40 win over the Mavericks. The Falcons will play Cashmere (Wash.) in the Platinum bracket final at 8 p.m. Sunday.
"Thank goodness she made the last ones or I was going to make her sleep in the garage," said Falcons coach Kelli Wedin, her mother.
With the score 40-40, the Falcons took more than a minute off the clock, then called timeout with 19 seconds remaining to draw up the final play. Wedin drove and was met at the basket by two defenders, drawing the fifth foul on Mountainside 6-foot-5 senior star Cameron Brink.
"I told my teammates that I was going to get that last shot, and I was going to make the free throws for them, because I was not ending on those misses," Addi Wedin said. "I'm not losing the game. I just had to get another chance."
Kelli Wedin said that Addi was "pumping herself up" in the huddle before the last play.
"She wanted those last two," Kelli Wedin said. "I think she was so grateful for those redemption free throws, to be able to secure that for us."
Mountainside had one last chance, but was called for a double-dribble in the backcourt as the buzzer sounded.
The game turned into a giant chess match between the reigning 5A champion Falcons (7-1), ranked No. 1 in the OSAAtoday 5A coaches poll, and the upstart Mavericks (5-4), No. 4 in the 6A poll.
La Salle Prep employed a new zone defense to counter the Stanford-bound Brink. Mountainside geared its defense against the 5-11 Addi Wedin, utilizing the long and athletic Brink against her on the perimeter.
The game had a state-tournament feel, featuring only eight turnovers as the teams worked the ball on long possessions.
"It gives us the mindset of what it's like to be playing for a state championship," La Salle Prep senior guard Emily Niebergall said. "When we're at state, half our team is experienced there, and half of them aren't. So it's important for the younger girls to have a game where it's like, every possession counts."
Niebergall and Wedin each scored 14 points for La Salle Prep, which shot 46.7 percent and committed three turnovers. Mountainside got 12 points from sophomore Halle Hageman, who made four three-pointers, and nine points from Brink, who also had 10 rebounds and five assists.
The Falcons led 24-19 at half as they held Brink to two points. The Mavericks tied it twice in the third quarter but could not take the lead.
La Salle Prep opened a 36-29 lead early in the fourth quarter on a runner by Wedin, but Brink hit a three-pointer and two free throws to make it 36-34. After Wedin's missed free throws, Hageman connected on a three-pointer to tie 40-40 with 1:32 left.
The Falcons, who had opted not to set ball screens on Brink to free up Wedin throughout the game, finally did so on the last possession, creating a driving lane for her.
"We don't do a ton of ball screens," Kelli Wedin said. "Our comfort zone is more like, let's keep moving, let's keep wearing them out on defense. Then the last play of the game, we set the ball screen, when they're not expecting it. I didn't think it was going to come down to that, but it worked out well for us."
Heading into the game, Addi Wedin said she had a feeling that Brink would guard her. Wedin took only nine shots (making four) – well off her average of 15 – as Brink stuck to her on the perimeter.
"It's hard because she's so much taller than me, and even if I get past her, there's still a good chance she can block me," Addi Wedin said. "I was just doing my job. I don't have to shoot every time. I was going to do whatever it took. Like, I would take her out of the game."
Brink finished 3 of 8 from the field for the Mavericks, who fired away from the outside. They shot 14 of 37 from the field, including 8 of 28 from three-point range.
"We took our chances with them shooting threes," Kelli Wedin said.
Mountainside is facing lots of different types of defenses this season with the addition of Brink, who transferred from Southridge this year.
"We're playing chess with teams in how they guard us," Mavericks coach Glen Lee said. "And then we adjust a little bit."
Mountainside continues to work on ways to optimize the talented Brink, who led Southridge to three 6A finals, winning titles in 2017 and 2018. The Mavericks start four sophomores with her.
"It's a learning process," Lee said. "She's giving us a of leadership, on and off the floor, teaching us how to get to the next level. We can go inside-out with her. It's a work in progress. We don't want to be real, real good right now. Hopefully in February. But it's all helping us get ready for the Metro."