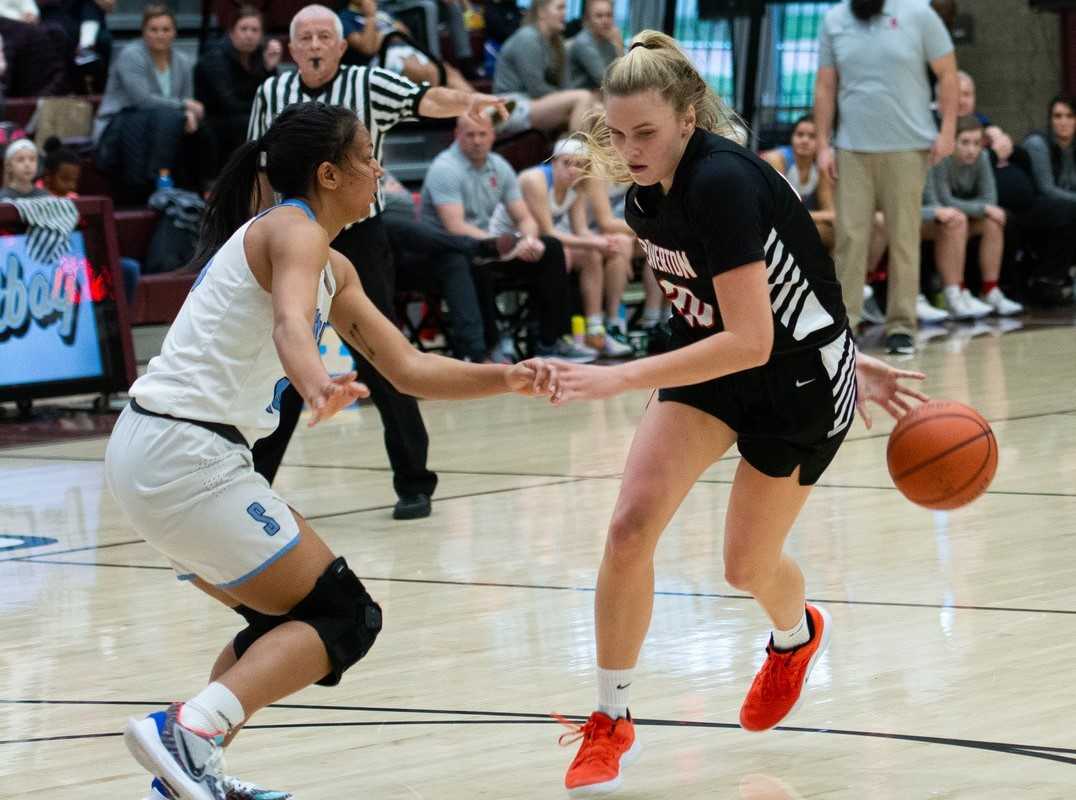 PORTLAND – It took almost the entire first month of the girls basketball season, but No. 1 Beaverton finally got to play a game on Oregon soil Friday.
And the Beavers, who split their first six games in Washington and Arizona, showed glimpses of why many consider them a 6A title favorite by rolling to a 54-32 win over South Salem in the opening round of the POA Holiday Classic at Franklin High School.
Beaverton (4-3) got 21 points from 6-foot-2 senior Laura Erikstrup and used its length to suffocate the Saxons (3-3), forcing 22 turnovers, to advance to the semifinals of the Platinum bracket. The Beavers will play Cashmere (Wash.) at 8 p.m. Saturday.
It was a solid performance for Beaverton, which has set the bar high after returning all five starters from last season's 6A semifinal team.
"We're so motivated. I can't tell you how motivated we are," Erikstrup said. "We want it this year. Game by game is another opportunity to learn and grow."
Beavers coach Kathy Naro likes how the team is coming together.
"I feel like overall our chemistry is way better," Naro said. "I feel like we've really put the team first and have learned a lot from how the season went last year. Overall our chemistry is great. Lot of growth on and off the floor."
Erikstrup's twin sister, Sydney, had an outstanding all-around game with eight points, six rebounds, seven assists and three steals. Senior point guard Mary Kay Naro, junior guard Alexa Borter and freshman guard Zoe Borter each had six points for the Beavers.
South Salem got 16 points from junior guard Hilary James. She scored 10 points, including two three-pointers, to keep her team within 15-12 early in the second quarter.
But Beaverton took command from there, going on a 15-0 run to open a 30-12 lead. The Erikstrups and Mary Kay Naro each had two baskets in the run, which included a three-pointer from Zoe Borter.
"I thought we did some good things," Kathy Naro said. "We still have a lot to work on. But overall, I feel like we're getting better, and talking about a lot of things that we want to keep improving on."
It was Beaverton's first game since going 1-3 in the Nike Tournament of Champions in Phoenix. The Beavers lost 41-39 to Centennial of Las Vegas, which is ranked No. 17 in the country by ESPN.
"I feel like we played really strongly. We competed," Laura Erikstrup said. "Those games exposed what we need to work on. It's good feedback to have. … It was cool to see ourselves against those teams. We learned a lot of stuff from that tournament that we want to carry up here."
Kathy Naro said the Beavers realistically could have finished 3-1 in Arizona.
"But that's OK," she said. "It exposed some things that we need to address, like rebounding, taking care of the ball, valuing the ball. Moving the ball, reversing it from side to side, and not taking shots we don't need."
The season holds great promise for Beaverton, which has never won a state title.
"I definitely feel like there's a new vibe this year," Laura Erikstrup said. "There's a lot more energy. We have some great freshmen. We're all competing really hard in practice. Practice is great this year just because we have so many people who are very talented, so it's a lot more competitive."
For Kathy Naro, the season is special because it will be the only one with her three daughters on the team: senior Mary Kay, junior Mackenzie and freshman Madison.
"I'm trying to enjoy it as much as possible, trying to really just soak in every minute," Kathy Naro said. "When I'm coaching them, they're another player, but I'm loving them at home. It's been really fun."