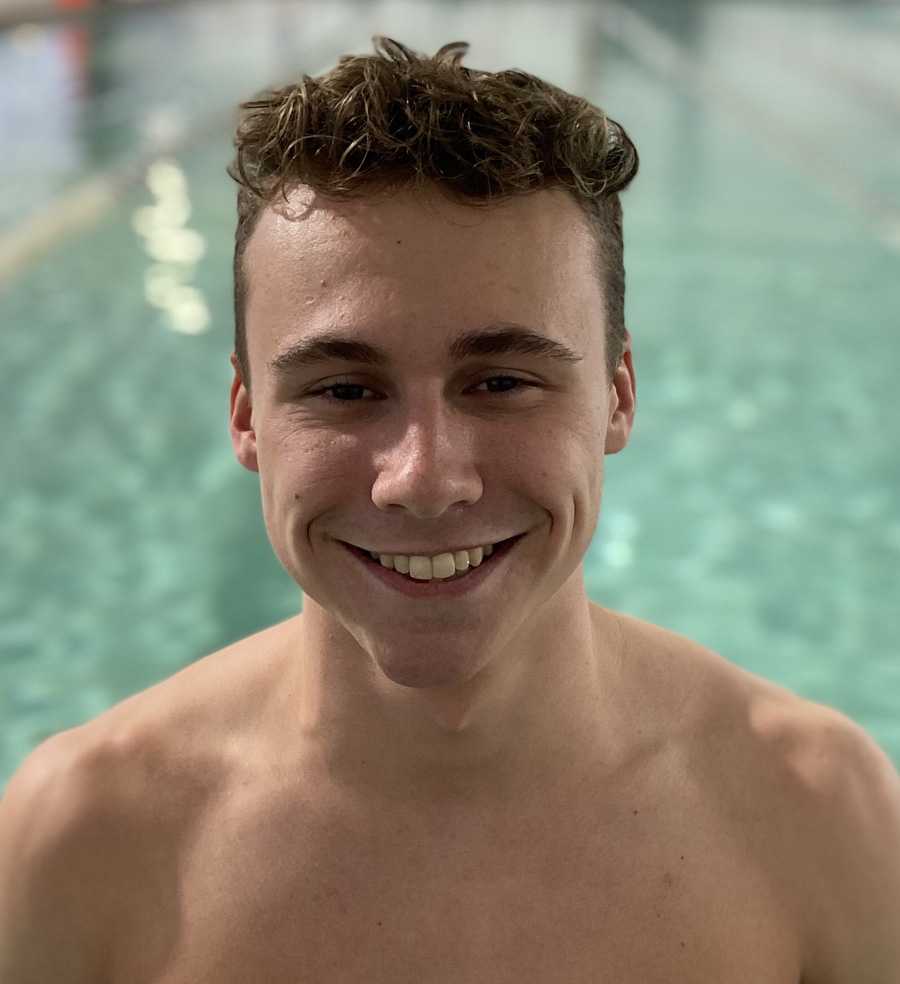 [Editor's note: "Take Five" is a recurring feature designed to offer a quick look at some of Oregon's most interesting high school sports standouts. Today we introduce you to Julian Melton, a thoughtful South Salem junior and State qualifier with several strong District finishes in his two years of competitive high school swimming. We asked Melton to answer five questions from the 25 we sent to him. He shared…]
OSAAtoday: What was your first big success as an athlete and how did it impact you?
Julian Melton: When I was 14 years old I was preparing for state championships that summer. Once the entries were in, I realized I was seeded 2nd in the 100 breaststroke and immediately all I could think about was that race. I began swimming more breaststroke in practice than ever and my coach even suggested I might be swimming too much breaststroke. Come race day, I entered prelims with more confidence than ever. I ended up swimming a personal best time and qualifying for the Senior Zones Championships with my time, in addition to qualifying for finals later that night with a 2nd place seed. That night at finals I remember looking at the swimmer next to me, who was seeded 1st, just imagining how it would feel to beat him. Immediately after touching the wall and finishing the race, I looked over and saw I beat him. It wasn't until I turned around to look at the scoreboard that I realized that another swimmer had in fact touched before me and I hadn't won state. I cooled down, changed, and began the drive home with my family, feeling upset that I hadn't won yet happy to have qualified for the bigger meet in California. Just a few minutes into the drive, my best friend Trevor texted me to let me know the swimmer that had beaten me was disqualified and I was actually the champion. This story stands out to me because it was my first real moment in the "spotlight" for this sport and reminded me that with hard work (and sometimes a little luck) anything is possible.
OSAAtoday: Tell us about a specific failure and how you learned from it.
Melton: After placing second at Districts my freshman year, I headed off to State. I was the last seed in the 200 IM and entered the meet with low expectations. I figured I was last and I couldn't finish any worse than I'm entered and just didn't feel motivated. I ended up adding six seconds from my time the previous weekend. This taught me that not only do I need to find a way to hype myself up before races whether I'm motivated or not, but I also need to improve my mental attitude in situations like this. After this I evolved my warmup routine as well as how I view my races. I try to think that I can only go up from here, so that's the goal. After all, any improvement is better than none.
OSAAtoday: What is your favorite class in school and why?
Melton: Without a doubt my favorite class in school is Unified PE. It is a fairly new class to South but has had the greatest impact on me as a person. This class symbolizes inclusion for everyone and how nothing is possible without people behind you supporting you. Working and competing with special needs students at my school is not only fun, but also rewarding and easily the best part of my day. Through this class I have competed in Special Olympics competitions, clinics, and, most importantly, learned that everyone is equal and deserves the same amount of respect. It has also helped me discover occupational therapy, a career I hope to pursue someday. Although South is making a huge impact on our community with this program, there is always room for growth. I hope this program is expanded to other schools and everyone is eventually respected and seen as equal regardless of any barriers they may face.
OSAAtoday: You have to cook dinner for yourself and any three people in the world currently living. With whom do you dine and why and what are you serving?
Melton: I would invite Olympic breaststroke swimmer Cody Miller, rapper/designer Travis Scott and my best friend, Trevor Cook. Cody would be fun to eat with because I think he is an overall positive guy and a very talented swimmer who could share a lot of valuable tips and fun stories with us. Travis Scott is my favorite rapper and I usually listen to at least one of his songs before every race. I also like his work as a fashion designer and it would be interesting to learn where he gets his inspiration for music and design. Finally, I would obviously invite Trevor because he's my best friend. We share everything with each other and are always laughing and messing around when we're together. He swims as well, and although we don't train together anymore, I'm sure he'd enjoy meeting Cody and Travis as much as I would. As for what I would serve, I would likely make spaghetti and meatballs, garlic bread, and a Caesar salad, my favorite meal the night before a swim meet.
OSAAtoday: What's the wisest thing a coach ever said to you?
Melton: Two specific pieces of advice stick out to me throughout my time swimming. First, and possibly the most important, is "just race." A previous coach of mine, Kim Phillips, told me this before nearly every race. To me this means whether you're nervous or not, excited or not, prepared or not, however you're feeling, just race and give it your all. This helps me have fun while swimming and reminds myself that however I'm feeling, giving my best is all I can do, so just race. Second, my current swim coach, Ron Allen, reminded me fairly recently that what you put into your training is equal to the results you'll get out. I try to remind myself of this on a hard set or a day that I don't particularly want to go practice. I think about the goals I want to achieve and how every practice is just one step closer to them. So when my alarm goes off at 5am for practice before school or when I pull into the parking lot for my second practice after school, I think about how it's all moving me closer to my ultimate goals.
Read other Take Five articles published in connection with the 2019-2020 school season:
South Umpqua outside hitter Shalyn Gray
Lincoln distance runner Mia Kane
Madras football player Treyvon Easterling
Gladstone soccer player and cross country runner Derek Johnson
Canby soccer standout Ruby Kayser
Exceptional Scappoose athlete Emma Jones
Siuslaw harrier Brendon Jensen
Wilsonville volleyball attacker Lindsey Hartford
Lake Oswego runner Brogan Deem-Ranzetta
St. Mary's Academy long distance runner Fiona Lenth
Heppner hooper Madelyn Nichols
Sherwood swimmer Hunter Stewart