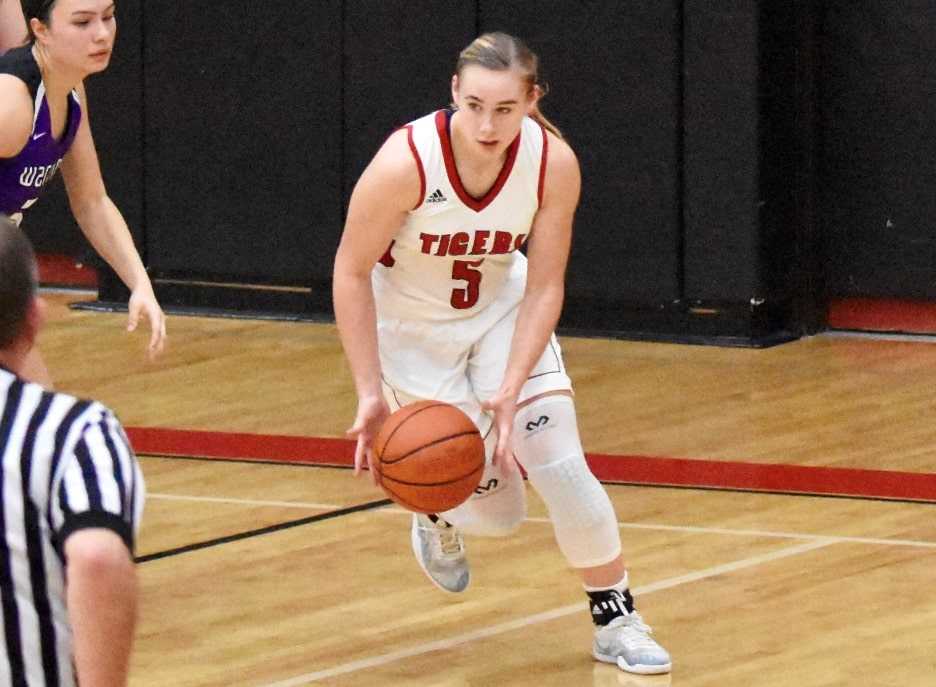 Clatskanie girls basketball has entered a new world this season.
With every starter back from the 3A championship team – the first title in the program's history – the Tigers no longer can keep a low profile.
"The first game, we knew we had a target on our back," coach John Blodgett said. "So that was motivation for us. We can't get complacent. We know that it makes a season if a team can knock you off."
So far, Clatskanie has been up to the challenge. The Tigers, No. 1 in the OSAAtoday 3A coaches poll, stand at 8-0 after sweeping three games in the Dayton Tournament last week.
They beat Western Christian 72-40 on Thursday and No. 6 Pleasant Hill 68-41 on Friday. They rolled past No. 8 Santiam Christian 65-31 in the final Saturday, racing to a 25-5 lead after one quarter.
"I feel like that first quarter, we were kind of picking up where we left off last year," said Blodgett, whose team showed improvement from a 64-56 season-opening win over Santiam Christian.
Clatskanie has won 18 in a row going back to last season. The streak includes a 60-56 win at Kennedy, ranked No. 1 in the 2A coaches poll, in the second game this season.
Much of the Tigers' attack revolves around junior wing Shelby Blodgett and junior guard Olivia Sprague, the driving forces of last season's title team. The 5-foot-8 Blodgett is averaging 23.3 points, 17.9 rebounds, 4.9 assists and 1.6 blocks. The 5-7 Sprague is at 22.1 points, 7.3 rebounds, 6.6 assists and 5.4 steals.
Opponents are stacking their defenses against them.
"They're still getting pretty good numbers, but it gives you the ability to get other people involved, get them easy baskets," John Blodgett said. "We did some of that the last couple games.
"That's the thing we're really focusing on is if they're going to sell out on those two, we can get other people to help us win. That will work better in tougher games against tougher teams."
Shelby Blodgett, who last season became the seventh player in state history to record a 30-rebound game, made history again Friday when she recorded her 1,000th career rebound, the 13th to do so in the state. At her pace, she has a chance to make a run at the all-time mark of 1,642, set by Springfield's Mercedes Russell (2009-13).
"She kind of has a knack for the ball," John Blodgett said. "That's something she's proud of."
Clatskanie's other returning starters are junior post Kaity Sizemore (5.1 points, 8.0 rebounds), senior wing Anna Martin and junior guard Alexis Smith. Sophomore guard Cloee McLeod has been starting while Smith works her way back from injury.
The rotation includes two freshmen in guards Kylie Thomas and Maya Helmen.
"They're stepping up," John Blodgett said of the newcomers. "Next year is when we'll really start seeing it. My intention is to build a program. We don't want to be one-and-done or two-and-done."
4A powers collide
No. 1 Philomath rallied from an 11-point deficit in the fourth quarter to edge No. 2 Astoria 51-50 as the two unbeaten 4A teams met in the final of the Les Schwab South Coast Holiday Tournament on Saturday at Marshfield High School.
Astoria (6-1) led 46-35 inside six minutes left when Philomath (7-0) started its comeback. Junior Mia Rust scored 10 points in the fourth quarter, including two free throws to tie and two more to take a 50-48 lead in the final minute.
Astoria junior Kelsey Fausett made two free throws to tie 50-50 with nine seconds left. Philomath sophomore Sage Kramer was fouled inside with 0.6 seconds left and made the first of two free throws for the win.
"We really fought hard for that," Philomath senior guard Emma Pankalla told the Coos Bay World. "We didn't come out how we wanted to in the first half. We came out with a lot of energy in the second half."
Pankalla, the tournament MVP, made three three-pointers and scored 15 points. Kramer and Rust had 15 and 14 points, respectively, for the Warriors.
"We talk about resiliency all the time and we were just being tough and hanging in there. We showed that down the stretch," Philomath coach Ben Silva told the Philomath Express. "We know that we always have that in our back pocket."
Silva added: "But hopefully we're not 11 points down with four minutes to go anymore."
Senior Hailey O'Brien scored 15 points for Astoria.
POA Holiday Classic
The top eight teams in the OSAAtoday 6A coaches poll will appear in the POA Holiday Classic from Thursday through Saturday at Franklin High School.
The tournament features four eight-team brackets split between Franklin and Grant high schools. The top teams are divided into the Diamond and Platinum brackets at Franklin.
No. 1 Beaverton, No. 4 Mountainside, No. 5 Liberty, No. 8 Sheldon and 5A No. 1 La Salle Prep are in the Platinum bracket. The field includes Cashmere (Wash.), which features Louisville-bound point guard Hailey Van Lith, rated as the No. 2 senior recruit in the country by Prospect Nation.
No. 2 West Linn, No. 3 South Medford, No. 6 Benson, No. 7 Southridge and 5A No. 2 Wilsonville are in the Diamond bracket. The bracket includes two out-of-state teams in University of Spokane and White County (Tenn.).
The Diamond and Platinum finals are Saturday at 6:30 p.m. and 8 p.m., respectively.