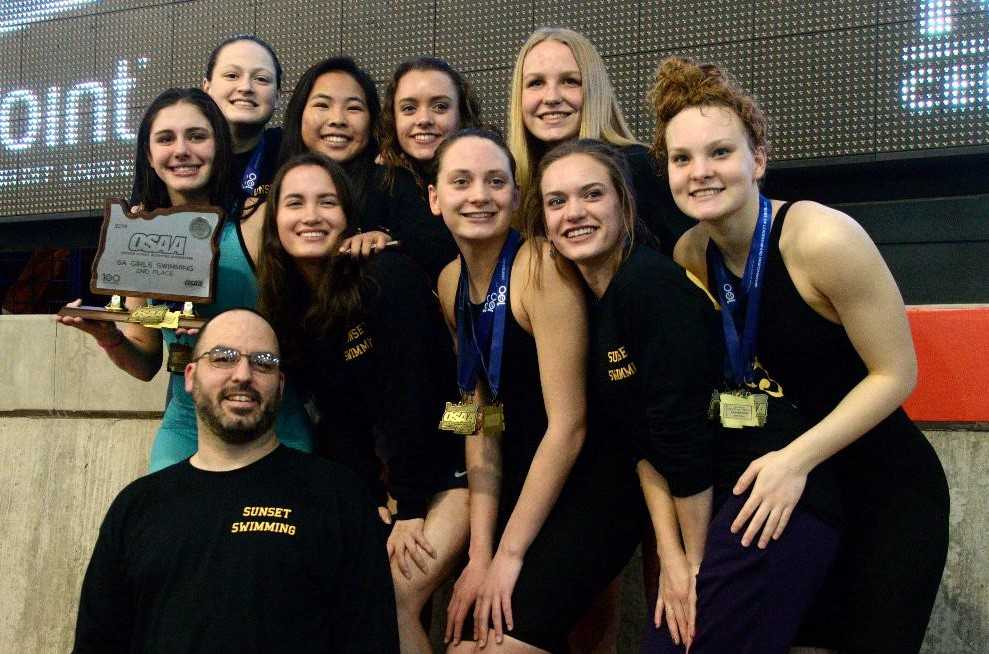 Sunset is a perennial contender in 6A girls swimming, finishing in the top four at the state championships for seven consecutive seasons, including state titles in 2017 and 2018.
That's impressive enough, but what the Apollos have done in the relays in recent seasons is downright staggering.
Sunset has won the 200-yard freestyle relay and 400 freestyle relay in each of the last four state meets, maintaining its dominance in the events despite an ever-changing cast. During that span, the team has set the OSAA meet record in the 400 three times and the 200 twice.
It is a source of pride for the Apollos, who have a friendly competition for their spots on the teams, according to coach Adam Farber.
"We have a lot of fun at the meets. I start pitting the girls against each other to kind of let them know, 'Hey, you want the district and state relay, here's your competition, what are you going to do?'" Farber said. "We do have some fun through the season, trying to figure things out, the fastest possible combination."
Senior Tia Lindsay, a member of four state champion relay teams, said the relays organically take shape and help the team bond.
"They really kind of pull everyone together," said Lindsay, whose sister, Angie, was on six state champion relay teams at Sunset. "Swimming is an individual sport, and you have your individual races and you're swimming for the team, but everything about relays is definitely amplified because it's double the points, and your time and place is contingent upon your teammates.
"It's just 100 percent swimming for the team, something that's bigger than yourself. That's what brings out the special part about the relays."
So can the Apollos keep their relay streaks alive this season? It's going to be a tall order, but it appears they will have a shot at it.
Sunset returns three members of both winning relays in Tia Lindsay, junior Kiki Lindsay and sophomore Hannah Trainer, but suffered a blow when the anchor of both teams – senior Lily Gardner, the state champion in the 200 freestyle and 100 butterfly – transferred to 4A Valley Catholic.
The Apollos are hopeful to put something together out of their returners and a group of talented newcomers that includes junior Zoey Dodson, a transfer from North Medford, and freshmen Natalie Fernstrom and Nicolien Corbeau. As a freshman, Dodson placed fourth at state in the 200 freestyle.
"It's not out of the realm of possibility," Farber said of defending the titles. "Zoey is definitely very fast, she's just not quite as fast as Lily. But she's on a new team now, new coach, and you never know what that's going to produce. We'll definitely have a very strong relay. I just don't know if it's quite record-breaking caliber yet."
In the overall 6A team race, the Apollos will have their hands full with Metro League rival Jesuit. Sunset and Jesuit finished 1-2, respectively, in 2017 and 2018, but the Crusaders flipped the script in last season's 6A meet, outscoring the runner-up Apollos 130-99.
"Losing Lily, that hurts," Farber said. "But I think we've got a little bit more depth this year than we had last year. Through the season, that's definitely going to help us. I don't know where that's going to play out at the state level."
Sunset is counting on a big season from Tia Lindsay, who has signed with Arizona. Last season, she won her second state title in the 200 individual medley and first in the 100 backstroke. She said she is unsure of which events she will swim this season.
"I'm definitely looking at things differently now that Lily's not here," Tia Lindsay said. "So we might have to figure out a new gameplan."
Tia Lindsay said she is encouraged by her performance last week** at the Junior National meet in Federal Way, Wash. She did not record any personal bests, but she is ahead of her pace from last year, when she had food poisoning.
"It's the fastest I've swum this early, so I'm excited for it," she said.
Sunset also should get some points at state from Kiki Lindsay and Trainer. Last season, Kiki Lindsay was third in the 100 breaststroke and sixth in the 200 IM; Trainer was fifth in the 100 freestyle and seventh in the 50 freestyle.
If it comes down to the final event, the 400 freestyle relay, don't bet against the Apollos.
"My freshman and sophomore years, it came down to those relays," Tia Lindsay said. "It's definitely my favorite part about swimming, for sure, the relays."