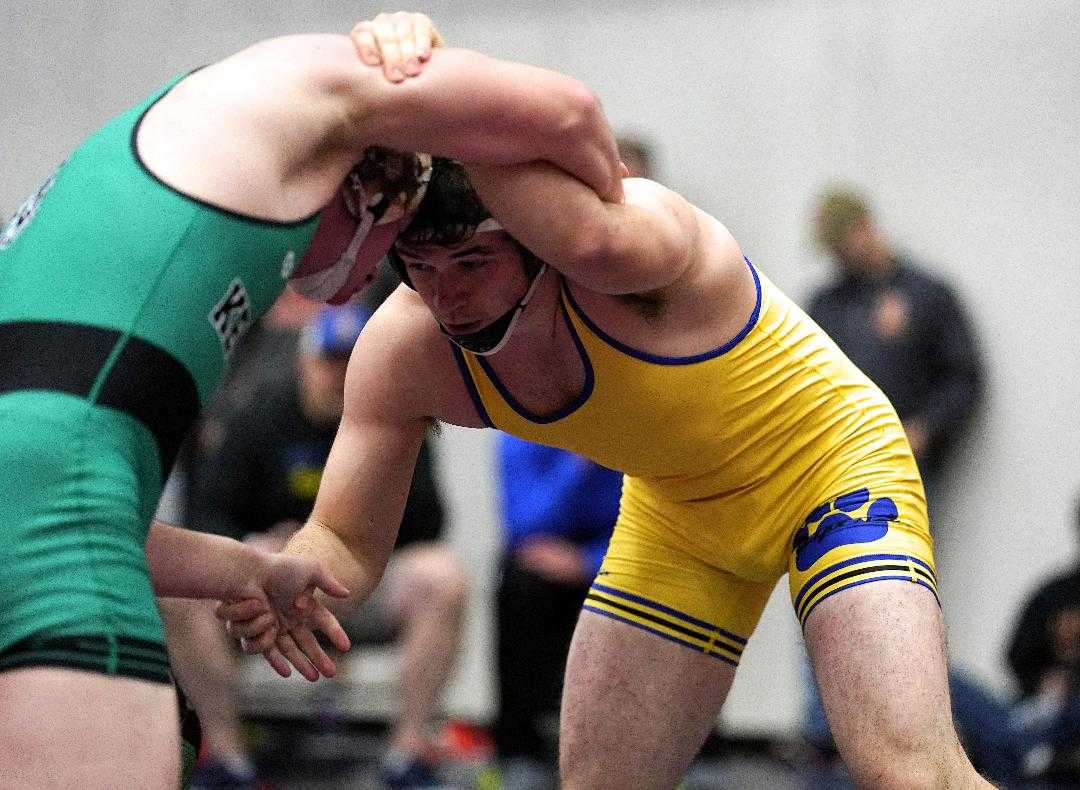 Senior Hunter James led the way as Newberg finished first in the 30-team Rose City Championships wrestling tournament Friday and Saturday at Westview High School.
James was the only champion out of three finalists for the Tigers, who scored 348.5 points to beat Sprague (277.5), Thurston (236) and White River, Wash. (235.5) for the title.
Competing at 195 pounds, James pinned his first four opponents, then defeated junior teammate Alec Love 7-0 in the semifinals. He posted a 6-2 decision over Dominic Kremer of Kentwood (Wash.) to win a title at the tournament for the second year in a row.
The 6A runner-up at 195 as a sophomore and third-place finisher at 220 as a junior, James is going after his first state championship this season.
"He's in physically really good shape, probably as good or better than anybody," Newberg coach Neil Russo said. "He's probably a natural 195-pounder, so it's a comfortable place for him."
Newberg got runner-up performances from sophomores Ayden Garver (132) and Charlie Evans (145) and a third-place finish from sophomore Nicky Olmstead (126).
Garver, the 6A champion at 113 last season, dropped a 13-2 decision in the final to Silverton senior Kaden Kuenzi, who went 39-0 last season to win the 5A title at 120.
"He's as good a lightweight as I've seen in the state of Oregon in a while," Russo said of Kuenzi, a two-time state champion. "Ayden is no slouch, but Kaden is on a different level. It was the same last year. I think Ayden closed the gap a little bit, but the gap still exists, that's for sure."
Evans lost 9-8 in the final to Steele Starren of Tahoma (Wash.). The wild match was stopped several times due to blood.
"I'd like to see that match again, and we might see it here in the next week or so," said Russo, noting that Newberg and Tahoma will wrestle in a tournament at Pasco, Wash., this weekend.
Garver, Evans and Olmstead – all state finalists as freshmen last year – made strong showings in their debuts despite making big jumps in weight. Garver and Olmstead wrestled up three classes from where they won state titles. Evans was up two divisions.
"Some of them will figure out that it's a little different with a bullseye on your back than it is being a freshman that nobody is aware of," Russo said. "There's some learning curve there. But they all know how to wrestle, and they're going to figure those things out. I was hoping a couple of them would stay a little smaller."
Newberg is hoping to unseat six-time reigning 6A champion Roseburg this season. The Tigers have finished as runners-up to the Indians in the last two 6A tournaments, coming within seven points last season, when they defeated Roseburg in a dual meet and in the Reser's Tournament of Champions.
"Our 14 were better than their 14 – not by a wide margin, by any means – but you get to the state tournament, where it's scored a little differently, and it's a different animal," Russo said. "I think we're going to be in the mix. I think Roseburg is the favorite until somebody beats them. But I don't think they're running away from the field."
Other Oregon champions at Rose City were Westview senior Angel Sanchez (138), Thurston junior Asher Ruchti (160), Dallas senior Jared Coxen (182), Sherwood junior Bryan Cuthbertson (220) and McMinnville junior Jacob Barnes (285).
War of the Roses
Sunnyside, Wash., emerged on top of the 34-team War of the Roses girls tournament at Westview, scoring 245.5 points to beat two other Washington schools, Kelso (151) and Union (139).
Thurston was Oregon's highest-placing team, finishing fourth with 137 points. Hillsboro (80), La Pine (71) and Glencoe (65) finished seventh through ninth.
The champions included Newberg sophomore Sophia Redwine (115A), who won the state title at 100 as a freshman.
Among other first-place finishers were La Pine senior Olivia Flack (100), Thurston junior Cailee Hallett (125A), Scappoose sophomore Bella Amaro (135A), Mountain View senior Taylor Ohlson (14), West Linn freshman Destiny Rodriguez (155A), Glencoe senior Olivia Robinson (170A) and Milwaukie junior Fiona McConnell (190).
Ohlson and McConnell were state runners-up last season.
Culver Invitational
Small-school power Culver – the 2A/1A champion in 12 of the last 13 seasons, including the last six – took five weight classes in winning its own 16-team Culver Invitational on Friday and Saturday.
The Bulldogs got titles from freshman Debren Sanabria (106), junior Anthony Hood (138), senior Lane Downing (145), junior Wyatt Borwin (152) nd sophomore Isaiah Toomey (170). They scored 244.5 points to hold off 5A contender Crook County (179), La Pine (166) and Pine Eagle (124.5).
Downing, the state champion at 138 last year, won his division by recording a second-round pin over Joseph/Wallowa junior Zeb Ramsden, the state runner-up at 132 a season ago.
Pine Eagle sophomore Chase Butner, the 2A/1A champion at 106 as a freshman, was pinned in the 126 final by Bonanza senior Oak Tenold.
Tigers take Muilenberg
Host La Grande finished on top of the 18-team Muilenberg tournament. The Tigers racked up 387 points to surpass Burns (163.5), Weiser, Idaho (235), and Hermiston (229).
La Grande senior Parker Robinson, the 4A champion at 160 last season, won the title at 170. Other Tigers winning their weights were sophomores Braden Carson (132) and Brody MacMillian (160) and seniors Christopher Woodworth (195) and Spencer Gerst (220).
North Bend Coast Classic
Junior Kellen Kerrigan (138), sophomore Colby Meek (152) and freshman Owen Burkhardt (195) won titles to propel Crater to first place at the 34-team North Bend Coast Classic.
The Comets scored 272 points to finish well ahead of Grants Pass (172), Roseburg (153.5) and Redmond (139).
Cascade Christian senior Gabe Vidlak, a two-time 3A champion, won the title at 126.