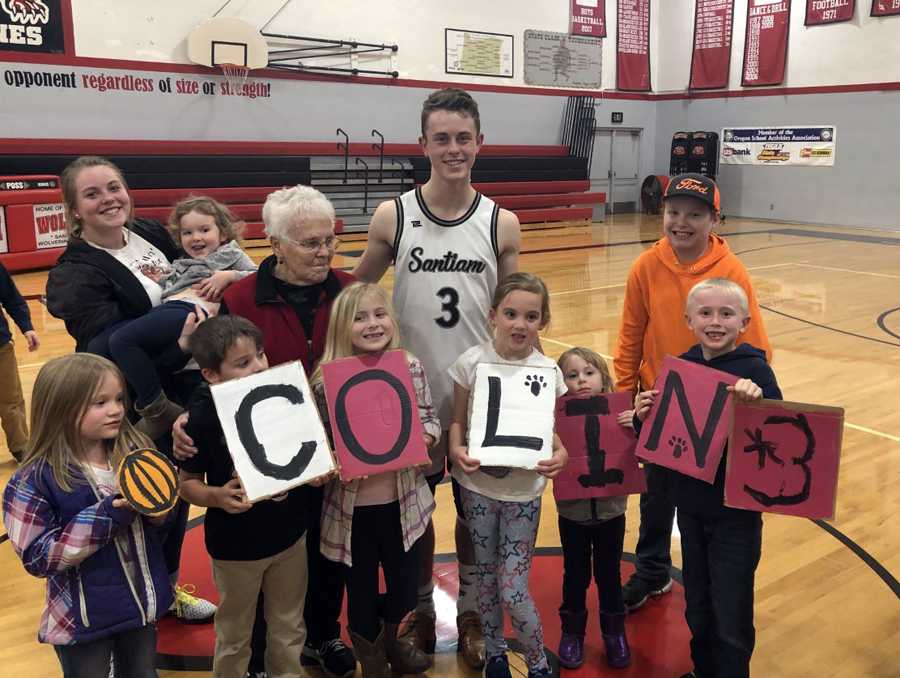 [Editor's note: "Take Five" is a recurring feature designed to offer a quick look at some of Oregon's most interesting high school sports standouts. Today we meet senior combo guard Colin Thurston of 5-0 Santiam. Thurston was a First Team All-League and HM All-State pick a year ago, when the Wolverines finished sixth in 2A. We asked Thurston to answer five questions from the 25 we sent to him. This is what he told us…]
OSAAtoday: What was your first big success as an athlete and how did it impact you?
Colin Thurston: During the beginning of my sophomore year, I was contemplating whether or not I wanted to play football. The year prior, I showed up every day just to be a tackling dummy, just the typical freshman responsibilities. After the first week of practice that [sophomore] year, my coach came up to me and said that I was going to be the starting QB, so I kinda had to stay at that point. During the semifinals of the state playoffs that year, we were set to play the #1 ranked team in the state, St. Paul High School. In the closing minute of a grueling football game, our team was backed up to the opposite 7 yard line. No timeouts. Down by 2 points. With three complete passes and a little luck, we managed to bring our offense down to the 8 yard line. Sending out our field goal unit, one that didn't manage any success throughout the season, we watched as the football inched its way over the crossbar, sending us to the state championship game. I've never had a game with so much adversity, but the impact that it gave me is something that I will keep forever. It showed me that, even in difficult times, trust is extremely important; in a team, but in yourself as well. Since then, I don't believe that there's anything I can't do.
OSAAtoday: Who is your celebrity crush and why?
Thurston: It would easily be Vanessa Hudgens. As a young teen, the only reason I watched High School Musical was because of her. Stunning.
OSAAtoday: What is the funniest moment you remember from Kindergarten?
Thurston: When I was in kindergarten, one of the teachers had a tarantula in her class, and I thought it was the coolest thing in the world. All of us kids were mesmerized by the creature, until one day someone accidentally let it out of its glass enclosure. We all freaked out, obviously. No one was bitten, but to this day, I still have no idea if it was ever found.
OSAAtoday: If you HAD to go on a reality show, which would it be and why?
Thurston: I'd love to go on American Ninja Warrior. It has been a dream of mine for years now. I watch it all the time with my family and I honestly believe that I can do it right now.
OSAAtoday: Describe your scariest moment while learning how to drive.
Thurston: I wasn't the one that was learning how to drive, but scary nonetheless. We had a foreign exchange student. After one of our football games, I'm sitting in my truck waiting for him to join me so I can take him home. When he finally gets out of the locker room, he walks up to my window and asks, "Can I drive home?" I was hesitant, but I let him because he assured me that he knew how to drive. He moved about 5 feet forward before hitting the back of a minivan, and instead of pressing the brake, hit the gas pedal by mistake. To make matters worse, the owner of the minivan was none other than the wife of the local state police officer. Luckily no one got hurt.

Read other Take Five articles published in connection with the 2019-2020 school season:
South Umpqua outside hitter Shalyn Gray
Lincoln distance runner Mia Kane
Madras football player Treyvon Easterling
Gladstone soccer player and cross country runner Derek Johnson
Canby soccer standout Ruby Kayser
Exceptional Scappoose athlete Emma Jones
Siuslaw harrier Brendon Jensen
Wilsonville volleyball attacker Lindsey Hartford
Lake Oswego runner Brogan Deem-Ranzetta
St. Mary's Academy long distance runner Fiona Lenth
Heppner hooper Madelyn Nichols