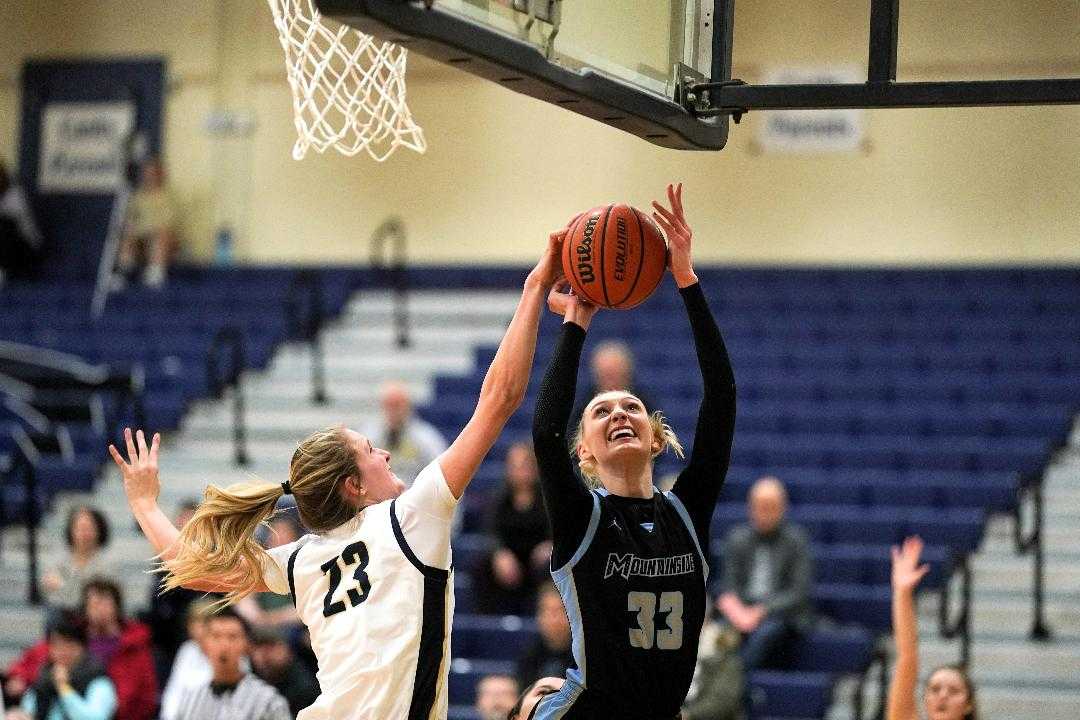 CANBY -- Once Canby stole the momentum from Cameron Brink and Mountainside on Tuesday night, nothing could pry it from the Cougars' vise-like grip.
Host Canby took advantage of early foul trouble for Brink – the 6-foot-4, do-everything Stanford recruit -- to wipe out a 15-point, first-quarter deficit, then rode a wave of energy to a 51-44 win over the third-ranked Mavericks in a 6A nonleague girls basketball game.
The Cougars (1-1) got 14 points from senior post Nicole Mickelson, 13 points from junior guard Zoe Thompson and 12 points from freshman point guard Allie Mead to bounce back from a season-opening loss to Forest Grove.
"The energy came about the second quarter," the 6-foot Mickelson said. "I think people were nervous coming in, because it's Mountainside. We tried to overcome that, and we were ready."
Mountainside has high hopes this season with the addition of Brink, a transfer from Southridge, where she led the Skyhawks to 6A titles in 2017 and 2018. The Mavericks laid a solid foundation in their first varsity season in 2018-19, finishing 14-11 and making the state playoffs, and Brink joined a team that returned intact.
Mountainside opened the season last weekend by beating Clackamas 57-46 and Sherwood 77-52. But after a strong start Tuesday, the Mavericks couldn't hold off the surging Cougars.
"I just thought we didn't bring the energy," said Brink, who scored a game-high 19 points and is averaging 15.3 points in her first three games.
Mountainside dominated early, opening a 20-5 lead behind nine points from Brink, who beat the Cougars on drives to the basket, and 11 points from sophomore guard Carly Stone, who hit three three-pointers. Brink picked up her second foul with 56 seconds left in the first quarter, though, and sat the rest of the first half.
"That gave us hope, more energy," Mead said.
With Brink on the bench, Canby outscored the Mavericks 18-2 to take a 23-22 lead at half. Mead scored on a backdoor layup and made two three-pointers during the comeback.
"We were like, 'Keep firing, keep going at them, don't let up,'" Mead said.
Canby coach Chuck Knight, who watched his team give up a fourth-quarter lead in the 40-35 loss to Forest Grove, liked how his team stayed in the game mentally.
"When you get down early like we did, it would be easy to hang your head," Knight said. "The kids, they weren't going to have any of it. They just kept playing."
Brink returned to start the second half, but by then, the Cougars and their home crowd were fired up. Mickelson scored Canby's first eight points of the third quarter, including two three-pointers, and aggressively guarded Brink on defense.
"When the lights turn on, Nicole's a gamer, there's no question," Knight said. "Obviously, Brink's an amazing player, but when you've got somebody like Nicole, you at least have a shot to keep her under check. She won't ever back down."
Mickelson accepted the personal challenge against Brink, even blocking two of her shots.
"She's phenomenal," Mickelson said of Brink. "She can shoot, drive, and she's great on the low block. I think it was just my mindset. She likes to be physical, and I wasn't going to let that affect my game. So I had to be mentally strong."
Canby led 31-26, but Brink scored eight points in the third quarter as Mountainside pulled even at 35-35 heading into the fourth quarter.
That's when the Cougars, fueled by their defense, took the lead for good. Mead scored on a runner after a steal by senior Naarai Gomez. Thompson drained a three-pointer off a steal by senior Arika Evans. Thompson came up with another steal and added two free throws to make it 42-35.
Mountainside got to within 45-44 on a basket by sophomore Lindsey Wilson with 2:59 left, but Canby made six free throws and locked down on defense to put the game away.
After the slow start, the Cougars ran their motion offense with dizzying efficiency, keeping the Mavericks a step behind on defense.
"The kids are so unselfish," Knight said. "They know what they're supposed to do, and they don't care who shoots. They don't care who scores. When you have those unselfish players who can knock down shots, you can be pretty effective."
The fearless, relentless play of Mead has given Canby a boost.
"She's amazing," Mickelson said. "She's brought us a lot of talent. She's got a lot of speed. She's got good handles, she can shoot, drive. I think once she gets her confidence up and gets a little bit more experience, she'll be amazing."
Canby, which went 10-15 last season and missed the playoffs, will try to build on the upset win.
"It gives us a lot of confidence," Mickelson said. "I knew ahead of time, some of us were doubting. But if we can beat Mountainside, a great team, I think we can compete."