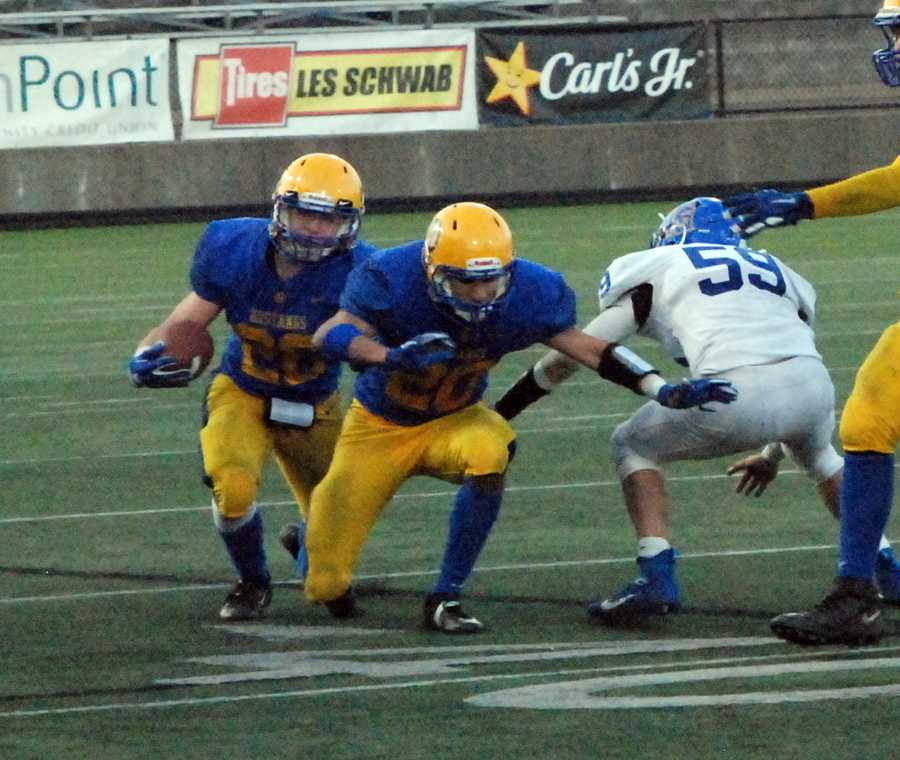 HILLSBORO -- Blake Wolters scored four first-half touchdowns, caught a two-point conversion and blocked a punt for good measure as undefeated Heppner bulled its way to a 44-12 halftime lead over Knappa and cruised to the 55-18 win over the Loggers in a 2A semifinal at the OSAA / OnPoint Community Credit Union State Football Championships.
Heppner was denied on its first drive, despite gaining 42 yards, but scored on its next six. Early on, the story was the passing of dynamic quarterback Jayden Wilson to Jace Coe, which set up short TD runs by Wolters.
"We are an offense that is ready to do whatever we think is available," said Mustang head coach Greg Grant. "We want to put our kids in positions to succeed. Our QB's good decisions on RPOs [run-pass options] really broke the contest open early.
The 5-7, 190-pound Wolters soon became the story, using his speed to run around and his low center of gravity to run through Knappa defenders. Wolters rushed for 170 yards in the half, scored twice more and might have had one more still had he not fumbled into the end zone (where teammate, Jason Rea, recovered for a score).
"We didn't play the greatest in the first minutes but we really put it all together after that," said Wolters. "Our main goal was to fight harder than we've ever fought and execute."
The backbreaker came on the half's final play, when Wilson hit Mason Lehman on a fourth-down crossing route and the senior beat five Loggers to the end zone as time expired.
Wolters added one more touchdown run, a 45-yard jaunt, in the third quarter and finished with 234 yards on the ground. After each touchdown, Heppner went for two points, succeeding five times in seven tries.
"I knew we could get two," said Grant. "It's math. I thought we had great looks at all of our two-point conversions."
That explains why kicker Kannon Wilkins didn't get to make a kick until booting a 37-yard field goal late in the fourth quarter.
Heppner's dominant offensive display did not diminish a brilliant effort from Knappa senior signal called Eli Takalo. He threw for 312 yards and three TDs, all to Devin Hoover, who hauled in 10 aerials for 174 yards on the day. Heppner's front seven, anchored by Rea and Gavin Hanna-Robinson, did shut down Knappa's running game, holding the Loggers to just 40 net yards rushing on 20 attempts.
"Defensively that's a tough team to defend," said Grant. "They spread you out and are athletes. We knew we had to try to prevent the deep ball and make them earn it and we did. We got a few turnovers early and that helped. They had a lot of offense; they just couldn't score as much."
"That's a good team that's a little beat up and our kids were ready to have a game like this," added Grant. "As good as we were in the first half this week we were that bad last week [against Warrenton]. The [players] had a fire and a lot of the talent we had showed up. We have a dynamic quarterback and our offensive line took control of the game and we have a kid that runs with a lot of heart."
Grant singled out the offensive line for extra recognition.
"They are hardworking, smart kids who are 4.0 students across the five; that matters," he asserted.
Asked afterwards whether a particular touchdown or the blocked punt, which set up a score, was most satisfying, Wolters instead chose also to praise his line.
"I get the most satisfaction thanking my linemen," the junior said. "To see the looks on their faces after I go into the end zone…it's why I do it."
Heppner, which improved to 12-0, will face defending champion Kennedy next Saturday for the 2A title. Kennedy struggled to defeat Monroe earlier in the day. Many will point to that and proclaim Heppner a clear favorite to win its first title since 2015.
"That's a mistake," said Grant. "Kennedy's a really good defensive team with a proud tradition and they'll come ready to play. We won't know who's better until we step onto the field and play."