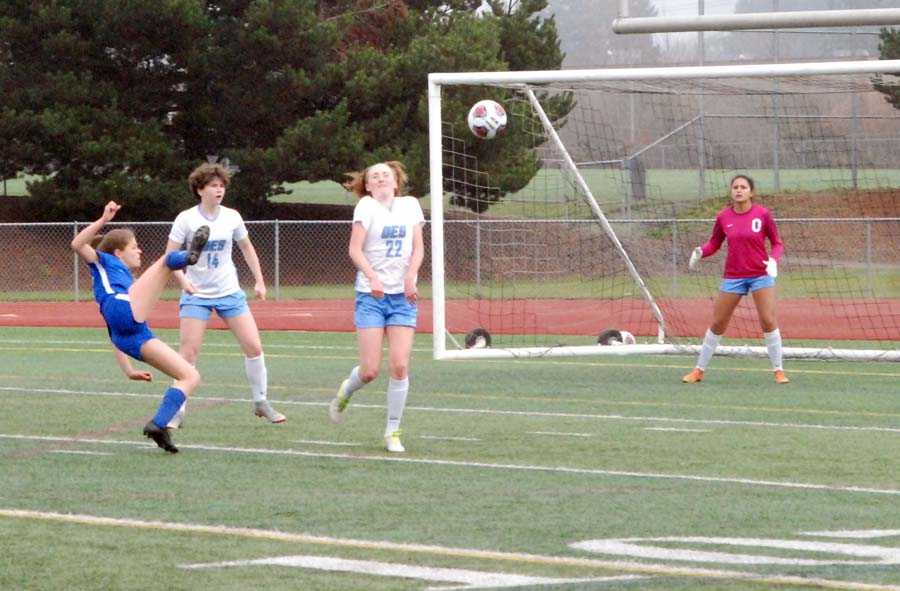 Claire Williams and Macy Fry were in the stands last year, watching as eighth graders, when heavily-favored Catlin Gabel could not complete an undefeated season and fell to Oregon Episcopal School in the 3A/2A/1A final for the fourth year in a row.
Saturday at Liberty High School in Hillsboro, in the girls soccer final presented by OnPoint Community Credit Union, the freshmen starred for the Eagles in their 2-1 victory over OES. Williams scored both Catlin Gabel goals and Fry made a dramatic first-half save to give the Eagles (15-1-2) their first state title since 2010. In doing so, they helped six seniors exorcize a most painful history in state championship matches.
"They've been at this for four years," said Williams, who has been a Catlin Gabel student since pre-school. "I was happy to be a part of their win because I know how much it meant to them."
"I'm friends with a lot of the seniors," added Fry, who enrolled in the fourth grade. "I know this is the one thing they've always wanted, especially their last year, their senior year, their last chance to do it. It's great!"
Williams and Fry hadn't lived through the anguish of so many losses in state championship matches, so they couldn't appreciate the significance of Oregon Episcopal's 1-0 lead in the 33rd minute of the first half. After a hand ball gave OES a free kick, Grace Armstrong struck the ball well from 60 yards. The ball eluded Catlin Gabel's defense and found Zoe Strothkamp one-on-one with Fry, the Eagles' superb all-District goalkeeper. Fry blocked the right-footed blast with two hands but could not control the rebound. Grace Borbon pounced on the ball and finished.
Catlin Gabel's seniors were stunned. In 2018, the Eagles were heavy favorites as an undefeated team with two shutout wins over Oregon Episcopal during the regular season, yet lost in the championship match, 1-0, after yielding an early goal. They went into Saturday having shut out the Aardvarks twice during the regular season and found themselves behind, again, in the match that mattered most.
Senior Caroline Cook said she couldn't help thinking, "Here we go again."
"I got pretty upset," she admitted.
"To give up a goal after a decent start was a little bit deflating," added Catlin Gabel head coach Chris Dorough. "You could see the bench with a little bit of 'here we go again.''
In reality, Borbon's goal should have made the score 2-0 in favor of OES. Six minutes earlier, Sophie Chen directed a beautiful ball over the top of the Catlin Gabel defense. Strothkamp controlled it with her head, then tried to poke a one-timer past a charging, sliding Fry. The freshman got a foot on it to keep the ball out of the goal.
"I was expecting it to go in because I came out kind of sideways," said Fry. "A bit of luck, a bit of skill I guess. She kicked it against my foot. I was relieved it went to one of our players because they would have put it in."
OES head coach Justan Wolvert was grateful that his team had a 1-0 lead, but appreciated at the same time what a two-goal advantage might have meant.
"In sports in general, momentum is everything," he explained. "If we'd gotten two and been up two at halftime, that would have been fantastic. We were in an environment where we were used to winning and I think it would have been great for us."
Catlin Gabel needed a spark. The first half had been spent largely in OES' zone but the Eagles' sophisticated attack had produced no significant scoring chances. Meanwhile, Oregon Episcopal had challenged the Catlin Gabel defense, anchored by Thea Traw, only twice and had one goal to show for it and could have had two. You couldn't blame Catlin Gabel's seniors for wondering why this was happening to them yet again.
Enter Williams.
The forward is one of five talented freshmen on the team, three of whom start. Williams checked into the game for the first time in the 36th minute and immediately made a difference. With the clock winding down on the first half, she received a Sophia Spry cross, controlled it and slammed home the equalizer past OES goalie Izzy Ponce with 40 seconds remaining before the break.
"I usually have a pretty bad touch so I'm surprised at myself that I pulled that one off," Williams explained. "When I got the ball I knew that I had to take it. It was me against the goal."
"Claire Williams coming off the bench and scoring that goal just before halftime was absolutely huge for us," said Dorough. "The kids who came off the bench made such a difference and picked up the starting group. At halftime we were so elevated we had to calm them down a bit."
"Their getting the equalizing goal with 40 seconds left in the first half kind of put the wind in their sails and put us down a little bit," Wolvert admitted. "I think if we'd have gotten to halftime 1-0 it would have been a different game."
Both teams had chances early in the second half. Strothkamp, Nadia Schwartz and Olivia Faucera were active for Oregon Episcopal while Annika Holliday created several chances from midfield for Catlin Gabel, which was playing without its other midfielder, two-time District Player of the Year Sophie Wand (foot).
"We call her the quarterback of our team," said Dorough of Holliday. "She's so smart. She's good on the ball. She does all the little things you might not see in the game. She sets up her teammates so well. With her midfield partner out today she really stepped up."
Cook, playing right wing, also stepped up. After a frustrating first half, she was ready to produce a little magic for the Eagles. In the 53rd minute, she made a tremendous run down the right side, using her dribble to beat not one but two OES defenders. When she got near the box, she crossed the ball in front to a waiting Williams.
"I've been doing runs like that this whole season," said Cook. "I beat the first [defender] and I was like, 'Yes!!!' And that gave me more energy to beat the second one and then I saw Claire. Sometimes I'll shoot those balls but this one, I was like, 'I don't think I can make it.' But I saw her in a perfect spot and gave it right to her."
Williams settled the cross then shot. Ponce, coming off of her line, got a little of it but not enough to prevent the ball from finding the goal.
"I saw Caroline in the corner and I just knew she was going to kick it to me," Williams recounted. "I was in the right place at the right time. That one goes to her for sure."
Catlin Gabel's lead was only one goal but it felt like 10. The Eagles finished the rest of the match like a team with no intention of letting Oregon Episcopal back in. Traw, Spry and Sydney Straw were stout along the back line and, employing the adage that the best defense is a good offense, Catlin Gabel pressed the attack for the rest of the match. Only good play on defense from Armstrong and some Ponce heroics in goal – including a point-blank save on Holliday in the 73rd minute -- prevented the Eagles from adding to their advantage.
When the announcer stated that one minute remained, Catlin Gabel's players began to anticipate the outcome they've worked for these many years. When the countdown from 10 to 1 commenced, and the ball safely away from their end, the long-awaited celebration began in earnest. Four years of losing to Oregon Episcopal in the state final…Gone!
"It means so much to all of us," said Holliday. "Everyone on the team played their hearts out and put their all into it. Everyone came back to defend, everyone helped out on offense, everyone worked together. I'm so happy for this team."
"It feels great," Cook said. "We worked so hard for this and we deserve it I think. Last year was a huge upset and we were really sad. I'm happy for the team and glad to go out with the win."
"We worked hard throughout," said Wolvert of OES' effort. "Maybe overpassed a little bit in the first half and too direct in the second half. We got our chance in the first half from putting the ball over the top so that was fantastic. We were looking to do that a little bit more in the second half and just weren't able to do it.
"We got the goal but we weren't going to sit on that. They have too much talent for us to shut them out through 80 minutes. We knew they were going to score one goal and they did. Unfortunately they got two."
In the end, it took freshmen who hadn't lived the history of heartbreak for Catlin Gabel in championship matches to eradicate it.
"They came in here wanting to turn the page," said Dorough. "They don't have that history. To them it was the excitement of the first time. Our seniors did a good job of like, 'We want this' and 'Please help us.'
"They didn't play like freshmen today."