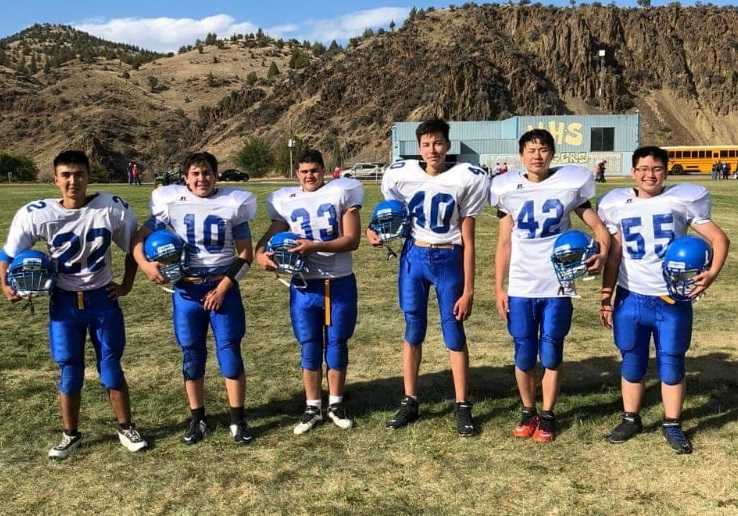 The six-man football experiment in Oregon this season has coaches and players scrambling to learn the game's finer points.
But nowhere is the learning curve steeper than at Burnt River High School in the Baker County town of Unity, where the six-man roster is composed entirely of exchange students who are football novices.
"It's been a little challenging," Burnt River coach Titus Wilson said. "The language barrier has been a little difficult to get over. And most of them have never even touched a football. So I'm starting from ground zero."
The lineup features quarterback Kevin Ceballos (Mexico), running backs Joshua Pinheiro (Brazil) and Talgarbek Musaey (Kyrgyzstan) and linemen Viet Bui (Vietnam), Xie Yu (China) and Vladislav Kim (Kyrgyzstan).
The Bulls are 0-2, falling to Joseph 60-0 and Mitchell/Spray/Wheeler 39-12, but making it through the games has been a victory in itself. Without reserves, they can't afford any injuries.
"At first I was almost positive that the first game was going to be the end of it," said Wilson, a Burnt River graduate who played eight-man football. "I was thinking that someone might get hurt. But they seem to be cruising right along. I think we're going to be OK."
Burnt River scored its first two touchdowns in the second game as Pinheiro found the end zone on a pass and run.
"We can't celebrate, so I just shook the hands with the quarterback," Pinheiro said. "If we could celebrate, we would be crazy."
Pinheiro said he had watched American football for about a year but never tried to play. When he got to Burnt River, the opportunity was too good to pass up.
"I didn't know that the school had a team, so when I came here, and I found that I could play, I was really excited," Pinheiro said.
How did his family react when he told them about it?
"They were worried because I could get hurt," he said. "But they understood that I wanted to do this, so they didn't talk something against it."
With about two minutes left in the first game, Pinheiro was carried off the field with a calf injury, forcing the team to finish with five players. He didn't tell his mother.
"I just say it was a great game, but I don't give details," he said.
Wilson said the hardest part has been getting the players to understand the game's concept. To give them an idea, he showed them a video of Burnt River eight-man highlights from 1995.
Embracing the game's physical nature is another matter for the Bulls, who have soccer backgrounds.
"They're starting to understand what it's like to actually hit someone," Wilson said. "They didn't understand that you actually had to hit someone. It was hard for them to wrap their heads around that you had to tackle someone."
Pinheiro, for one, is enjoying the contact, even if playing with pads has been an adjustment.
"The pads, they limit a little bit of movement, but if we're not wearing it, we can get in serious injury, so it's something necessary," Pinheiro said. "Actually, I like it. The first time I wore a pad was really good. I felt so better."
One of the plusses for the Bulls has been the play of Ceballos at quarterback.
"Just from watching him, I could tell that he had picked up a football before," Wilson said. "You know what, he has surprised me a lot. He can throw pretty darn well."
The Bulls knew they would be overmatched in their first game against Joseph, which won its opener the previous week 80-0 and has outscored its three opponents 224-0. After a call from Burnt River athletic director Tonia Humbert, Joseph agreed to use only its younger players in the game.
"I want to keep our kids safe," Humbert said. "I was really grateful for the Joseph coaching staff to take a realistic approach in terms of what kind of team we are, and make it more about the kids, versus trying to crush people."
After the game, Wilson sat down his players for a chat.
"They actually said it wasn't as bad as they thought," Wilson said. "They got a few tackles and stuff, and they thought it was fun, which was really surprising to me. I played with exchange kids in high school and it was tough trying to get them to enjoy the game. But they seem to be catching on pretty quickly."
Burnt River students were left without a place to play football last year when Prairie City opted out of an eight-man co-op. The new six-man pilot program gave Burnt River a chance to field its own team, but with only 10 boys in the school, it was a stretch.
The Bulls are in desperate need of reinforcements to make it through the season. They have two more players ready to join the team – one an exchange student, the other a transfer from Texas – but they first need to complete the required nine practices.
In past years, Burnt River has had more local students play football, but is "kind of in a gap right now" with its enrollment, according to Humbert. Despite the challenges, the school wanted to offer the football experience to its students this season.
"I think they're very courageous to step up and do this, because it's definitely totally outside of their wheelhouse," Humbert said.
"There are kids that were exchange students six or seven years ago, and you look at their Facebook page today, and their profile pic is in their football uniform here at Burnt River. It's something they hold onto and cherish as an American experience."