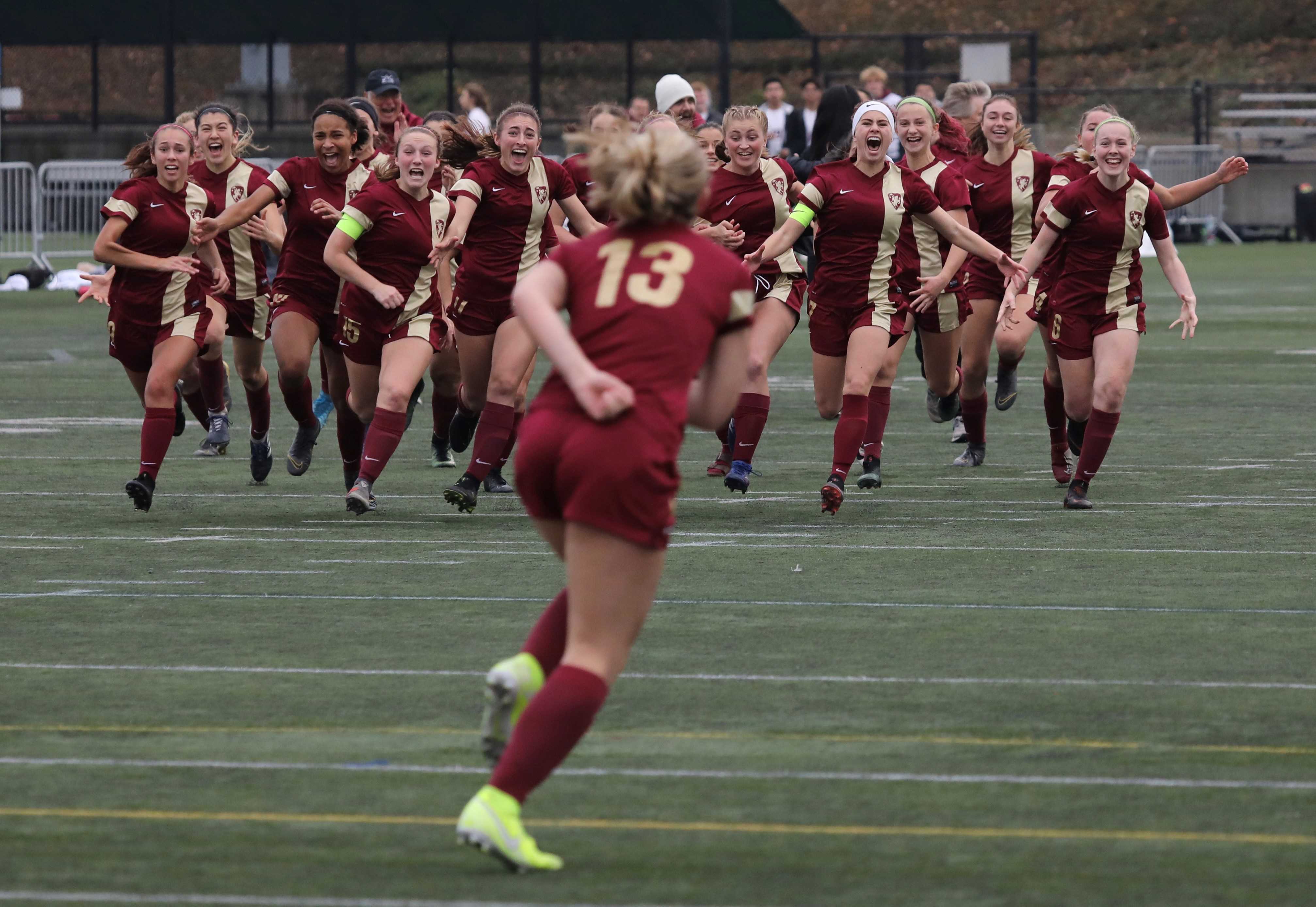 HILLSBORO -- Crescent Valley knew its airtight defense would be stressed to its limits Saturday against Wilsonville in the OSAA/OnPoint Community Credit Union 5A girls soccer final at Hillsboro Stadium.
If the Raiders were going to repeat as champions, they knew they must throw a blanket over one of the state's all-time prolific strikers, Wildcats sophomore Lindsey Antonson, who entered with 46 goals this season.
It turns out, they were up to the task.
Crescent Valley's back line -- juniors Jada Foster and Anna Wilson and seniors Sydney Berrey and Megan Brunelle -- combined to hold Antonson and the Wildcats scoreless for 100 minutes, allowing the Raiders to prevail 1-0 in a penalty-kick shootout.
"That's definitely the rock of our team," senior goalkeeper Peyton Dale said of the defense. "I trust them so much in front of me. I couldn't ask for a better four people."
Wilsonville had an 11-1 edge in shots, many of them by Antonson, but none was easy. If the Wildcats found a crack and were able to squeeze off a shot, it was under pressure. And Dale was right on the spot, collecting five saves.
"No. 10 is really good. She's a really good athlete," Crescent Valley junior Ana McClave said of Antonson. "But we also have really good athletes in the back, so it wasn't a problem with her."
The top-seeded Raiders (15-2-1) and third-seeded Wildcats (13-5-1) went to the penalty-kick tiebreaker, matching Dale against senior goalkeeper Kendall Taylor. Crescent Valley won it 4-3, getting conversions from Foster, Brunelle, freshman Nicole Huang and a fifth-round walk-off goal from McClave.
"I knew we were going to win because we've been practicing them every day after practice this whole season," McClave said.
In the second round of the shootout, Antonson missed off the underside of the crossbar to allow the Raiders to take a 2-1 lead. It was 2-2 after the third round, but Wilsonville sophomore Katelyn McDougal missed wide left in the fourth round, and Huang and McClave finished it off for the Raiders.
Crescent Valley, which also beat Wilsonville 2-1 in a nonleague game Sept. 12, allowed nine goals all season and finished the year with seven consecutive shutouts. The Raiders improved on defense from last season, when they allowed 21 goals.
After winning its first state title last year, and returning much of its lineup, Crescent Valley was able to stay hungry this season.
"With the team we have, I knew we could do it," Foster said. "We're really driven. We wanted to get another one."
How did this title compare to 2018?
"Last year was a little bit harder to get through the process," said McClave, who had a team-high 15 goals. "Since we were No. 1 going into the playoffs, it was a little bit easier. But we always went in as the underdogs, thinking that we could lose. So I think that helped us a lot."
Wilsonville not only was motivated to win its first title, but also to avenge last year's first-round loss to Crescent Valley.
But the Wildcats, who scored 19 goals in three playoff matches, could not shake free of the Raiders, especially with Antonson drawing so much attention.
"They came out really hard," Antonson said. "We had chances, I just couldn't get it in the back of the net. It was a disappointment. I've been defended like that before, especially in preseason. I was kind of expecting it."
Antonson lamented two missed opportunities in the second overtime. On the first, she missed wide left from about 15 yards out. With about 15 seconds left, she fought through two defenders to within 10 yards and fired from a sharp right angle, but Dale stopped it.
It was one of the few times she was able to shake free of Foster, who shadowed her throughout the match.
"Jada, I have no words. She's a beast," McClave said. "She's always on target and she's always focused. I love how she plays. Honestly, it's so comforting having her and Peyton back there."
Foster said the strategy was to have Wilson man-mark Antonson and "for me to cover, to get any loose balls. It's tough. She's definitely the toughest one I've guarded all year. She made me work, but we got it."
Dale was on high alert with Antonson on the prowl.
"I definitely had my eye on her," Dale said. "I caught her staring at me a few times. I was like, 'I've got my eye on you.'"