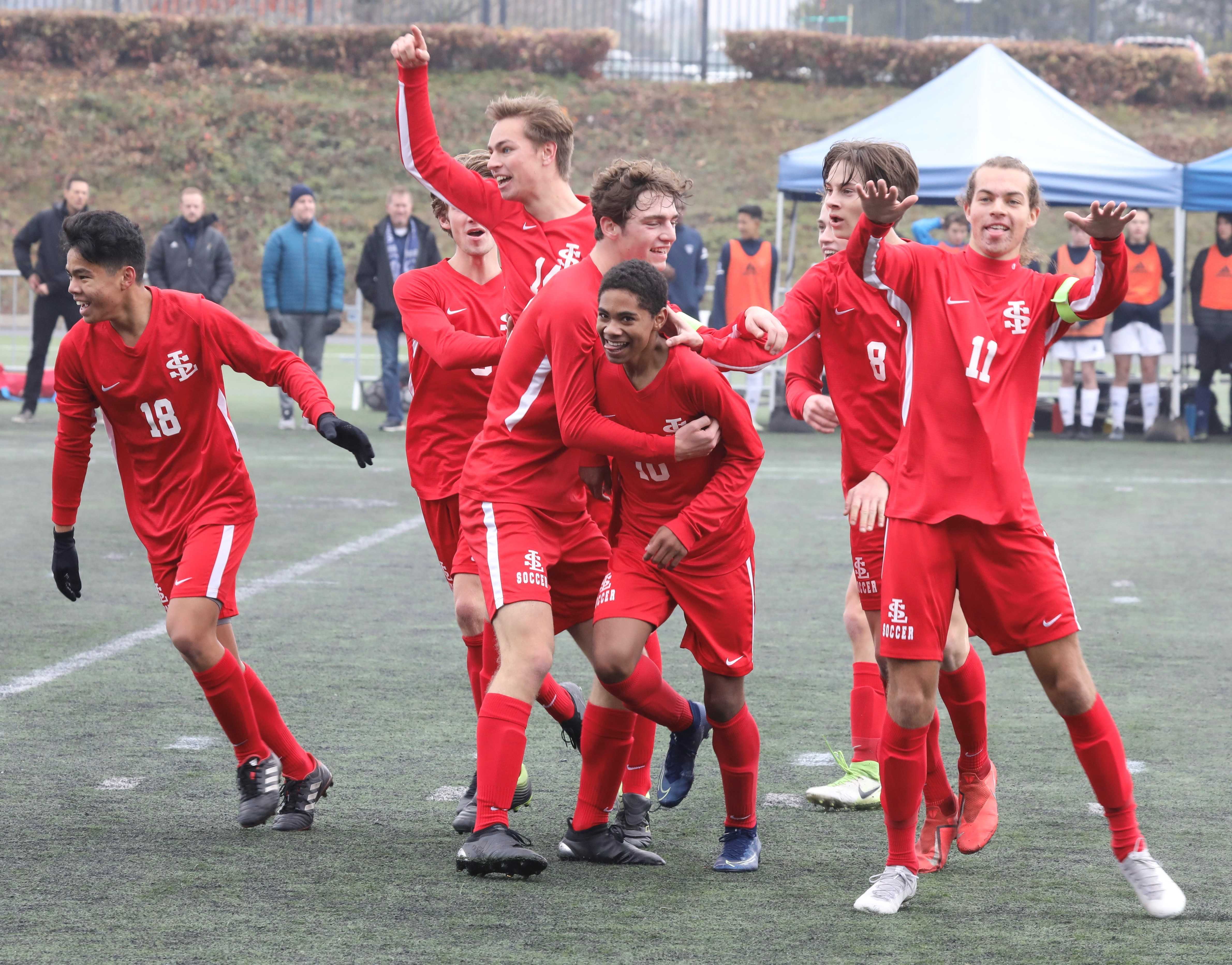 HILLSBORO -- It was a long, steady climb up the mountain for La Salle Prep, but the Falcons finally reached the pinnacle Saturday.
Behind two goals from sophomore Mizael Harris, top-seeded La Salle Prep beat Northwest Oregon Conference rival Wilsonville 2-1 in the OSAA/OnPoint Community Credit 5A boys soccer final at Hillsboro Stadium.
After losing in the semifinals in 2016 and 2017 and the championship game last year, the Falcons (17-0-1) picked up their sixth title and first since 2009.
"It's the best feeling ever. I can't describe it," Falcons senior Luke Strange said. "Especially after last year, feeling that loss. As a senior, last game, winning state, there's nothing more I could ask for."
La Salle Prep coach Seth Altshuler praised his team's determination.
"We're so happy. We worked so hard this year," Altshuler said. "Coming back twice, it's not easy to do. I can't say enough about the grit. They're talented, but they're tough.
"We played well. I thought we played smart, and we took care of business."
The Falcons knew they were in for a battle against No. 3 seed Wilsonville (12-4-3), a team they defeated 1-0 in a conference match Oct. 17. The Wildcats, going for their first title, had lots of momentum after beating No. 2 Ashland on penalty kicks in the semifinals.
Wilsonville was feisty, but ultimately could not match the skill and precision of La Salle Prep.
"We play better as a team, 100 percent, but that team would be good in 6A," Wilsonville junior forward Adam Landy said. "They have the skill to win. It's just a different level for them."
On Saturday, no player showed more skill than Harris, a 5-foot-4, 120-pound wing.
The Falcons had their chances early, but they didn't capitalize until Harris struck in the 23rd minute on a goal that had the crowd buzzing. He received the ball inside the box on the right side from senior Sky Charley-Bolyard, chipped it from his right foot, over a defender to his left foot, and volleyed a shot from 10 yards inside the left post.
"Mizael got a great goal. That was insane," Strange said. "He keeps turning up again and again in big games. I can't believe it."
Harris said he would rate it as "one of my top goals. I think that's the first time I did it. It worked, so … I feel like we gained more momentum after that. We played more as a team and just stayed a little bit more calm."
Altshuler raved about the play and poise of Harris, who also produced the team's first goal in a semifinal win over Hillsboro.
"In a game this big, and he's just so calm," Altshuler said. "He's had a playoff run that we expected out of him, frankly, because he's one of those guys. Mizael's been a talent since the day we got him."
Down 1-0 at half, Wilsonville began to apply more pressure in the second half, but could not get a clean shot at La Salle Prep senior goalkeeper Quintin Castner. In the 72nd minute, the Falcons made it 2-0 when Harris converted a cross from junior Noa Taylor.
La Salle Prep surrendered a goal with one second left -- a header by sophomore Joseph Friedman off an assist from Landy -- but by then the Falcons' student section was in a frenzy, celebrating the state championship.
Altshuler reflected on the contributions of the team's 10 seniors, citing their contributions in developing the winning culture.
"All of those things come from that senior group, everything that they put into our program," Altshuler said. "We are forever grateful."