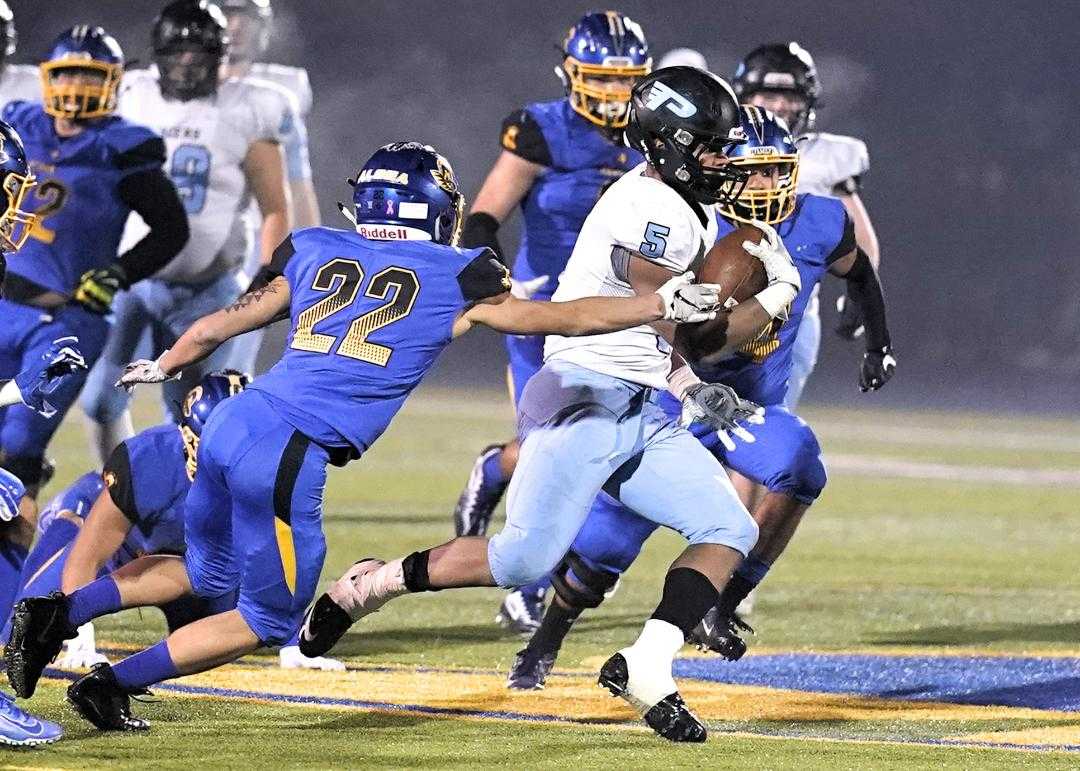 ALOHA – Emotions swirled inside Lakeridge senior running back Jalen John heading into a 6A football second-round playoff game Friday night at Aloha.
It's been three years since he was a freshman phenom at Aloha, showcasing a tantalizing blend of speed, power and elusiveness. And now, here he was, having to go through his former teammates to lead the Pacers into the quarterfinals for the first time in six years.
"Playing at my old home field that I grew up in, playing my old teammates, they're still my brothers to this day, and I love each and every one of them," John said.
The 6-foot, 215-pound John put on a scintillating performance, rushing for 297 yards and four touchdowns on 34 carries as No. 22 seed Lakeridge (5-6) continued its surprising playoff run with a 51-40 win over the sixth-seeded Warriors (9-2). The Pacers advance to a quarterfinal date against district rival Lake Oswego.
"We're really proud of Jalen," Lakeridge senior quarterback Cooper Justice said. "His old home town, he came in and he was dealing with that, and he balled out. The whole team came out tonight and really performed."
The Arizona-bound John raised his season rushing totals to an even 1,900 yards and 19 touchdowns.
"Everyone knew this was his game, and wanted it to be his game," Lakeridge senior receiver Carson Mike said of John. "We knew he was going to step up, and we were very excited to see it."
Aloha senior quarterback Timmy Dennis Jr., who played with John from the third grade through freshman year, tipped his cap to his former teammate.
"He's a hell of a ballplayer. Best running back in the state," Dennis said. "I'm proud of the way he played today. I'm proud of him, and hopefully he keeps it going next week."
Lakeridge needed everything it could get from John to turn back the Warriors, who were bidding to reach the quarterfinals for the first time since their 2010 state championship season.
Aloha wiped out a 10-0 deficit in the first half, and after Lakeridge opened a 30-10 lead late in the third quarter, the Warriors kept coming, scoring four fourth-quarter touchdowns to close within 44-40 with 1:28 left.
"I was like, 'Gosh, c'mon,' because I was cramping really hard," John said. "I had to take mustard, and I hate mustard, to not cramp out, and punching that last big run. They're a very tough team. They go down with a fight, for sure."
After the Pacers recovered an onside kick, John put away Aloha once and for all, breaking loose for a 47-yard run to the five-yard line and scoring the clinching touchdown on a one-yard run with 44 seconds to go.
Mike marveled at John.
"I'm so thankful every single day that we have him on our side and not the other side," Mike said. "I am truly amazed. I've never seen a high school boy with so much heart. Such a great work ethic. He's a great player."
Lakeridge rolled up 526 yards, with 395 coming on the ground. Justice completed 11 of 16 passes for 131 yards, including a seven-yard touchdown pass to Mike, and rushed for 70 yards and two scores on 10 carries.
"When we play to our potential, it's crazy what we can do," Justice said.
Mike, who had six catches for 34 yards, said the Pacers are "hitting our full stride right now. We finally got it figured out. It finally just clicked. It's taken a while, but I think we finally got it. We're ready for next week."
For Aloha, it was a difficult ending to a season that included wins over two quarterfinalists in Metro League rivals Jesuit and Mountainside.
"Our team has a lot of heart," Dennis said. "We built a huge community and family atmosphere on our team, and it showed tonight."
Dennis finished off a stellar season with another strong effort. He completed 22 of 35 passes for 272 yards and three touchdowns with one interception. He also rushed for 82 yards on 17 carries.
Dennis entered with 3,047 passing yards and 38 touchdown passes but did not begin airing it out until the second half. He had 45 passing yards in the first half as Aloha focused on establishing its running game.
"We knew they were going to have five in the box, so we were going to try to run the ball, set the running game up, and then later pass," Dennis said.
Dennis threw fourth-quarter scoring passes of three yards to senior tight end Brody Weitzel and 14 and 76 yards to senior Regan Wilson, the latter Aloha's final touchdown. Wilson had seven catches for 138 yards for the Warriors, who finished with 464 yards.
But the night belonged to John and the Pacers, who will try to keep their season alive next week against reigning 6A champion Lake Oswego, the No. 3 seed. Lakeridge lost to the Lakers 41-17 in the regular-season finale Nov. 1, but the Pacers believe they have found a winning formula.
"We're going to come out and punch them in the mouth," Justice said. "That's our goal. We're going to come out to win. I think we're the same team, we just have a better mindset. … It took us a season, but I think we're starting to see what Lakeridge can do."