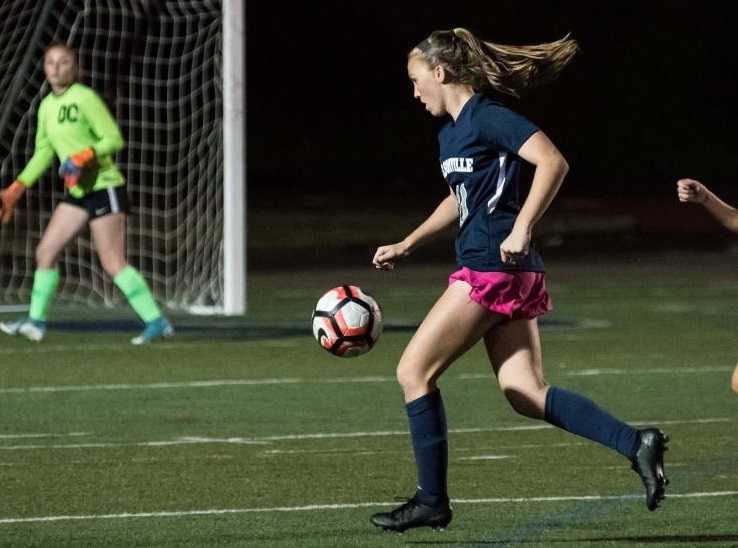 A year ago, after flattening the competition in the Northwest Oregon Conference, Wilsonville believed it was ready to make a run in the 5A girls soccer playoffs.
It was over before it got started, though, with a 2-1 first-round loss to eventual champion Crescent Valley.
"I think everybody got a little too far ahead of themselves," Wildcats coach Dwight Sheppick said. "When we lost to Crescent Valley, there were a lot of broken hearts."
The Wildcats, with seven returning starters, came back more determined than ever. Again, they went unbeaten in the NWOC. And this time, they cut a path to the state championship game, outscoring three playoff opponents 19-2.
At 1 p.m. Saturday, third-seeded Wilsonville (13-4-1) will go for its first title in the 5A final at Hillsboro Stadium. Standing across from the Wildcats will be none other than top-seeded Crescent Valley (14-2-1).
"All year the kids have been saying we've got to take care of unfinished business," Sheppick said. "We didn't want Crescent Valley to lose. We wanted to play them in the final."
Wilsonville has a history with Crescent Valley. The Wildcats lost to the Raiders 2-0 in the first round in 2016 and have played them in nonleague matches the last three seasons, losing 4-1 in 2017, winning 5-3 last year and falling 2-1 on Sept. 12 this season.
It's a contrast in styles. Wilsonville plays a fast, wide-open game, outscoring its opponents 89-27. Crescent Valley is more defensive-minded, holding a 54-9 scoring edge on its foes.
Sheppick said the key will be the play of his mids.
"We need to control the middle of the field, keep possession of the ball, and then defensively, we've got to kill the middle of the field," Sheppick said. "If they're going to take any shots, it's got to be wide. We can't let anything free go through the middle."
Crescent Valley coach Blake Leamy said both teams will have matchup issues and that tempo and decision-making will be key factors. He added that the Wildcats are athletic, skilled, hard-working and tactically sound as well as fast.
"It's a big task for us to be able to play at the pace they play at and to defend them as a whole," Leamy said. "They seem to be playing at a very high level right now, so they are a different team at this point."
The Wildcats will have the most dangerous player on the field in sophomore striker Lindsey Antonson. She has 46 goals this season, tied for fourth on the state's all-time list behind Hillsboro's Tiffeny Milbrett (54 in 1990), Jesuit senior Callan Harrington (53 this season) and Philomath's Alli Cerruti (47 in 1997).
With 68 goals in two seasons, Antonson is on track to challenge the state career mark of 131, owned by Harrington, Milbrett (1987-90) and Sara Bagby (Catlin Gabel/Jesuit, 1991-94).
"She's amazing. She's special," Sheppick said of Antonson, who had four goals in a 6-1 semifinal win over Churchill. "She's got a very high IQ. She just feels everything around her, and she's very determined. She doesn't care if you give her a yard or an inch, she'll find some way to turn and make something happen. She's a bulldog."
Antonson is especially dangerous this season with the return of senior forward Renee Lee, who transferred back to Wilsonville after playing the last two seasons at Newberg. Lee, with 12 goals, has proven to be a perfect complement to Antonson.
"They just know where each other are. They don't even have to look," Sheppick said.
The big question entering the season for Wilsonville was how it would rebuild its back line. Much of that has been solved with the standout play of sophomore center defender Katelyn McDougal.
"She's not only a terrific soccer player, but she's a great communicator," Sheppick said. "She's been a coach on the field, moving traffic. Being a sophomore, she went into it a bit timid, but now she's owned it."
Crescent Valley, which lost in the semifinals in 2016 and 2017 before breaking through with its first championship last year, is a veteran squad that features eight seniors. The Raiders have lost only to 6A Summit 1-0 and 5A West Albany 2-1 and tied rival Corvallis 1-1.
Senior midfielder Claire Macy, who has committed to Quincy (Ill.) University, was voted the Mid-Willamette Conference player of the year. Joining her on the first team were junior forward Ana McClave (15 goals), junior defender Jada Foster and senior goalkeeper Peyton Dale.
McClave has been slowed by injuries this season, but "she is healthy now and is playing at a high level," Leamy said. "She is going to be a difficult player to deal with as she is very strong, athletic and competes."
A look at Saturday's other state championship matches:
GIRLS
6A – 6 p.m., Hillsboro Stadium
No. 3 Mountainside (15-2-1) vs. No. 1 Jesuit (18-0-1): A rematch of an Oct. 7 Metro League game, won by Jesuit 6-1. Jesuit, which has not allowed a goal in its last 10 playoff matches, will go for its third consecutive title and 14th overall. The Crusaders have outscored their opponents 103-6 this season, including 26-0 in the playoffs. Senior Callan Harrington, a University of Washington commit, has 53 goals this season and can break the state's single-season mark of 54 (Tiffeny Milbrett, Hillsboro, 1990). She also has tied the state's career mark of 131, matching Milbrett and Sara Bagby (Catlin Gabel/Jesuit, 1991-94). Mountainside has reached the final in its second varsity season. The Mavericks have their own dynamic scorer in University of Portland-bound senior Nedya Sawan, last year's 6A player of the year. Sawan has 37 goals this season, including seven in the playoffs.
4A – 3:30 p.m., Liberty HS
No. 9 Woodburn (13-2-2) vs. No. 3 Marist Catholic (15-1-2): At a school known as a boys soccer powerhouse, Woodburn's girls – with 10 new players, including nine freshmen -- have surprised to reach the final for the first time. "We have truly peaked as a team the last two weeks," Woodburn coach Andrea Whiteman said. The Bulldogs opened the season with a 7-0 loss to North Marion, but improved and defeated the Huskies 3-1 in the semifinals. They also beat No. 1 seed Gladstone 2-0 in the quarterfinals. Woodburn is led by sophomore Myranda Marquez (26 goals, 14 assists) and junior Yahaira Rodriguez (18 goals, eight assists). Marist Catholic, a semifinal team last year, has never won a title, losing in the final four times between 1999 and 2007. The Spartans' only loss this season was 2-0 to 5A Corvallis. Junior Abbie Chambers (23 goals) and senior Kallie Harding (14 goals, 16 assists) scored in all three playoff matches. Senior midfielder Ella Coulombe (11 goals, 15 assists) was the Sky-Em League player of the year.
3A/2A/1A – 10:30 a.m., Liberty HS
No. 3 Oregon Episcopal (13-3-1) vs. No. 1 Catlin Gabel (14-1-2): The classic rivalry between the state's two small-school powers and district rivals takes center stage once again. Catlin Gabel has 13 titles, compared to nine for Oregon Episcopal, but the Aardvarks have won five consecutive titles and seven of the last eight. Oregon Episcopal has defeated Catlin Gabel in the final the last four years, three times by one goal. The Eagles have had the upper hand this season, though, blanking the Aardvarks 2-0 in both meetings. Catlin Gabel has a balanced attack led by the district player of the year, junior Sophie Wand (12 goals, 12 assists), senior Caroline Cook (12 goals, 12 assists) and sophomore Kendrick Dahlin (15 goals). The Eagles also have a first-team all-district goalkeeper in freshman Macy Fry. Oregon Episcopal advanced with a 1-0 road win over No. 2 St. Mary's of Medford, getting an early goal from Zoe Strothkamp.
BOYS
6A – 3:30 p.m., Hillsboro Stadium
No. 14 Franklin (13-3-2) vs. No. 8 Summit (13-2-3): Franklin, which won its first state title of any kind in 60 years last weekend when the boys cross country team took the 6A meet, has a shot at another one when it takes on the Storm. The Lightning made an unlikely run to the final with road wins over three Portland Interscholastic League rivals in No. 3 Lincoln, No. 6 Grant and No. 10 Cleveland. They won the last two despite missing their leading scorer, sophomore Larry Delgado-Lopez (10 goals), who suffered a hamstring injury against Lincoln. Franklin has the PIL defensive player of the year in junior Vincent Rose and the league goalkeeper of the year in senior Gael Salas-Lara. Summit's only title came in 5A in 2013. The Storm moved to 6A last year and reached the final, losing to Jesuit 2-1. With nine returning starters, Summit avenged that defeat by beating the top-seeded Crusaders 2-1 in the quarterfinals. Senior midfielder Simon Kidder was co-player of the year in the Mountain Valley Conference. It will be the 10th trip to the valley this season for Summit, which will have logged about 2,800 miles on the bus.
5A – 10:30 a.m., Hillsboro Stadium
No. 3 Wilsonville (12-3-3) vs. No. 1 La Salle Prep (16-0-1): La Salle Prep, semifinalist in 2016 and 2017 and runner-up last year, can win its first title in 10 years when it faces the Wildcats, a team the Falcons defeated 1-0 on the road in a Northwest Oregon Conference match Oct. 17. To get to the final, the Falcons beat reigning champion Corvallis 3-1 in the quarterfinals. La Salle Prep is led by junior forward Noa Taylor (17 goals, eight assists), senior forward Luke Strange (11 goals, eight assists) and junior defensive midfielder Wade Nichols (11 goals), the NWOC player of the year. Senior goalkeeper Quintin Castner is a fourth-year starter. The teams met in the semifinals in 2016, with Wilsonville prevailing on penalty kicks. Wilsonville has never won a title, finishing second in 2002, 2015 and 2016. The Wildcats went on the road in the semifinals to beat No. 2 seed Ashland on penalty kicks. Junior Adam Landy, first-team all-league, leads the offense along with senior Elijah Powlison. Senior Ryan McCord, a fourth-year varsity player, anchors the defense.
4A – 6 p.m., Liberty HS
No. 6 Woodburn (14-2-1) vs. No. 5 Stayton (15-2): Woodburn has won three consecutive titles and six since 2010, the first five in 5A before moving to 4A last year. But the Bulldogs have a nemesis in Oregon West Conference foe Stayton, which handed them their only loss last year and their only two defeats this season, 2-0 on Sept. 19 and 1-0 on Oct. 17. The Eagles ended Woodburn's home unbeaten streak at 40 this year. In the semifinals, Stayton defeated No. 1 seed Marist Catholic 1-0 in overtime and Woodburn knocked off No. 2 seed Valley Catholic 2-1. Woodburn is led by sophomore forward Ricardo Chacon (14 goals, seven assists) and senior forwards Rodolfo Campuzano (12 goals, 12 assists) and Kevin Flores (12 goals, seven assists). Stayton has the Oregon West co-player of the year in sophomore Jayden Esparza (20 goals, 15 assists) and a first-team all-conference goalkeeper in senior Ivan Pelayo.
3A/2A/1A – 1 p.m., Liberty HS
No. 2 Oregon Episcopal (15-2-1) vs. No. 1 Catlin Gabel (18-0): Catlin Gabel, which has won 12 OSAA state titles, has been as dominant as ever this season, outscoring its opponents 110-5, including 21-0 in three playoff matches. The Eagles beat previously undefeated Taft 6-0 in the semifinals. If any team is going to put up a fight, it's probably Special District 1 rival Oregon Episcopal. The Aardvarks lost to Catlin Gabel 1-0 in the final last year and dropped both matches to the Eagles this season by 3-0 scores. Catlin Gabel's seniors – some of whom will appear in their fourth final -- have a four-year record of 62-2-10. The Eagles attack in waves, led by sophomore Felipe Rueda (30 goals, 12 assists), senior Spud Ward (18 goals, 13 assists) and junior Jed Whalen-Stewart (17 goals, 11 assists). OES has won six titles, but since going back-to-back in 2013 and 2014, it has dropped finals in 2015 and 2018. The Aardvarks have allowed 12 goals all season, six to Catlin Gabel. OES senior Kennedy Balandi has scored in all three playoff matches, including both goals in a 2-0 semifinal win over Brookings-Harbor. Balandi (21 goals, seven assists) and sophomore Connor Mansfield (15 goals, nine assists) lead the team in scoring.