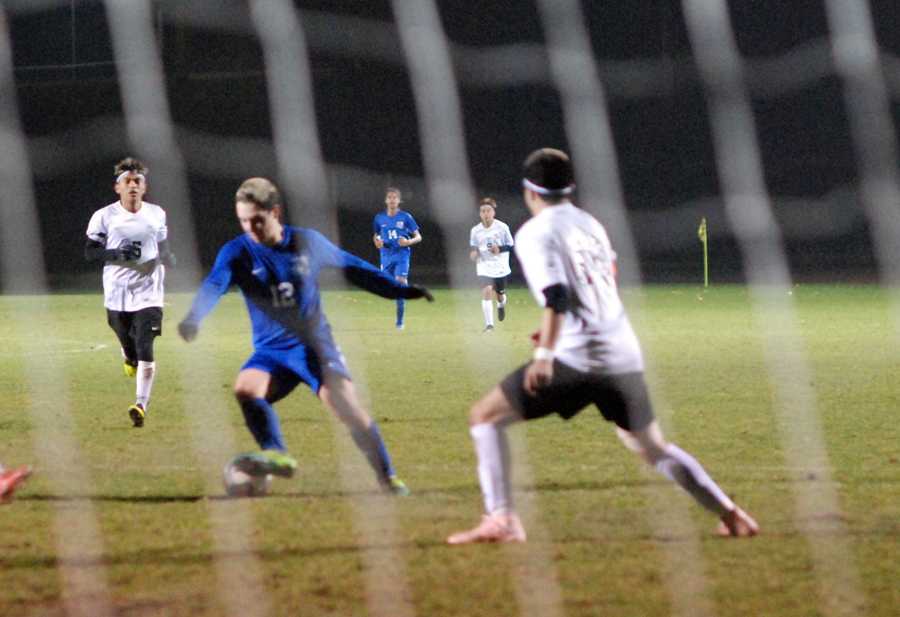 Precision passing and unyielding offensive pressure sparked Catlin Gabel to a 6-0 win over Taft Tuesday evening in a 3A/2A/1A semifinal featuring two unbeaten and untied teams.
"We had to play well to beat this team," said Tiger coach Peter Shulman. "That's a talented group of players. Our midfield was terrific. Evan Karp is one of the best players in the state and dictated everything from the middle. He was really the maestro I thought out there."
Karp and his midfield mates, Spud Ward and Kai Gamboa, were responsible for creating chance after chance. Junior Jed Whalen-Stewart was a prime beneficiary, as he tallied a career-high four goals.
"I couldn't have done it without my teammates," he said. "Our midfield was ridiculous today. The service was incredible all game. I was just on the end of it."
The first Catlin Gabel goal came seven minutes in. Defender Joshua Hamlett stole the ball in his own end and made a long run to put the Eagles in position. Felipe Rueda eventually crossed the ball into the box and onto the head of Whalen-Stewart, who finished with flair.
For the next 20 minutes, neither team was able to score. Taft showed off its athleticism by challenging Catlin Gabel for loose balls, but was unable to mount a scoring threat due to the strong back row of Hamlett, Cai Fernandez-Powell and Finn Russell. Catlin Gabel, on the other hand, put the pressure on Taft and had several opportunities only to be turned away by nice defensive work from Estib Hernandez and Ivan Cortez and insane goaltending from sophomore Sam Cortes, who was a human highlight reel in net.
Ward finally got Catlin Gabel's second goal in the 28th minute, as Karp found him in the box left of the net. The senior settled the ball before driving a left-footed shot past a defenseless Cortes.
The Eagles scored again in the 32nd minute, with Ward this time making the great pass to Whalen-Stewart, who finished with his left.
Catlin Gabel kept up its relentless attack in the second half. Karp delivered an extraordinary pass in the 47th minute that found Whalen-Stewart unchecked from close range. The junior took his time and left no doubt from about six yards. Nine minutes later, Russell's beautiful cross found Whalen-Stewart's head for a 5-0 Eagle lead.
"He's a player," said Shulman. "He has great instincts and just knows how to play the game."
Catlin Gabel closed the scoring with three minutes remaining when Elijah Widdows found Rueda with a precision pass in the goal mouth for another easy tally.
William Calderon made a nice second-half run that excited the Taft faithful and Edson Fuentes showed glimpses of what he was so dangerous all year long but for the most part, Taft's offense was held in check. Indeed, the score might have been 10-0 or more in favor of the Eagles but for the utter brilliance of Cortes.
"I think he ended up with 18 saves on the game, some of them all him," said Taft head coach Ryan Ulicni. "I expect big things from him the next couple of years."
Catlin Gabel's players showed their class and how much they appreciated Cortes' play by rushing to the goal after the final whistle to congratulate Taft's sophomore on his effort.
Taft's season came to an end Tuesday evening but the memories made will never fade.
"It's the first time we've been undefeated; it's the first time we've come this far," said Ulicni. "It's been a great journey."
Ulicni joked with Catlin Gabel's coaches afterward that he wanted a rematch, but he knew his team was overmatched on this night.
"You have to give it to these guys," he said. "They played a great game. We just got beat by a better team."
Catlin Gabel will have won more game on Saturday, against an OES team it has already beaten twice by 3-0 scores.
"We have more business to take care of," said Whalen-Stewart.