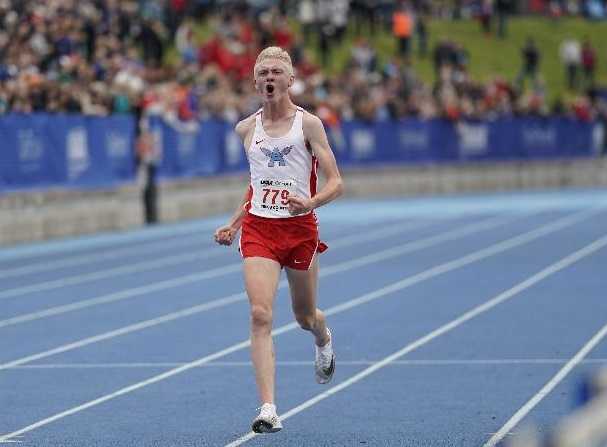 EUGENE -- Of all the things that were new on Saturday at the OnPoint Credit Union/OSAA State Cross Country Championships -- from live results to a Franklin victory to a Poison Oak Alley-less racecourse -- the one that stood out was a clock that posted a finish time of 14 minutes, 30 seconds.
E.J. Holland of Ashland turned a monster peformance as he won the 5A individual crown for the second year and ran 15 seconds faster than any runner ever has for 5,000 meters on an Oregon state meet course.
Holland ran 14:30 and beat nearest rival Ahmed Ibrahim of Parkrose by 32.8 seconds. Ibrahim's 15:02.8 was the second-fastest time of the entire day.
Holland led the Grizzlies to their first team title since 1993 and did it 15 seconds faster than Matthew Maton of Summit and 25 seconds faster than Galen Rupp. It was also faster than the 1978 winning time of 14:33.6 by Jeff Hess of South Eugene. Over the years, most observers conceded that the course that year was short.
On a day of near-perfect running conditions, the state course was running 20-30 seconds faster than 2018 -- in every race.
An adjustment to the course, which added distance around the ponds but lost an area to east (Poison Oak Alley) was apt to make a little bit of difference.
Bill Steier of LCC, who laid out the course said he was "absolutely" confident that the distance was 5,000 meters.
"I measured it, wheeled it, used a GPS watch which is super-accurate," Steier said. "Other (high schools) have confirmed the distance and my runners have gone over it with their watches."
Holland ran his second mile in 4:36.5 to pull away from Ibrahim.
An Oregon recruit, Holland said he watched video of Rupp winning the 2008 NCAA Cross Country Championship race Saturday morning to get pumped up for the race.
It also mattered to him that it was his final chance to make an impression in an Ashland jersey at the state meet.
"This is obviously the best team Ashland's ever had," Holland said. "It's a great group of guys and I couldn't do it without them."
Arlo Davis (15:12.4), Reed Pryor (15:18.8) and Cameron Stein (15:27.2) took third, fourth and fifth for Ashland, which scored 41 points. Crater was second with 81 and Crescent Valley was third with 108.
I was the first time all season that Ashland competed with a full lineup and gave a full effort and the result was impressive. Thanks to Holland up front, the five-man average was 15:25 -- fastest of the day.
6A
For the first time since basketball legend Steve Jones led Franklin to the 1959 state basketball title, the Lightning are state champions.
Franklin duo Aidan Palmer (15:04.9) and Charlie Robertson (15:06.6) became the first teammates to go 1-2 at the state meet in the largest classification since Lauren Jespersen and Jacob Gomez of Klamath Union did it in 2001.
Quincy Norman of Forest Grove was third in 15:09.0.
Franklin upset favored Jesuit with 62 points and the Crusaders finished second with 101.
"We believed that we had just as good a chance as anybody out there," Robertson said.
It was the first victory for a Portland Interscholastic League boys team since Wilson in 1983. The Grant boys nearly did it in 2002, but lost to Jesuit on a sixth-runner tiebreaker.
"Still can't believe it," Franklin coach Jacob Michaels said. "We excuted our raceplan is what I was seeing, and Jesuit's pack came back on us and were actually leading at two miles. That was my concern. Jesuit is so strong one through seven.
"Our ability to practice and execute the going-out-hard and hanging in there, which is something we've tried all season long, must have worked today. Because that's what we did. We just hung in there, hung in there, hung in there and finished strong."
For the first time all season, Jesuit's pack did not hang in there.
Sam Curran, usually a steady member of the top five, had a difficult final mile and fell from ninth place to 105th. Others on the team ran a bit behind their expectations.
"We were fine at two miles, and then I think we got emotional," Jesuit coach Tom Rothenberger said. "I think our emotions got the best of us and we didn't finish the deal like we had so many times this year."
Ryan Schumacher's fourth-place finish in 15:18.6 led the Crusaders.
4A
Philomath split 27 seconds on its scoring five and won the third boys title under coach Joe Fulton and the first since 2010.
Freshman Brody Bushnell, who comes from a storied family in Philomath's cross country program, led the Warriors with a ninth-place finish. Behind him, teammates finished in 15th, 16th, 18th and 29th place overall.
Two years ago, Philomath's record streak of 33 consecutive state meet appearances was snapped.
"We were eager to get a state championship and make it back to state," Bushnell said.
Philomath's pack overcame the front-runners from Sisters, but by just five points (65 points to 70).
Sisters' John Peckham (15:48.7) and Will Thorsett placed first and third for the Outlaws.
Sisters had recently beaten Philomath at the district meet after the Warriors won two previous meetings this fall.
3A
The incredibly close competition between Enterprise and Burns continued at the state meet as the Eastern Oregon schools dominated the top-10 podium.
After losing at the district meet on a sixth-runner tiebreaker, Enterprise squeaked out a 35-38 victory over Burns at state. Both schools put three runners on the award stand.
Sophomore Henry Coughlan ran 15:58.9 to win the individual title and led Enterprise to its first state championship since 1996.
Burns' 2-3-4-5 runners all fit between Enterprise's third and fourth runners.
2A/1A
St. Stephen's Academy made school history by winning the first state championship of any sport since the high school opened in 2008.
Seth Bergeron ran 15:50.5 to win the individual title as well as lead St. Stephen's.
"The (cross country) culture isn't something we really had until the last two or three years," Bergeron said. "It's something we've worked really hard on. It really is a team sport and you don't score well unless you work well together."
St. Stephen's finished with 42 points. Union/Cove, the defending champs, were second with 89 points. Bandon was third with 95 points.
Doug Binder is the editor of DyeStat.com