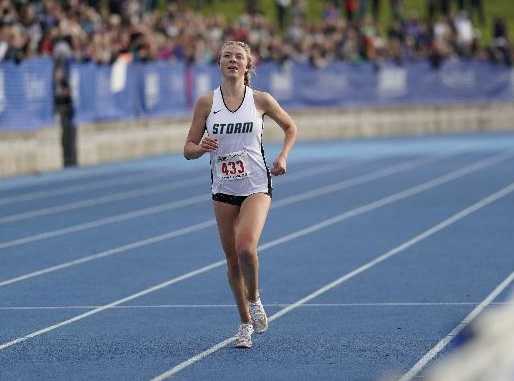 EUGENE -- Fiona Max and the Summit girls showed thousands on the berm at Lane Community College what a US No. 1 high school team looks like Saturday in the OSAA/OnPoint Community Credit Union 6A cross country championships.
Max sped through the course in 16:51, becoming the fastest girls 5K runner ever at the OSAA championships.
And the Storm put five girls under the 18-minute barrier, something that has never been done before at state.
On a day when virtuallly everyone seemed a bit too fast, the state course was running 20-30 seconds faster than 2018 -- in every race.
A course alteration took some distance out of the east side and added some on the west side, but it's unclear exactly how much.
Bill Steier, the course manager and coach at LCC, said that the route was "absolutely" 5,000 meters.
"I measured it, wheeled it, used a GPS watch which is super-accurate," Steier said. "Other (high schools) have confirmed the distance and my runners have gone over it with their watches."
Steier credited the fast times to perfect course conditions and optimal weather.
That said, Summit's performance was as good as any of the past 11 state titles. And it came at a time when the team is getting ready to defend its Nike Cross Nationals championship.
"Today was crucial," Max said. "There were a lot of happy tears that went into the last 72 hours of realizing, like, I don't know if 'coming to an' end or 'coming to a start'."
Max was joined by sophomore Teaghan Knox (third, 17:10), Isabel Max (11th, 17:52.3), Barrett Justema (14th, 17:58.6) and Magdalene Williiams (16th, 17:58.8).
"We're moving forward and getting faster," Knox said. "That's a good thing."
Summit scored 41 points, compared to last year's 39.
Jesuit, led by the fourth place finish of Chloe Foerster and sixth place of Alexis Kebbe, finished second with 80 points. Lincoln, led by the 17:01 put on the board by freshman Kate Peters for second, was third with 85.
The same three teams finished in the same order last year.
5A
One of the competitve team battles in recent memory became a historic first for the Corvallis girls and heartbreak for three others teams that we were with seven points of the team title.
The final tally was Corvallis 67, Hood River Valley 71, Wilsonville 73 and North Salem 74.
It's Corvallis' first girls cross country championship and it was put together by a team with two sophomores, including individual champion Madeline Nason, who ran 17:51.6, and three freshmen in the scoring five.
"I felt good, and I felt faster during the middle of the race so I pulled away," said Nason, who blew open the race in the final 1,200 meters and won by 14 seconds.
The Spartans also had freshman Ava Betts taking eighth and freshman Avery Nason 10th.
Samantha Prusse led Wilsonville with her second-place finish. Presley Robison of Crater was third.
4A
Sisters freshman Ella Thorsett set spectators abuzz when she crossed the finish line in 17:43.7 and had a winning margin of 22 seconds over Junction City's Anika Thompson.
In fact, it was Thorsett's time that informed athletes in later races that the course was running fast. Her time was a 36-second PR for the 5K distance.
"That was crazy. I just wanted to break 18 (minutes)," Thorsett said.
Marist Catholic sisters Lucy and Jennifer Tsai finished fourth and fifth to lead the Spartans to the team championship with 50 points.
Siuslaw finished second with 71 points and Philomath was third with 112.
3A/2A/1A
The Burns girls put five runners in the top 15 and secured the first girls cross country title in school history with a decisive victory. The Hilanders scored 43 points. Union/Cove (110), Catlin Gabel (121), Bandon (122) and Lakeview (128) were bunched up in the hunt for trophies.
"Last year our boys got first and we got third," Burns sophomore Riley Morris said. "This year we started to do extra and it worked out."
Lila Fenner of Catlin Gabel improved from third a year ago to first on Saturday, running 18:49.2. She was five seconds ahead of Jordan White from Neah-Kah-Nie (18:54.4).
Doug Binder is the editor of DyeStat.com