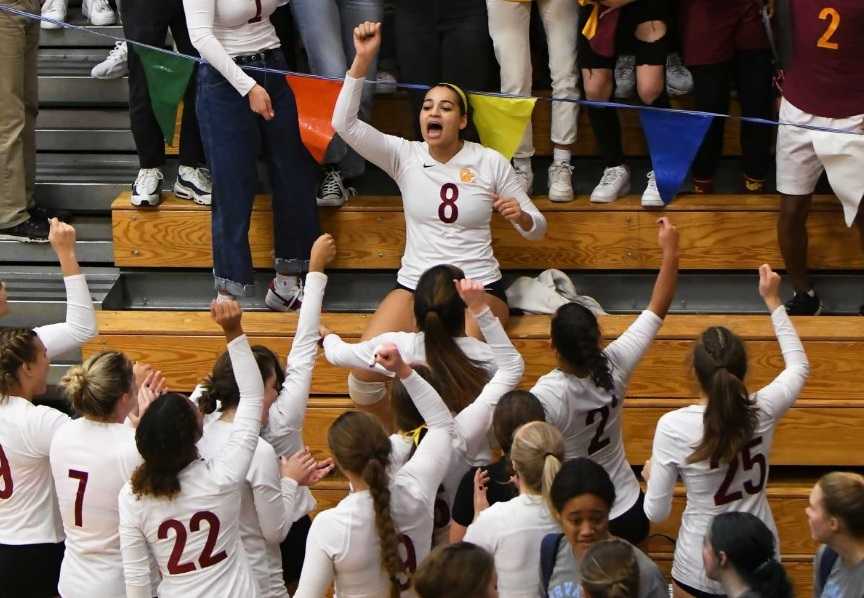 HILLSBORO – No. 1 Jesuit and No. 2 Central Catholic survived semifinal upset bids Friday to advance to the championship match of the OSAA/OnPoint Community Credit Union 6A volleyball tournament at Liberty High School.
Both teams prevailed in five sets after falling behind 2-1. Jesuit defeated No. 5 West Linn 26-24, 24-26, 22-25, 25-19, 15-11 and Central Catholic came back to beat No. 11 Canby 24-26, 25-19, 19-25, 25-15, 15-9. The teams will meet in the final at 8:30 p.m. Saturday.
Reigning champion Jesuit got 18 kills and three blocks from Tess Masingale, four blocks from Ella Masingale and 12 kills from Amanda Henry. Peyton Griffin (32 assists) and Alison Buchholz (26 digs) also were key.
"I wasn't too worried, but they had a good lead," Jesuit coach Teresa Zimmerlee said of falling behind West Linn. "All year we've stuck it out and came back. … That was fun. I was a little stressed, but that was fun."
Central Catholic rallied behind Mia Jordan (25 kills), Marianna Payne (16 kills), Makenah Jackson (seven blocks) and Katie Nall (10 kills). The Rams trailed 3-0 in the fifth set but responded after coach Rick Lorenz called a timeout.
"We kept grinding and grinding and came from behind," Lorenz said. "Today we beat a very gutty Canby team, and it took every ounce we had."
Lorenz, who is coaching in his 44th and final season, will appear in his 24th state championship match and go for his 12th title. He said Canby coach Terri Jo Schlatter had a message for him after the match.
"She said, 'I didn't want to knock you out, but I did,'" Lorenz said.
In the quarterfinals, Jesuit defeated Summit 3-0, Central Catholic swept Sunset 3-0, West Linn topped Sheldon 3-1 and Canby knocked out Mountainside 3-2.
5A
No. 2 Wilsonville and No. 1 Ridgeview will meet in the 5A final at 6 p.m. Saturday at Liberty.
Wilsonville outlasted No. 3 West Albany in the semifinals to win 25-15, 23-25, 21-25, 25-16, 15-5. The Wildcats got contributions from all around, in particular Clarissa Klein, who "had kills from every position on the floor," according to coach Nathan Blankenship.
Blankenship said that West Albany is "a tough, talented team. They made us make adjustments and we capitalized on those. It was the determination of the girls to win each and every point that pushed us over the top."
Ridgeview bounced back from losing a long third set to defeat No. 4 Corvallis 25-13, 25-12, 27-29, 25-22 in a rematch of last year's final, won by Corvallis.
"I was really proud of our perseverance," Ravens coach Randi Viggiano said. "We were mentally tough."
Rylee Troutman had 27 kills and Susanna Bailey had 13 kills for Ridgeview, which also got plenty of support from Nicole Bossemeyer (seven kills), Allicitie Frost (six aces) and Ally Henry (21 kills).
The Ravens were highly motivated to get back at the reigning champion Spartans.
"We wanted redemption," Viggiano said. "We knew they didn't see our best last year. I was really excited to see us battle through."
Wilsonville and Ridgeview posted 3-0 quarterfinal wins over Thurston and La Salle Prep, respectively. Corvallis beat Crook County 3-1 and West Albany defeated North Eugene 3-0.