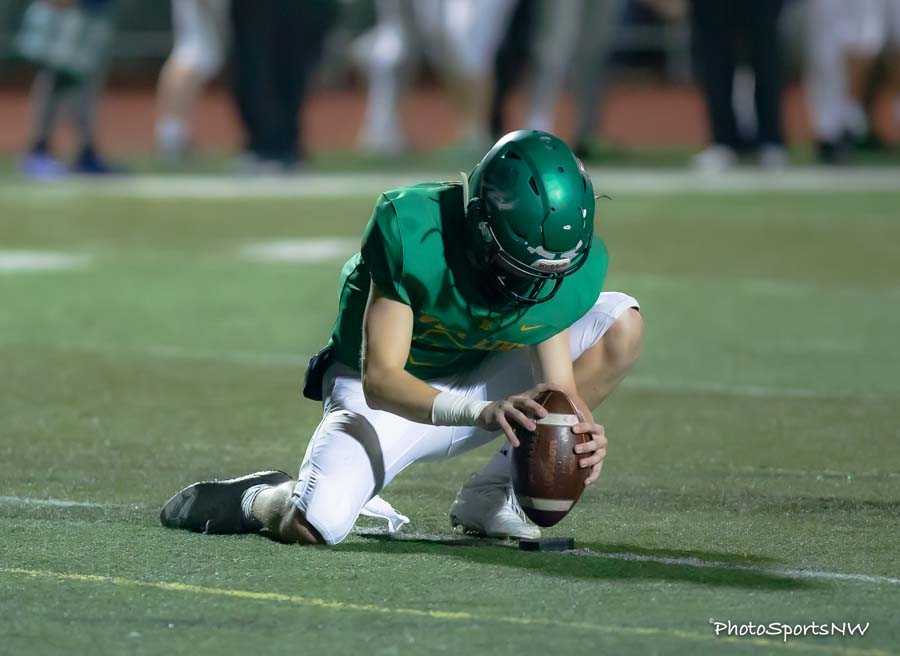 Every Friday night, we'll offer you PATs, a few nuggets from the night that was. Be sure to check out Jerry Ulmer's comprehensive Football Notebook, published Sundays, for an in-depth look at all of Friday's playoff action from across the state.
Grants Pass Grounded By Lake Oswego
Defending 6A champion Lake Oswego scored seven rushing touchdowns in a 55-33 home win over Grants Pass. Recent Stanford commit Casey Filkins ran for four scores in the first half and threw TD pass to Thomas Dukart as the Lakers built a 35-21 lead at halftime before tacking on three second-half scores. Chase Coyle threw three touchdown passes and Spencer Sloan scored twice, including a 99-yard kickoff return, in the loss for GP.
Sherwood, Sure Win
The Bowmen dominated start to finish in the 49-7 win over McNary. The Celtics came in on a four-game winning streak but had no answer to Sherwood's unique offense and no ability to solve the Bowmen's relentless defense, led by LB Bryan Cuthbertson, who had 16 tackles. Both Clay Peden and Jamison Guerra eclipsed 100 yards rushing for Sherwood. They scored twice apiece.
Third Quarter Breaks Bend
The Bend Lava Bears were down just 35-28 at halftime to Aloha, but the Warriors won the third quarter, 21-0, in their 63-35 win. Timothy Dennis Jr. threw for two touchdowns and ran for a third in that pivotal quarter then added another TD run midway through the fourth to salt the game away. The senior signal caller finished with four touchdown passes. Sir Charles Mitchell scored twice for Aloha, including an 82-yard kickoff return in the second quarter. Christian Lopez ran for all five of Bend's touchdowns in the loss.
Jesuit Guilty of Holding
Jesuit stormed to a 42-3 halftime lead, holding Oregon City to just 35 yards of total offense over the first 24 minutes, on its way to a 56-9 win. Crusader quarterbacks completed 15-of-21 passes for 191 yards and two touchdowns. Jesuit also got two TDs apiece on the ground from Cade Wisher and Ted Atkinson.
Shout Out for Shut Out
Hosting its first playoff game in 19 seasons, Newberg blanked South Medford, 28-0. It marked the third straight shutout for the Tigers. Cody Meade (two sacks) and Armen Tarakhchyan (interception) led the defense while Price Pothier gobbled up 124 yards on the ground and a touchdown for the victors.
Mountainside Peaking
Playing their first home playoff game in school history, the Mavericks of Mountainside scored a huge win, defeating recent power Clackamas, 17-7. Brian Mannion threw two touchdown passes, both to Andrew Simpson, and the Mountainside defense forced three turnovers in the upset win. Clackamas, which outgained Mountainside by a significant margin, failed to advance past the first round for the first time since 2012.
Sheldon Gets Big Bang From Defense
Sheldon held a potent Jefferson offense to 78 yards all game long in the Irish's 35-0 shutout win. Griffin Line ran for three scores and threw for two more for Sheldon, which won a playoff game for the 20th straight year.
Sunset Goes Down to West Albany
Nate Garcia rushed for 216 yards and two touchdowns for West Albany in Friday's 28-14 win over Sunset. Jackson Lowery added a touchdown run and touchdown throw for the Titans.
Thurston for Competition
Another Friday night, another easy win for the undefeated Thurston Colts, who led Corvallis 40-0 into the third quarter before settling for the 61-21 win. Wes Kommer ran for four touchdowns and caught another from QB Cade Crist in the win. The defense also was stout in the first half, highlighted b Dawson Muggy's pick six.
Cehrs Towers in West Albany Win
Zack Cehrs made the most of the start for West Albany, rushing for 216 yards and three touchdowns in the Bulldogs' 56-13 win over Redmond. Brenden Powell scored an early touchdown for Redmond. Undefeated West Albany responded with the next 56 points in the convincing win.
Dean of the Defense Leads Wilsonville Win
Mason Dean had four interceptions in Wilsonville's 34-14 win over North Bend. The Wildcats broke a 7-7 tie at the half with 27 points. Payton Dart had over 200 yards receiving and two TDs and Jacob Haussermann kicked two field goals in the win. Senior RB Divenson Willis rushed for 80 yards and a score in the loss for North Bend.
Say, Say, Sayre
Rieger Sayre threw five touchdown passes, two to Gabe Ekwall, and ran for a score in Ashland's 50-27 home win over Dallas.
Loboy's the Man for Marist Catholic
Hayden Loboy rushed for 135 yards and Lucas Patterson had 166 yards combined running and receiving for Marist Catholic, which led Seaside, 20-13, at halftime and won by the same score.
Irwin Haled in Monroe Win
Dylan Irwin scored three times in the first half as Monroe built a 38-8 lead on its way to a 57-22 triumph over Colton. Irwin finished with five touchdowns on the night along with 163 rushing yards. Brody Ballard had a big night on both sides of the ball for the Dragons. The QB ran for two and threw for two as well as forcing a fumble and grabbing an interception along with 11 tackles. Wyatt Earls rushed for 141 and two TDs in the loss for Colton.
Knappa Knows How to Win
Knappa won its seventh straight game, downing Culver, 38-22, in a 2A playoff contest. RB Cameron Miethe and QB Eli Takalo combined to run for 237 yards in the win for the Loggers.
***
That's all we have time for tonight…Be sure to check out Jerry's report on Sunday!