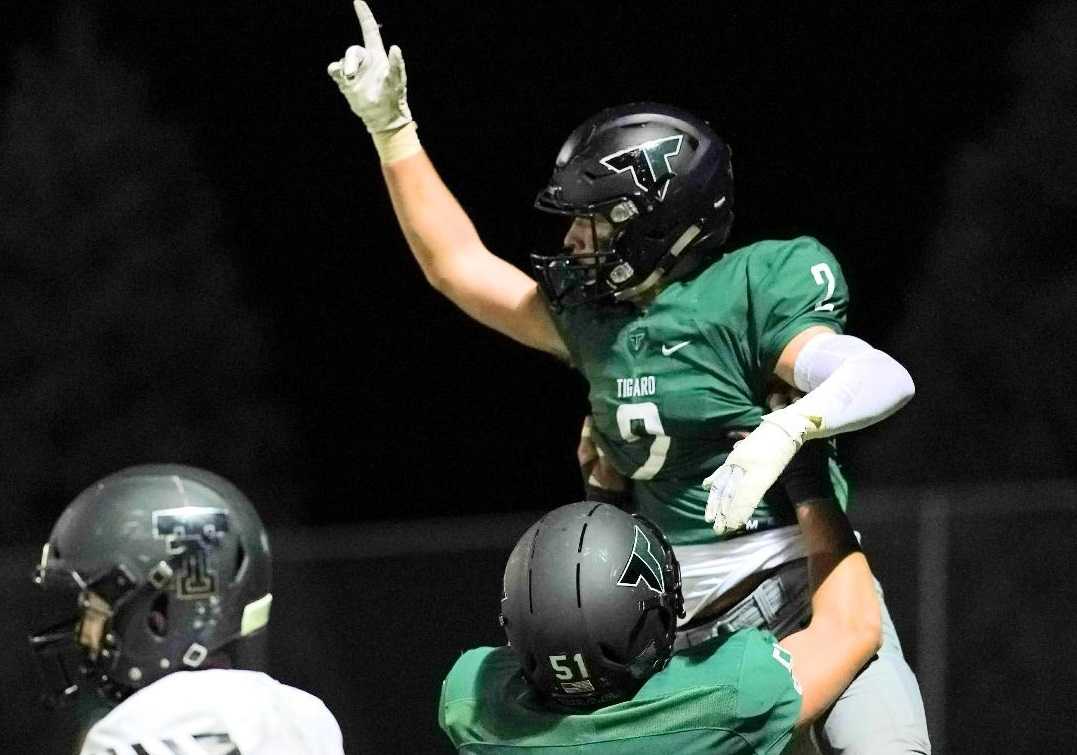 TIGARD -- Sure, Tigard has aspirations of winning its first football state title since 2003 this season.
Before heading into the postseason, though, the No. 1 Tigers had to pause and reflect on what they achieved Friday night by beating No. 2 Tualatin 23-21 in the regular season finale.
With the home win over their district rival, they completed a perfect run through the Three Rivers League, which includes the top four ranked teams in the OSAAtoday 6A coaches poll. It's a feat in itself, regardless of what happens to Tigard in the 6A playoffs.
"We feel good. We had to earn it. It wasn't given to us," Tigers senior lineman Johnny Nomani said. "We weren't given the Tigard name."
Tualatin (7-2, 4-2) could have shared the league title with Tigard (9-0, 6-0) with a win, but instead, the Tigers added the Timberwolves to a list of victims that includes No. 4 Lake Oswego and No. 3 West Linn. It is Tigard's second league title in three seasons, but first outright title since 2014.
"It's one heck of a league that we play in. A lot of good teams," said first-year Tigers coach John Kemper, who took over for legendary Craig Ruecker this season. "We're very fortunate."
Tigard will savor the league title, then get to work on preparing for what it hopes is a deep playoff run. After last season ended with a painful 23-22 quarterfinal loss at Jesuit, the Tigers are highly motivated.
"We realize the regular season is all fun and games, and what really matters is the postseason," senior receiver and defensive back Max Lenzy said. "We learned from last year, and we're just going to stay locked in and see what we can do."
Tigard got all it could handle against Tualatin, which was going for its first league title since 2010. The Timberwolves also were riding a huge wave of momentum after drilling Lake Oswego 34-8 last week.
Offense ruled early as the teams traded touchdowns in a first quarter that ended with Tualatin ahead 14-13. That score stood until halftime, marking the first time the Tigers have trailed at the midpoint all season.
"We knew what we could do to get on top," Lenzy said. "We just went back, relaxed and got back out there. And we did what we needed to do."
That meant overcoming some challenges at the running back position.
The team's leading rusher, senior Hunter Gilbert, suffered a Grade 2 shoulder separation in last week's win over West Linn and started only at defensive back Friday. That put much of the load on Burns, but when he left with an undisclosed injury on the last drive of the first quarter, they turned to junior Hewitt Sullivan.
When the third quarter started, Gilbert had returned to the backfield. He rushed for 61 yards on 11 carries in the second half, providing a spark for the Tigers.
"I didn't practice all week," Gilbert said. "I was in a sling, icing. I didn't think I was going to play running back. I knew I was playing defense. Halftime, I was feeling better than I thought. I was hitting a little more than I thought I would. So then I decided, 'I'm good for running back.'"
On the first series of the second half, Lenzy ran for 29 yards and junior quarterback Drew Carter broke loose for a 31-yard run to set up a 32-yard field by senior Jackson Cleaver, putting Tigard ahead 16-14.
The Tigers got the ball back and drove 58 yards to take a 23-14 lead on a 29-yard touchdown pass from Carter to senior Tyler Penn on fourth-and-9. The drive included a defiant 14-yard run by Gilbert in which he kept churning ahead despite being in a scrum with several Timberwolves.
"It was weird," Gilbert said of the run. "They just didn't have my feet. At one point, I was like, 'OK, I'm about to fall,' but no one was on me, so I just kept going."
The play sent a jolt through the Tigers and the home crowd.
"That was insane. That just shows the type of player he is. He gets us all going," Lenzy said of Gilbert.
Tualatin drove 75 yards in the fourth quarter to pull within 23-21 on a one-yard run by senior Kainoa Sayre with 1:28 left, but failed to execute an onside kick, and Tigard ran out the clock.
The Timberwolves lost despite finishing with a 387-339 edge in total yards.
"We put our hearts out there and we played the best game we probably could," Tualatin senior tight end and linebacker John Miller said. 'Probably some little things we can fix, some missed tackles, but other than that, we played a pretty complete game.
"We can hang with anybody in the state. We can really play with anybody. We'll have a chance to compete for something big."
Tigard's Kemper left impressed by the Timberwolves.
"That is a very good football team in Tualatin," Kemper said. "I wouldn't be surprised if we meet up again."
Burns started the scoring with a 73-yard touchdown run, but Tualatin answered with two scores -- a 55-yard run by Sayre and a 37-yard pass from senior Blake Jackson to sophomore Malik Ross – to lead 14-7. Tigard made it 14-13 on a three-yard run by Sullivan.
In his short stint, Burns rushed for a team-high 101 yards on six carries. Sayre finished with 109 yards and two touchdowns on 21 carries for Tualatin, giving him 23 rushing touchdowns for the season.