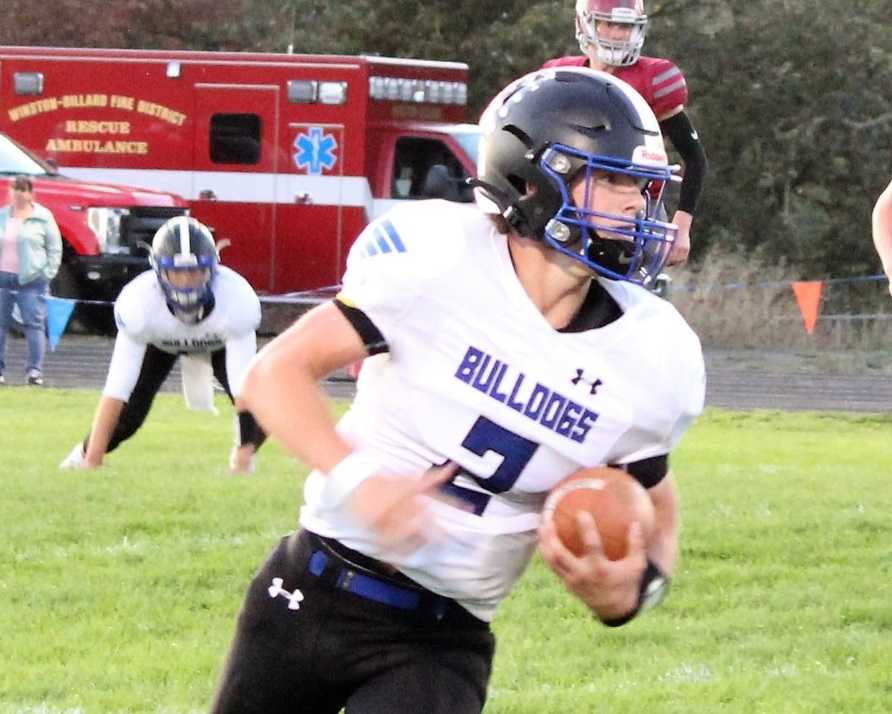 Sutherlin's football team is hoping that the lessons learned in losses to undefeated 3A powers Hidden Valley and Santiam Christian will pay dividends in the state playoffs.
The Bulldogs (6-2, 3-1 Special District 2 North) fell to No. 1 Hidden Valley 50-26 in their season opener and lost to No. 2 Santiam Christian 43-7 on Oct. 18.
"The HV game showed us how much harder we needed to work to be in shape to play a full four quarters at a high level," Sutherlin coach Josh Gary said. "SC played great defense and we struggled to move the ball. It made us aware of some bad habits and shortcuts we were taking offensively."
Sutherlin has 12 seniors, including five offensive lineman in Isaac Horn, Byron Baker, Dayden Jacobs, Hunter Strong and Jason Baker. Mason Gill and Brandon Carr are senior wide receivers that block very well.
Senior running back Jake Merrifield leads the team in rushing with 1,101 yards. Junior Josh Davis has 910 yards. Each has 13 touchdowns.
Senior Case Wells is the premier blocking back and junior Tehgan Pacini is the quarterback.
"We have a 'pound-the-rock' mentality that forces a defense to stop the run," Gary said. "We look to set up misdirection and play-action pass. ... (Pacini) has done a great job managing the game and running our misdirection wing-T."
The Bulldogs have many key players from last season, when they finished 7-3 and shared the district title with Santiam Christian and Harrisburg. They lost to Vale 49-7 in the first round of the 3A playoffs.
"One thing that matters is another year of experience," said Wells, who also plays outside linebacker. "We brought back six guys starting on each side of the ball, so that experience helps and everyone has been buying in."
Gary is in the second season of his second stint as the team's coach. He led Sutherlin from 2005-10, making it to quarterfinals in 2007 and 2009, losing to Ontario both times.
Last year's playoff loss to Vale marked Sutherlin's first playoff appearance since 2009.
"A lot of the guys on our team hadn't been in a game like that before," Wells said. "We have a bad taste in our mouths from that game. It's going to take preparation and not letting our minds get to us. We got overwhelmed with that game. We know what it's like and preparing for it now.
"We're all driven off of last year's playoff game, and for a lot of us it's our last season of high school football, so each game and practice matters."
Gary said that sharing the league title and traveling to Vale last year "was an awesome way to get the program started in the right direction. Vale is a perennial power that showed us what playoff football was all about. This year's team has continued to improve and has a great work ethic. The big changes we made offensively and with program expectations last year really have solidified us as a group this season."
Sutherlin plays host to Siuslaw (6-2, 3-1) in the regular-season finale Friday.
"Siuslaw is a much improved team," Gary said. "They play with a ton of energy and a little chip, and we'll need to match their intensity. We're happy to have a chance to play them at home, where our crowd has been supportive. They run a good, balanced offense with some talented skill players."