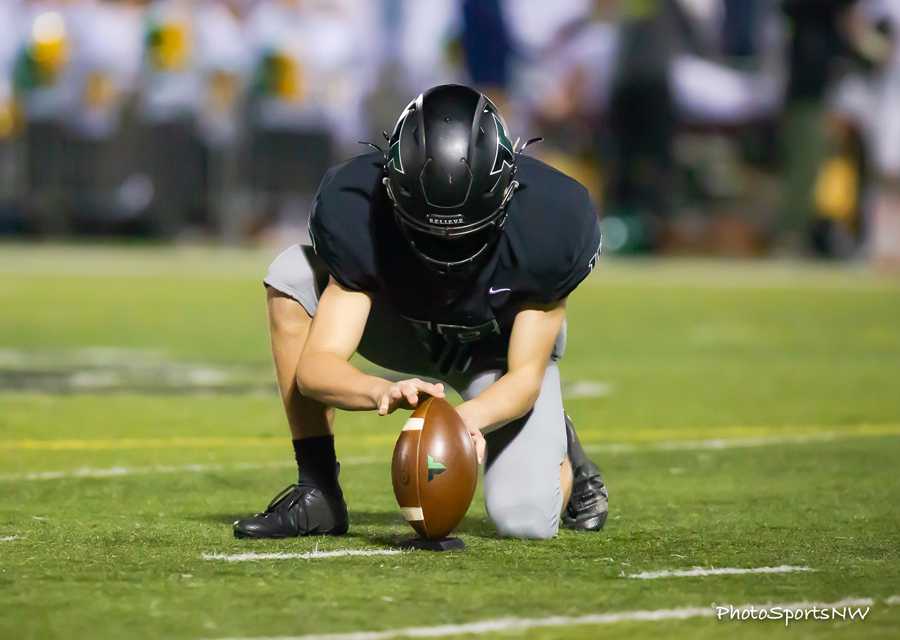 Every Friday night, we'll offer you PATs, a few nuggets from the night that was. Be sure to check out Jerry Ulmer's comprehensive Football Notebook, published Sundays, for an in-depth look at all of Friday's action from across the state.
Sullivan Puts On "Really Big Shew" In Tigard Win
Hewitt Sullivan's second interception of the first half went for 38 yards and a touchdown and Tigard used four total touchdowns from Josh Burns in the 42-21 home win over West Linn. Damiko Tidmore Jr. had two TD catches for the Lions in the loss.
Monroe Shocks Oakland Early, Struts To Win
Monroe led 21 after one quarter and 41-0 at half in its 48-0 win over Oakland. Dylan Irwin had almost 200 yards rushing and four touchdowns on offense and made 10 tackles on the defensive end. Zach Young added 105 yards on the ground, two total touchdowns and nine tackles. Corbin Picknell led Oakland with 83 yards on 18 carries.
Yamhill-Carlton Gets Fair Share In Win
Jaime Garcia ran for a score and threw touchdown passes to Rye Richmond, Mikel Rivas and Jakob Jarvis as part of a 41-point first-half outburst in Yamhill-Carlton's dominating 48-20 win over Salem Academy. The 7-0 Tigers clinched at least a share of the league title for the first time since 2007.
Vale Runs Away and Hides Versus Umatilla
Impressive line play and the running of Keegan Mizuta and Jared Fulwyler carried Vale past Umatilla, 49-7, at home on Senior Night. Mizuta finished with 175 yards on the ground and four scores.
Fast Start Boosts Olympians
Sprague scored the first 21 points and held on for the 35-28 road win at Mountain View. Keenen Harpole had 185 yards rushing and two TDs in the loss.
Thurston Provides Crist for the Millers
Cade Crist ran for three short ones and threw for two long ones, to Caleb Scott for 47 yards and Jacob Newell for 39, in undefeated Thurston's 49-0 home win over Springfield.
Prospectors Don't Dig This Result
Jayden Wilson threw for 200 yards and three touchdowns and also ran for 40 yards in Heppner's 41-18 win on the road over Grant Union.
Newberg Ices Titanic Win
Newberg recorded its third shutout of the season, blanking the McMinnville Grizzlies, 21-0, at McMinnville. Gabe Ramos and Armen Tarakhchyan had three interceptions between them to spark the win.
Aloha Wins The Third to Edge North Medford
Timothy Dennis Jr. threw two of his four touchdown passes in the third quarter as Aloha rallied from a 12-point halftime deficit to North Medford to stun the Black Tornado, 35-33, on the road. Drew Fritz' eight-yard scoring run early in the fourth quarter proved to be the clincher for the Warriors.
Wisher Blows Out Sunset
Cade Wisher rushed for more than 300 yards and three touchdowns in Jesuit's 49-26 win over Sunset. Three fourth quarter scores for Sunset made the game appear closer than it was. The Crusaders piled up 520 yards of total offense in the win. Jack Heyden was an efficient 7-for-8 for 136 yards and two TDs under center for Jesuit. Callum Craig had 229 yards of total offense for the Apollos.
Wentland Through the Air Sparks Days Creek
Gerritt Wentland threw five touchdown passes and rushed for a sixth in Days Creek's 46-20 win over Butte Falls on Senior Night. "This was a huge win for our program," said Wolves' coach David Hunt. "The Wolves have a chance to make the state playoffs with a win next week over the third seed from the east."
Clack Clicks In Win
Clackamas led David Douglas 35-3 at halftime before the Scots rallied, behind Dakota Lohmeier, Jermaine Robinson and Trevon Shephard, with 27 second-half points to make the final a respectable, 56-30.
Yoncalla Ambushes Elkton
The Yoncalla Eagles held Elkton to less than 100 yards of total offense and got 241 yards rushing and four touchdowns from Jordan Aguilar in the 51-6 win.
What a Rush! Mazama Scores in Final Seconds for the Win!
Mazama got a one-yard TD plunge from Jason Ortega with 11 seconds remaining to stun Henley, 14-10.
***
That's all we have time for tonight…Be sure to check out Jerry's report on Sunday!