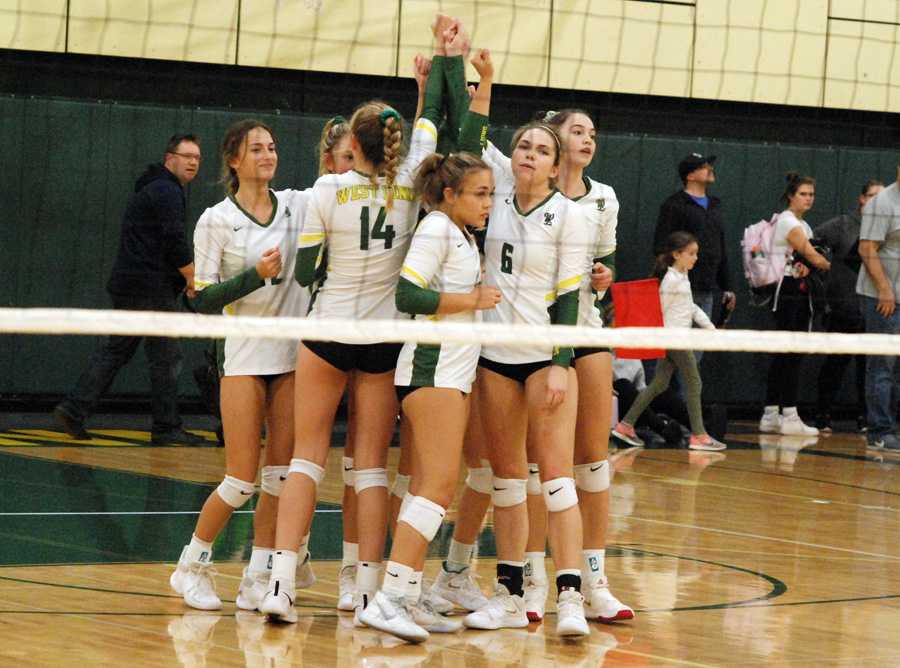 West Linn defeated Central Catholic, 25-21, 13-25, 15-10, on Saturday afternoon to capture the West Linn Tournament for the first time in at least 20 years. The win avenged a three-set loss to the perennially strong Rams (25-3) at the Clearwater Classic in Bend the week before, a tournament Central won.
In the moments following West Linn's win, the players were trying to determine whether the Lions had ever won the tournament before. Tournament director Carl Neuberger, who retired as West Linn's coach after the 2017 season, said that the Lions did not win their own event during his 18-year tenure, even in 2003 and 2007, when they captured state titles.
Whether West Linn would break through and break the long drought was in doubt until the end. Consecutive kills from springy sophomore Emily Warmenhoven gave the Lions an 11-8 advantage in the third set. But Central Catholic scored quickly out of a time out, on a kill from Julia Carr and a tandem block from Marianna Payne and Makenah Jackson, to pull within one. Legendary Ram coach Rick Lorenz, who'd watched his team rally from deficits all afternoon, believed it was going to happen again.
"We were grinders all day," he said. "I thought we were going to come back. These kids don't give up."
West Linn wasn't intent on giving up, either. After being thrashed by Central in Game 2 of the final, the young Lions, with only four seniors on the roster, knew how close they were to doing something special.
"We knew we had a chance against them and wanted to take it," said senior RS Claire Matthiessen. "We had nothing to lose."
West Linn regained the momentum when junior OH Audra Wilmes, a University of Washington recruit and the best player I saw all day; tallied from the back row. A Central Catholic attack error followed, setting Matthiessen up to deliver a devastating and definitive block to give West Linn match point up 14-10.
"That felt pretty good," Matthiessen admitted. "There's nothing like stuffing a girl like that. It's probably one of the best feelings in volleyball."
A few seconds later, after a final Central Catholic swing flew wide, West Linn gathered to embrace and celebrate its achievement.
"That was incredible!" Matthiessen exclaimed. "We came out with a vengeance this time. The first thing we said afterwards is we're winning our next tournament, too, which is the State Tournament. We're really excited for the rest of the season."
"I'm not disappointed," said Lorenz, who has guided Central Catholic to four state titles over the past decade. "West Linn beat us. We beat them just like this last week. At State, it's anybody's title."
West Linn, which defeated Mountainside and Valley Catholic in bracket play to reach the final, started quickly against Central Catholic. A three-point run early in Game 1 – an overpass kill from middle Sydney Marshall and successive Wilmes ace – staked the Lions to an 8-5 lead. The lead grew to five, at 11-6, when two Warmenhoven kills sandwiched a right side termination from freshman Amyah Semau. Payne, Jackson, Mia Jordan and Katie Nall did nice things for Central, but West Linn maintained its advantage to the end. Matthiessen, who started the set with a kill, also finished it.
Central turned the tables on West Linn in the second. The Rams, who came from behind in Game 2 of a quarterfinal versus Wilsonville to sweep and hand the Wildcats their first loss of the season and who also rallied from a Game 2 loss to Canby to win a three-set semifinal; used two Elliott Bush aces to move in front, 6-4. Warmenhoven got a kill to tie the set at 11 apiece, but Central Catholic got a sideout to regain the lead and never relinquished it. Lauren Stemple, one of the Rams' two setters, went behind the service line and delivered a left-handed ace. She didn't stop serving until Central led 24-11. Jordan had three big blocks during the 13-0 run that put the game away.
Matthiessen, who missed last Saturday's match versus Central with an ankle injury, knew that she needed to say something.
"I felt like as a senior captain I needed to pull my team together," she explained. "I ran in there and told everybody to flush it. I said, 'We're moving on. This is our game and our house. We're not letting anybody come on and beat us.' So we completely forgot about the second game and came in like we did in the first game with a lot of energy and took them."
Other standouts for West Linn included the defensive tandem of libero Lily Snook and DS Allyson Dean and MB Rayna Reynolds.
For Central, senior libero Ava Bruins was the best defender I watched all day. OH Carr, a club libero, sparked the Rams all day with her energy and smart hitting. And setter Kealani Rosa brought a lot of passion to the floor.
The 24-team tournament, which featured seven 6A teams ranked among the top 10 in the most recent OSAAtoday Coaches Poll, as well as the 5A No. 2 team in Wilsonville and the 4A No. 2 team in Valley Catholic, was very competitive. 6A No. 9 Oregon City, which is led by senior OH Madison Hornback; reached the championship bracket in a pool play tiebreaker over No. 4 Sunset. Dangerous Canby, which features junior OH Daley McClellan, one of the best all-around players in the state; upended No. 7 Sprague in pool play one week after the Olympians made the Clearwater final. The Cougars also beat Oregon City in the quarterfinals and gave Central a run in the semis.
Wilsonville lost twice on Saturday but not before impressing onlookers as one of the best teams in the state regardless of classification. The 5A Wildcats got very strong work from six-rotation right side Clarissa Klein.
4A Valley Catholic also distinguished itself as one of the state's best teams regardless of classification. Led by senior setter Allie Merz, the Valiants not only made the championship bracket, they swept defending 6A champion Jesuit in the quarterfinals!
Jesuit, playing without 6-3 sophomore middle Tess Masingale, lost twice on Saturday, including a second loss this season to Mountainside and its standout senior setter/hitter Izzi Szulczewski. But the young Crusaders still played well behind juniors Alison Buchholz, Peyton Griffin and Maddy Dowdall.
One thing is clear after watching the action at West Linn: the State Tournaments in three weeks should be very entertaining. Every team that makes the quarterfinals in 6A could go on a championship run and Wilsonville in 5A and Valley Catholic in 4A should be very strong contenders to take home blue trophies.