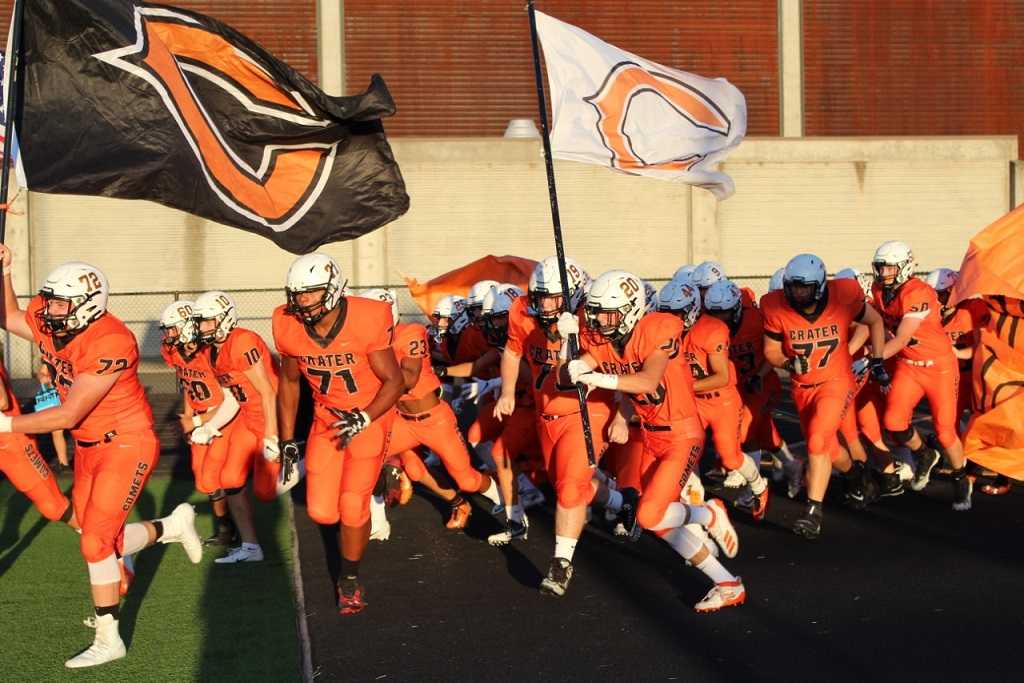 It's been almost a month since No. 4 Crater suffered its only loss of the football season – 31-20 to No. 1 Thurston – and the missed opportunities still haunt the Comets.
"We had some guys open and didn't hit them like we have in the past," coach Randy Waite said. "It was partly what Thurston was doing to us, but I do think we left a few scores on the table."
Crater has responded with a three-game winning streak in which it has averaged 61.3 points. The Comets have become more potent as they make a conscious effort to spread the ball around.
"A lot of guys have touched the ball," Waite said. "We've changed a few things schematically, and it's paid off."
Friday night, Crater will get its biggest test since the Thurston game. The Comets (5-1, 2-0) play host to No. 5 Ashland (6-0, 2-0) with first place in Division B of 5A Special District 2 on the line.
For the Grizzlies, who are 6-0 for the first time since 2014, the game also represents a checkpoint. So far, no team has come closer than 26 points to Ashland, but that's almost certain to change against Crater, which defeated the Grizzlies 41-13 last year and 45-14 in 2017.
"Blowing teams out, that's not really realistic," Ashland coach Beau Lehnerz said. "We want to test ourselves and see, 'Can we deal with adversity?'
"That's something that was a question coming into the season. If things are going well, awesome, but if we have adversity, are we going to come together and have some poise, or will we start pointing fingers?"
The teams, loaded with veterans, are very well acquainted not only from games going back years, but from 7-on-7 competition in the summer. The schools are separated by 17 miles.
"The kids know what personnel they have," said Waite, who is in his third season as coach after four seasons at Rigby, Idaho.
Ashland and Crater are the highest-scoring teams in 5A, averaging 52.0 and 50.0 points, respectively. Both teams run spread offenses with experienced, dual-threat, senior quarterbacks.
Crater's Trever Davis (5-10, 180), a fourth-year starter, has thrown for 1,216 yards and 19 touchdowns with three interceptions. Ashland's Rieger Sayre (6-1, 210), a third-year starter, has thrown for 1,293 yards and 23 scores with five interceptions.
The Comets have a productive running game with senior Gavin Acrey (697 rushing yards, eight touchdowns), who ran for a season-high 245 yards in the loss to Thurston. Juniors Trevor Jaasko and Dawson Douglas and senior Chase Sherer have combined for 17 touchdown catches.
Ashland has a standout running back in senior DeMario Watson (476 yards, seven touchdowns) and a big target in senior tight end Logan Sanford (33 catches, 373 yards, eight touchdowns). Watson and senior Nolan Rinefort each have five touchdown catches.
"There are some similarities as far as both teams have some speed and some explosive players," Lehnerz said. "They definitely utilize their guys really well. I'm sure we'll get their best. We're going to probably see some things that we haven't seen on film. Hopefully we can show them some things, too, that are different."
Crater has a stout defensive line that is led by senior Jacob Chenoweth, junior William Woitte and sophomore Jimmy Jordahl.
"When they're rolling, it's tough for teams to run against us," Waite said.
Ashland's defense has playmakers at end in Sanford (6-4, 205) and senior Finn Hayes (6-2, 205). Sanford has 17.5 tackles for loss and nine sacks.
"He's such an athletic kid, that if anybody wants to block him with one person, chances are he's going to get by that guy," Lehnerz said of Sanford.
Since Ashland beat Crater 6-3 in 2016, the Comets have put up big numbers on the Grizzlies. But Ashland's defense, which allowed 33.4 points per game last season, is giving up 11.2 points this season, second in 5A behind West Albany (3.7).
"A lot of our kids were starting their sophomore year, and they took their lumps against Crater," Lehnerz said. "We're hoping we can compete with them this year."
A glance at other top games in Week 7:
6A
No. 9 Sherwood (4-2, 1-0 Pacific) at Newberg (5-1, 1-0): Newberg is 0-5 against Sherwood since the Bowmen moved to 6A, but the Tigers are much improved this season, starting 5-1 for the first time since 2002. Sherwood rebounded from losses to Central Catholic and West Linn to beat McMinnville 42-10 last week. A year ago, the Bowmen thumped Newberg 41-14.
No. 7 Beaverton (5-1, 2-0 Metro) at No. 10 Sunset (4-2, 2-0): Sole possession of first place in the Metro League is at stake in the game between the Beavers and Apollos. Both teams are riding waves of momentum after coming off big wins, Beaverton 21-14 over Mountainside and Sunset 37-14 at previously undefeated Aloha. Sunset dominated Beaverton 54-21 last year as Callum Craig passed for four touchdowns.
No. 5 West Linn (4-2, 1-1 Three Rivers) at No. 2 Tualatin (6-0, 3-0): Last year, Tualatin impressively won its first six games before losing to West Linn, Lake Oswego and Tigard to finish the regular season. The same schedule awaits the Timberwolves, starting with the Lions, who are smarting after a last-second 20-17 loss to Lake Oswego last week. In 2018, West Linn bounced back from losing to Lake Oswego to beat Tualatin 45-20.
5A
No. 1 Thurston (6-0, 2-0 Special District 2 Division A) at Willamette (4-2, 2-0): The Wolverines, who were 2-7 last season, opened the season with losses to Ashland and Crater but are on a four-game winning streak that has them tied for first place with reigning state champion Thurston. A competitive game against the Colts, who beat them 61-0 last year, would be an achievement.
4A
No. 5 Gladstone (5-1, 3-0 Tri-Valley) at No. 8 North Marion (4-2, 3-0): The Gladiators and Huskies, who seem to clash in big games in every sport, meet to play for first place in the Tri-Valley. Gladstone has won five in a row since losing to No. 1 Banks in its opener. North Marion has won its last three games, beating Estacada 35-7 last week. Gladstone defeated North Marion 34-6 last year.
3A
No. 7 Rainier (5-1, 1-1 Special District West) at No. 3 Amity (5-1, 2-0): The Columbians and Warriors played one of the great games of 2018, going to overtime before Rainier prevailed 60-54 in its closest game of a state-championship season. Amity has shut out three of its last four opponents, including the last two. The Warriors play next week at No. 6 Clatskanie, the district co-leader.
No. 9 Yamhill-Carlton (6-0, 2-0 Special District 1 East) at Corbett (5-1, 2-0): Two upstarts meet to decide first place. Yamhill-Carlton went 0-9 in 4A in 2017 and finished 5-4 in 3A last year, its first winning record since 2007. Now the Tigers are in position to win a league title. Corbett, much improved from last year's 1-8 team, is holding opponents to 4.3 points per game.
No. 2 Santiam Christian (6-0, 2-0 Special District 2 North) at Sutherlin (5-1, 2-0): The winner takes sole possession of first place in the division. Sutherlin beat Santiam Christian 26-23 last year, when the teams shared the division title with Harrisburg. Santiam Christian has won all of its game by at least 35 points, but Sutherlin, which routed Harrisburg 45-7 last week, should pose a challenge.
1A
No. 8 Pilot Rock/Nixyaawii (5-0, 4-0 Special District 3 West) at No. 7 Dufur (4-2, 4-0): Don't look now, but four-time reigning state champion Dufur – outscored 134-22 in opening the season with losses to Adrian and St. Paul – has won four in a row. The Rangers will play for the district title against Pilot Rock, a team it defeated 46-8 last year.
No. 10 Mapleton (6-0, 3-0 Special District 1 South) at No. 6 Lowell (5-1, 3-0): It's been a magical season so far for Mapleton, which has opened 6-0 for the first time since 2002. Now the Sailors must face reigning district champion Lowell, which beat them 68-28 last year. The Red Devils feature explosive running back Taysian Williamson, who accounted for six touchdowns in the first quarter of last week's 54-14 win over Elkton.