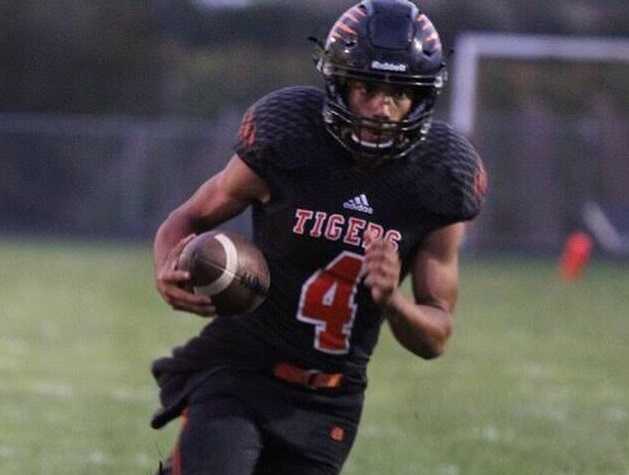 As a 24-year-old, first-time head football coach, Brennon Mossholder dived into the deep end at Yamhill-Carlton in 2016.
Not only were the Tigers coming off an 0-8 season, but being on the low end of the 4A enrollment spectrum, they were shorthanded and overmatched.
"We had 275 students, playing Cascade, which was coming off a state title, and they had over 700 students," Mossholder said. "Stayton and North Marion had easily double our student population. That was really hard."
Yamhill-Carlton took its lumps in his first two seasons, finishing 3-5 and 0-9, but the team's fortunes have changed dramatically since moving to 3A last year. The Tigers went 5-4 in 2018, their first winning record since 2007, and this season they are 5-0 and ranked eighth in the OSAAtoday 3A coaches poll.
"I knew this was going to be kind of the culmination of four years of hard work," said Mossholder, whose team stayed perfect with a 27-7 win over visiting Madras on Friday. "Being past the halfway point, I feel really good about where we're at. I knew we were going to be good, but I didn't know we'd be this good, especially on defense."
Mossholder had high hopes for the 2017 season, but it was undone by "a lot of bad things happening at once," including star quarterback Braden Frost suffering a broken foot in a wakeboarding accident and missing the entire year.
But in that stroke of bad luck was a seed for this year's success. Without Frost, the team turned to a sophomore at quarterback in Jaime Garcia, now a third-year starter.
"What it did was allow him an extra year of preparation," Mossholder said. "In my opinion, he's a 3A player of the year candidate."
Garcia has passed for seven touchdowns and run for eight scores to lead an offense that is averaging 40.2 points per game, up from 24.1 last year.
"Things have really been clicking for us offensively," Mossholder said.
The defense has been solid, too, holding its last three opponents to single digits. Junior defensive tackle Hunter Stephenson is back after suffering a torn ACL last year and sophomore middle linebacker Tiger Reimann has been a force.
"Even the seniors look up to him, let him take a leadership role," Mossholder said of Reimann.
Mossholder graduated in 2010 from Clackamas, where he was a backup quarterback and a member of the state champion baseball team. After graduating from Concordia University, where he played baseball, he assisted on the football staff at Clackamas.
He began applying for head coaching jobs, mostly for interview experience, and landed the position at Yamhill-Carlton, which he "didn't even know existed" when he applied, he said.
"I think being a backup quarterback prepared me well to become a coach because I got to run the scout team for two years, essentially," he said. "And I kind of relate well to some of the kids who don't get to play a lot."
Coleman heating up
West Linn coach Chris Miller will be leaving for the XFL after this season, but the way things are playing out for the fifth-ranked Lions, he might be able to turn over some of his duties early.
Senior quarterback Ethan Coleman -- who completed 21 of 29 passes for 412 yards and six touchdowns in Friday's 52-27 win over No. 8 Sherwood in a 6A nonleague game -- is showing a knack for play-calling.
"I know he's confident and feeling good because he's suggesting a lot of plays to me during the game," Miller said. "He did it three times (Friday) and three of them went for touchdowns. I told him I'm just going to relinquish the play-calling and let him call the plays from now on."
Coleman is having a sensational season for the Lions (4-1), who have won four in a row. He has completed 70.6 percent of his passes for 1,698 yards and 22 touchdowns with two interceptions.
"Ethan Coleman is playing outstanding," Miller said. "He's got great arm talent. The kid can throw the football. He's accurate. He can make any throw that we ask of him. And he's starting to see it very well. He's anticipating it well."
Coleman's top target is senior Casey Tawa, who had seven catches for 186 yards and four touchdowns Friday. For the season, Tawa has 37 catches for 658 yards and 11 scores.
"We don't necessarily call Casey's number specifically, but they have a good connection," Miller said. "Ethan seems to sort him out, and Casey seems to get himself open a lot."
Miller said Tawa came to camp in "great shape" after injuries limited his preparation a year ago.
"He really busted his butt working out through the spring and summer," Miller said. "He's highly motivated. He's one of the fiercest competitors I've been around."
'Dogged' defense
It took five games, but No. 2 West Albany finally allowed a first-half touchdown Friday night in beating No. 9 Lebanon 48-13 in a 5A Mid-Willamette Conference game.
Through four games, the Bulldogs (5-0) had allowed only a fourth-quarter touchdown against McKay and a second-quarter safety on a bad snap against Central.
On Friday, they led Lebanon 21-0 before yielding a three-yard touchdown pass from Cole Weber to Waylon Wolfe early in the second quarter.
West Albany's 22 points allowed this season is the fewest in 5A and ranks second among the state's 11-man teams, behind only 3A Burns with 12.
"We always pride ourselves on starting with defense, finding ways to eliminate points, and allow us to be in the game," Bulldogs coach Brian Mehl said. "We have a team that can defend against most systems and offenses. They're versatile."
That versatility starts with senior Porter Phillips (6-1, 210), a defensive back who also plays linebacker.
"He's a big-time player," Mehl said. "He makes a lot of plays for us. Given his talent, we can put him in a lot of different spots."
West Albany's defensive front – led by seniors James Burwell and Austin Leeper and junior TJ Zimmerman – has been dominant. They were instrumental in holding Lebanon to minus-1 rushing yards.
"Our defense was outstanding on gap control and being disciplined," Mehl said. "It made it really, really tough in the run game for Lebanon."
Senior Carson Van Dyke threw for four touchdowns, two to senior Connor Wolfe, and ran for a score against the Warriors. West Albany has been known as a running team in the past, but has spread it out more this season with Van Dyke (13 touchdown passes).
"We were a little more conservative last year," Mehl said. "It's really about utilizing your talent. We feel like this is the best way to get the ball down the field and score touchdowns."
Phillips, the team's leading rusher, ran for 145 yards on 10 carries Friday.
'Hidden' no more
Two years ago, Hidden Valley was 1-7 in 4A and struggling to field a team.
Now, after moving down to 3A last year by meeting OSAA criteria, the Mustangs are 5-0 and emerging as a favorite to win a state championship.
No. 1 Hidden Valley got its biggest win in years Friday night, going on the road for a 42-14 win over No. 3 Cascade Christian, the 3A runner-up the last two years. By dominating the Far West League opener for both teams, the Mustangs handed the Challengers (4-1) their first league defeat in 10 seasons under coach Jon Gettman,
It was a dramatic reversal from last year, when Cascade Christian beat Hidden Valley 51-7.
"I've known these kids for a long time, and this week of practice was the most dialed I've seen them," third-year Hidden Valley coach James Powers said. "Coming into the game, they were just a little bit quiet. It worries you a little bit, but it was like the calm before the storm. It was a business trip."
Tobias Powers, the coach's son, rushed for 173 yards and three touchdowns on 25 carries and Sam Vidlak completed 17 of 19 passes for 231 yards and one touchdown for the Mustangs, who had 429 total yards.
More impressive was the work of the defense, which limited the explosive Challengers to 209 yards. The Mustangs shut down dual-threat quarterback Kiegan Schaan and dynamic receiver Kristian Fralich, holding him to one catch for 12 yards.
Hidden Valley finished 6-4 last year, its first winning season since 2012. The team has come a long way since two years ago, when Powers said he would sometimes have only four reserves on the sideline. Now the program is up to about 60 players overall, 30 or so on varsity.
"It's been really good for our culture," James Powers said. "Now we're back to where a school should be.
"The culture here was really down. I think the OSAA did a great job in moving some teams down to help them build up their culture, and then bounce them back up when that culture is established."
If the Mustangs keep winning, they are likely to move back to 4A soon.
"It is what it is," Powers said. "We're playing well where we're at. We'll just keep moving forward with it."
'Hootenanny' stunner
One week after a humbling 43-0 home loss to 4A La Grande, Clatskanie smothered reigning 3A champion Rainier to win 13-8 in the Hootenanny rivalry game.
No. 2 Rainier (4-1) entered with a 17-game winning streak and averaging 28.5 points per game but couldn't shake the No. 10 Tigers (3-2), who dominated the line of scrimmage in the Coastal Range League opener for both teams.
"One thing about rivalry games, they're not hard to get up for," Clatskanie coach Tim Warren said. "The kids played physical, and we played four quarters, which we hadn't seen that up to this point with this group. It was exciting from that standpoint. The things we were talking about are starting to come true."
Rainier sophomore quarterback Kenney Tripp finished with minus-27 rushing yards on 12 carries and was 4 of 10 for 35 yards. The Tigers also shut down running backs David Katon (10 carries, 20 yards) and Stone Ware (seven carries, 34 yards).
Clatskanie had five sacks, two apiece by Cade Warren and Timber Zea. Tim Warren said his defensive front, which also included Sterling Bruce, Hunter Makinson, Mitchell Hopstad, Chase Baker and Caleb Ramsey, made the difference.
"Every single one of them had an impact on the game," he said. "When you free your linebackers up to run around and make tackles, it's huge."
Cedrix Moses ran for 132 yards and two touchdowns on 24 carries for Clatskanie. He scored on a three-yard run with about one minute left to put the Tigers ahead.
Tim Warren said the loss to La Grande was an eye-opener for his team, which responded with a renewed focus.
"They realized that to be at any kind of championship level, that's the level you've got to play at," Warren said. "To be honest, we could play La Grande 10 times and we would lose 10 times. They're pretty special."
Irish turnaround
It's been a rough start to the season for perennial power Sheldon, which lost its first three games for the first time in 27 years and has dealt with injuries to key players.
But the luck of the Irish (2-3) may be starting to turn, if Friday's 28-27 win over previously unbeaten North Medford is any indication.
With the 6A Southwest Conference game tied 21-21 midway through the fourth quarter, Sheldon turned a bad snap on a field-goal attempt into a go-ahead touchdown when holder Hunter Anderle scrambled and threw a 25-yard touchdown pass to Braeden Ryan, who got free down the left sideline, to make it 28-21.
No. 9 North Medford (4-1) answered with a 52-yard touchdown run by Devin Bradd to pull within 28-27, but the Irish stopped Bradd on an attempted two-point conversion run. The Black Tornado got another chance when it recovered a fumble at the Sheldon 32-yard line, but the defense stopped Bradd short on 4th-and-4 with 54 seconds left.
"We got a couple of tough breaks early in the season, losing a couple of really good players," Sheldon coach Josh Line said. "We've had to regroup, and it's taken us a little bit longer than we were hoping. It's been an emotional roller coaster for us. I feel like we're getting our feet underneath us right now."
In their season opener, the Irish lost Oregon-bound senior tight end Seth Figgins (bruised labrum) and junior receiver Gunner Robinson (spinal concussion). Figgins has yet to return, and Robinson is unlikely to play football again, according to Line.
"He's very lucky to be able to walk," Line said of Robinson, an impact player he compared with former South Medford receiver Chase Cota.
The Irish, who beat West Salem 28-14 in Week 4, will try to build on their momentum Friday when they visit No. 6 Jesuit (3-2).
A look at other Week 5 highlights across the state:
6A
Mountain View blanked Summit 37-0, getting 137 rushing yards from Luke Roberts. … Chase Coyle passed for 380 yards in five touchdowns as Grants Pass defeated Roseburg 42-21. … Callum Craig threw for 273 yards and two touchdowns, ran for a score and kicked all six extra points to lead Sunset past Sandy 42-28. … Mountainside's Carlos Montero had two interceptions, returning one for a touchdown, in a 42-21 win over Southridge. … Dondrae Fair threw four touchdown passes, two to Tre Anderson, and ran for a score to lead Jefferson past Gresham 62-15. Jefferson's Damir Collins rushed for 230 yards and three touchdowns and caught a scoring pass. … Price Pothier ran for 147 yards and Conner Croskrey had two interceptions and a sack in Newberg's 40-0 win over Reynolds. … Dakota Lohmeier threw three touchdown passes and David Douglas had three running backs surpass 100 yards – Tre'von Shephard, Jaden Poulschock and Josiah Collins – to beat Franklin 61-0. … Jesuit rushed for 485 yards in a 42-26 win over Central Catholic, getting 317 yards and four touchdowns from Kade Wisher. … Tigard led Sprague 35-0 in the first quarter on its way to a 56-0 win. Drew Carter went 4 for 4 for 82 yards and three touchdowns. … Casey Filkins rushed for 144 yards and three touchdowns as Lake Oswego bounced back from a loss to Tigard to beat Clackamas 42-20. … Kainoa Sayre ran for three touchdowns in Tualatin's 62-33 win over Canby. … Timmy Dennis Jr. threw six touchdown passes, two to Regan Wilson, to lead Aloha past Westview 61-13. He has 26 touchdown passes through five games. ... Liberty defeated Lincoln 37-34 on a field goal with seven seconds left after the Cardinals had rallied from a 34-13 deficit late in the third quarter. Liberty rushed for 429 yards.
5A
Bryce Boettcher threw four touchdown passes, one to Jake Trone, who had a kickoff return for a score, to lead South Eugene past Eagle Point 36-20. … Bryce Indell ran for 100 yards and a touchdown and returned a fumble for a score as Willamette beat Springfield 34-7. … Thurston remained unbeaten, pulling away in the second half to defeat North Bend 43-17. Cade Crist passed for 239 yards and three touchdowns, two to Dawson Muggy. … Tyler Seiber caught a touchdown pass and recovered a fumble for a score in South Albany's 24-7 win over Central. … Silverton built a 21-0 lead in the first quarter and rolled past Corvallis 34-21 to stay unbeaten. … Zaanan Bane ran for three touchdowns in Pendleton's 47-0 win over shorthanded Milwaukie. … Jayce Knapp threw two touchdown passes as Wilsonville beat Forest Grove 47-6.
4A
Marist Catholic throttled Cottage Grove 62-6 as Max Campbell completed 15 of 19 passes for 317 yards and four touchdowns. … Elmira's Cobyn Herbert went 15 for 22 for 182 yards and three touchdowns and ran for a score to propel his team past Junction City 34-7. … Jarred Evans had nine catches for 187 yards and two touchdowns as Banks thumped Astoria 49-7. Tanner Shook passed for 304 yards and three touchdowns for Banks. … Molalla forced four turnovers in a 13-7 win over Tillamook. Tied 7-7 in the fourth quarter, the Indians got a touchdown pass from Isaac Thomas-Klementis to Afanasy Kutsev, then a game-clinching interception from Kutsev. … Estacada dispatched Woodburn 30-20 as Isaiah Schaffer threw for two touchdowns and ran for 100 yards. … Tristan Lee and Charlie Baker each ran for three touchdowns in Mazama's 42-0 win over North Valley. … Henley rolled past McLoughlin 41-12 as Tim Orr passed for two touchdowns and John Tacchini ran for two scores.
3A
Suislaw junior Elijah Blankenship passed for a school-record 339 yards and sophomore Braydon Thornton had 13 catches for a school-record 307 yards and four touchdowns in the Vikings' 64-8 win over Harrisburg. Camp Lacouture rushed for 154 yards and three scores for Siuslaw, which compiled a school-record 673 yards and did not allow a first down until the fourth quarter. ... Santiam Christian rolled up 512 yards in a 63-20 win over Pleasant Hill as Marcus Fullbright rushed for 189 yards and six touchdowns on 31 carries and Ely Kennel passed for 232 yards. … Nyssa overcame six turnovers to turn back Umatilla 22-7, handing the Vikings their first loss. … Brookings-Harbor improved to 5-0, overcoming a 14-0 deficit to beat South Umpqua 35-14. The Bruins forced five turnovers, four by interception. … Sutherlin outlasted La Pine 29-28 as Jake Merrifield rushed for 171 yards and two touchdowns. Merrifield's 20-yard scoring run and Reinaldo Alcantar's extra point put Sutherlin ahead late, and Mason Gill's red-zone interception sealed the win.
2A
Zach Young rushed for 193 yards and three touchdowns and Dylan Irwin ran for 132 yards as Monroe cruised past Creswell 51-7. … Heppner rolled past Riverside 54-8, racing to a 41-0 lead in the first quarter. Casey Fletcher threw three touchdown passes. … Enrique Arellano rushed for 231 yards and three touchdowns in Stanfield's 28-14 win over Weston-McEwen. … Jaxon Rozewski threw three touchdown passes to Donovan Villanueva as Toledo dominated Reedsport 48-6. … Coquille rushed for 372 yards, getting three touchdown runs each from Caiden Yates and Ean Smith, to beat Bandon 48-19. … Caidyn Cunningham threw three touchdown passes and scored the game-winner on a two-yard run to lift Glide over Illinois Valley 34-27. … Oakland beat Jefferson 42-14 as Corbin Picknell ran for four touchdowns.
1A
Adrian built a 48-14 lead and cruised to an 84-42 win over Elgin, which lost starting quarterback Tristan Simpson to an arm injury in the first quarter. Adrian quarterback Conley Martin rushed for six touchdowns and passed for four more. ... North Douglas topped Elkton 42-20 behind Austin Frieze, who ran for 140 yards and one touchdown and passed for two scores, both to Trystn Woody. … Tyasin Burns ran for 311 yards and four touchdowns, returned a kickoff for a score and had 17 tackles, including one sack, to lead Pilot Rock past Imbler 74-26. … Taysian Williamson rushed for 164 yards and four touchdowns and threw a scoring pass as Lowell beat Yoncalla 66-15. Brian Lemon caught four passes for 110 yards and three touchdowns for Lowell. … Days Creek topped Riddle 40-6 behind Jackson Williams, who ran for 128 yards and four touchdowns and caught a scoring pass. … Glendale's David Lovaglio caught eight passes for 190 yards and two touchdowns and returned a kickoff 70 yards for a score to help beat Myrtle Point 42-16. Kalab Cline rushed for 205 yards and two touchdowns in the win. … Garret Warren rushed for two touchdowns and passed for two scores as Triangle Lake beat Jewell 53-7 in a six-man game. … Wayne Nephew III had two interceptions, returning one for a touchdown, and had a fumble recovery in Eddyville Charter's 38-0 win over Crow. ... Clancy Koch ran for 167 yards and two touchdowns on four carries as St. Paul piled up 506 yards to beat Siletz Valley 78-24. ... Union rallied from a 40-12, third-quarter deficit to defeat Wallowa 42-40, despite being outgained 739-339. Wallowa rushed for 443 yards, getting 193 from Tristan Bales and 183 from Zeb Ramsden. ... South Wasco County blanked Echo 55-0 in a six-man game as Eli Malefyt had two touchdown catches, ran for two scores and returned a fumble 97 yards for a touchdown. ... Perrydale's Josh Crawford rushed for 155 yards and two touchdowns in a 44-22 win over Waldport.