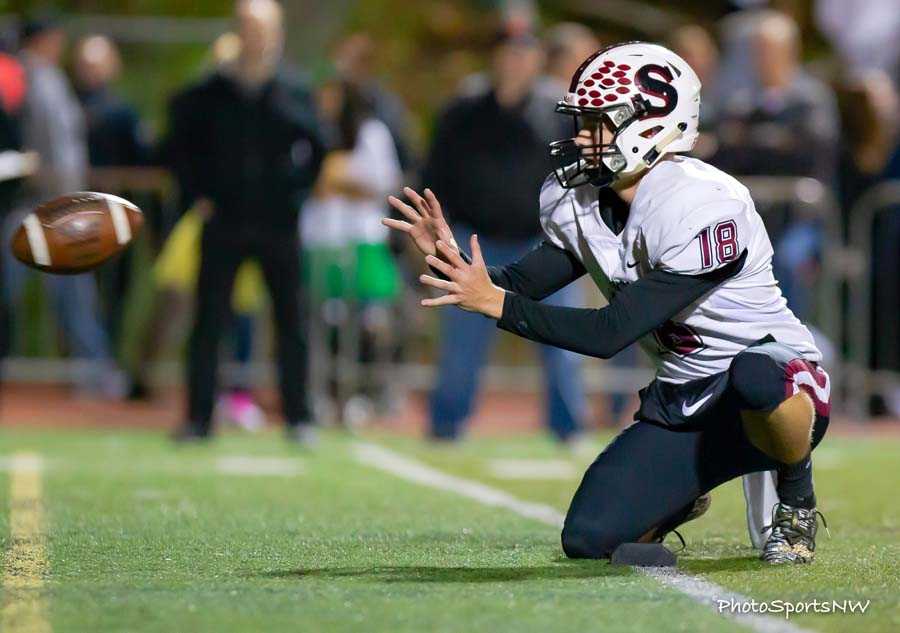 Every Friday night, we'll offer you PATs, a few nuggets from the night that was. Be sure to check out Jerry Ulmer's comprehensive Football Notebook, published Sundays, for an in-depth look at all of Friday's action from across the state.
Wisher Comes True For Jesuit
Cade Wisher rushed for 317 yards and four touchdowns in Jesuit's 42-26 win over Central Catholic. The Crusaders, who have now won four of the past six regular-season meetings, jumped to a 28-13 halftime lead and used second half interceptions by Seth Welch and Campbell Brandt to thwart and Central Catholic comeback aspirations. Cade Knighton, Central's senior signal caller, passed for more than 400 yards in the loss. Silas Starr and Kalvin Souders combined for 299 receiving yards and three touchdowns.
Reynolds Wrapped Up By Newberg
Conner Croskrey had two interceptions, one sack and six tackles in Newberg's 40-0 sacking of Reynolds on Homecoming Night. Price Pothier and Justin Holtan teamed for three rushing TDs for the Tigers' offense.
A Fair Effort Sparks Jeff Win
Dondrae Fair passed for 235 yards and four scores and ran one in from 33 yards in Jefferson's 62-15 win over Gresham. Junior RB Damir Collins added four scores for the Demos, three on the ground, and accounted for 293 yards of total offense. Receivers Tre Anderson and Malachi Sparks added to the offensive onslaught with 192 yards through the air combined, with three touchdowns.
Thurston Eventually Breaks North Bend
5A No. 1 Thurston turned a tight 15-10 game into a 43-10 run away with 28 points to open the second half in a 43-17 road win over North Bend / Powers. Wes Kommer scored two second-half touchdowns for the Colts. Dawson Muggy caught TD passes from Cade Crist in each half and Caleb Scott scored twice, one on a punt return, for the reigning state champs. Ian Spalding threw for over 200 yards, including a 60-yard touchdown to Coleman Compton, for North Band in the loss.
Can Air It In A Coleman
Ethan Coleman threw six touchdown passes, four to Casey Tawa, in West Linn's 52-27 homecoming win over Sherwood. The Lions took advantage of four Sherwood turnovers in the first half to build a 35-0 lead and led by as many as 38 points before two late Bowmen scores. LB Cole Peters had a hand in forcing three fumbles for West Linn, which added a fifth turnover in the second half on a Chase Fletcher interception.
This Lehman Is A Pro
Mason Lehman scored the first two touchdowns in the game, on a 50-yard punt return and 41-yard pass reception, as part of a 41-point first quarter for 2A No. 2 Heppner, which cruised past Riverside, 54-8.
Sweet 16 For Monroe
Monroe, ranked No. 5 in 2A, held Creswell to just 16 yards of total offense in the first half. The Dragons, paced by Austin Teran's relentless defensive intensity and Zach Young's 193 rushing yards and three scores on seven touches, built a 51-0 lead at the break and went on to the 51-7 win. Anthony Cox scored Creswell's second-half touchdown.
Tiger Earns His Stripes for Y-C
Tiger Reimann had 12 tackles and Jacob Preston added a key fumble recovery for Yamhill-Carlton, whose defense dominated Madras in a 27-7 win.
Nephew Sparks Relatively Easy Win
Sophomore Wayne Nephew II had two interceptions, including a pick six, and a fumble recovery in Eddyville Charter's 36-0 shutout of Crow. Tyler Godwin threw for two scores and Brier Rariden ran for two more in the Eagles' win. The 6-man team played with only eight players.
Dennis a Menace in Aloha's Win
Timothy Dennis Jr. threw six touchdown passes and ran for another in an easy 61-13 win for undefeated Aloha over Westview. Hunter Gerard threw two TD passes for Westview, which has now lost three games in a row.
Betts Cashes For Marist
Wolfgang Betts had 108 yards rushing and two touchdowns in Marist Catholic's dominant 62-6 road win over Cottage Grove. Max Campbell was nearly perfect through the air for the Spartans. The senior completed 15 of 19 throws for 317 yards and four TDs.
Three-Hundy for David Douglas
Tre'von Shephard, Jaden Poulschock and Josiah Collins each rushed for more than 100 yards and the Scots' defense forced five turnovers in David Douglas' 61-0 blanking of Franklin.
Days Solves Riddle
A strong defensive effort pushed Days Creek Charter past Riddle, 40-6. The Wolves got two picks from Cauy Jackson, one from Cade Martin and a fumble recovery from Keith Gaskell and a dozen tackles from Zane DeGroot in the win. Jackson Williams sparked the offense with four rushing touchdowns and a TD toss.
Mountain View Tops Summit
Mountain View led by only 2-0 after one quarter by scored three second-quarter touchdowns, including an 87-yard connection from Jakoby Moss to Jack Barrett, in a 37-0 win at Summit.
It Takes A Quarter To See Sunset
Sandy led 28-14 on the road before Sunset rallied with 28 fourth-quarter points in the 42-28 win for the Apollos. Callum Craig threw for 273 yards and two touchdowns, ran for another and kicked six extra points in the win. Kylie Sagon added two rushing scores. Chet Chamberlain starred for Sandy, throwing for a touchdown, running for another and coming up with an interception.
Dart On Point In Wilsonville Win
Payton Dart hauled in one of Jayce Knapp's two TD strikes and the Wilsonville defense accounted for a TD and safety in the Wildcats' 47-6 road win over Forest Grove. Senior kicker Jacob Haussermann hit on a field goal and connected on all six PATs in the win.
Filkins Filthy In LO Win
Casey Filkins scored three long-distance touchdowns in a dominant first half for Lake Oswego, which handled Clackamas, 42-20. The Lakers led 42-0 after three before yielding three fourth-quarter scores.
***
That's all we have time for tonight. 3A No. 2 Rainier fell in an upset to Clatskanie and North Medford tasted defeated for the first time in a one-point loss to Sheldon. No details about either game…Be sure to check out Jerry's report on Sunday!