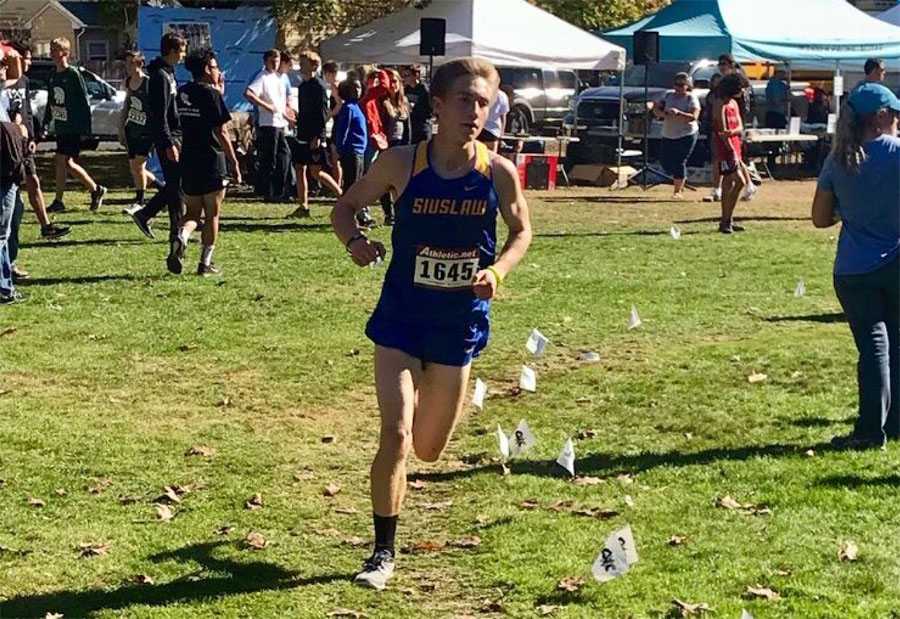 [Editor's note: "Take Five" is a recurring feature designed to offer a quick look at some of Oregon's most interesting high school sports standouts. Brendon Jensen is a senior distance runner on Siuslaw's cross country team. He started running with his mom at age 10 and was taking on half-marathons one year later. By his sophomore year in high school, Jensen was running the 5K in under 17 minutes and was a key member of the Viking cross country team, which is currently ranked No. 1 in 4A. We asked Jensen to answer five questions from the 25 we sent his way. His answers follow]
OSAAtoday: What was your first big success as an athlete and how did it impact you?
Brendon Jensen: My first big success had to be winning the district title in the 800-meter run in track in eighth grade. The whole year until that point I had been waiting and working for the moment I crossed that line. It really got me hyped and mentally ready to compete at the high school level.
OSAAtoday: Describe your scariest moment while learning how to drive.
Jensen: Within two weeks of having my driver's permit, I had my first near crash. I was driving down the highway between 40 and 50 MPH and a white truck pulled out in front of me to go the opposite way. My first thought was, "There goes my permit already..." I was already braced for the crash, but all of a sudden my hands and feet decided that I was not going to crash. Without even thinking about it, I swerved right and then left all the way around the truck without hitting it and came to a perfect stop on the side of the road. I barely even knew what happened and my mom hadn't even had enough time to scream.
OSAAtoday: What is your favorite class in school and why?
Jensen: Auto Shop. It is a little bit more of a fun break from the boring core classes and I love to fix stuff when I know how to do it.
OSAAtoday: If you could have one superpower, what would it be and why?
Jensen: If I could have one superpower, it would be shapeshifting. I would want to shape shift because, to me, that's like having all the superpowers... I can go invisible by turning into whatever. I can fly by turning into a bird, have strength with rhino form or something like that, and more.
OSAAtoday: What about college scares the bejeebers out of you?
Jensen: Well I gotta say I'm pretty worried that life is gonna hit me in the face when I think I'm ready but I'm not...
Read other Take Five articles published in connection with the fall season:
South Umpqua outside hitter Shalyn Gray
Lincoln distance runner Mia Kane
Madras football player Treyvon Easterling
Gladstone soccer player and cross country runner Derek Johnson
Canby soccer standout Ruby Kayser
Exceptional Scappoose athlete Emma Jones