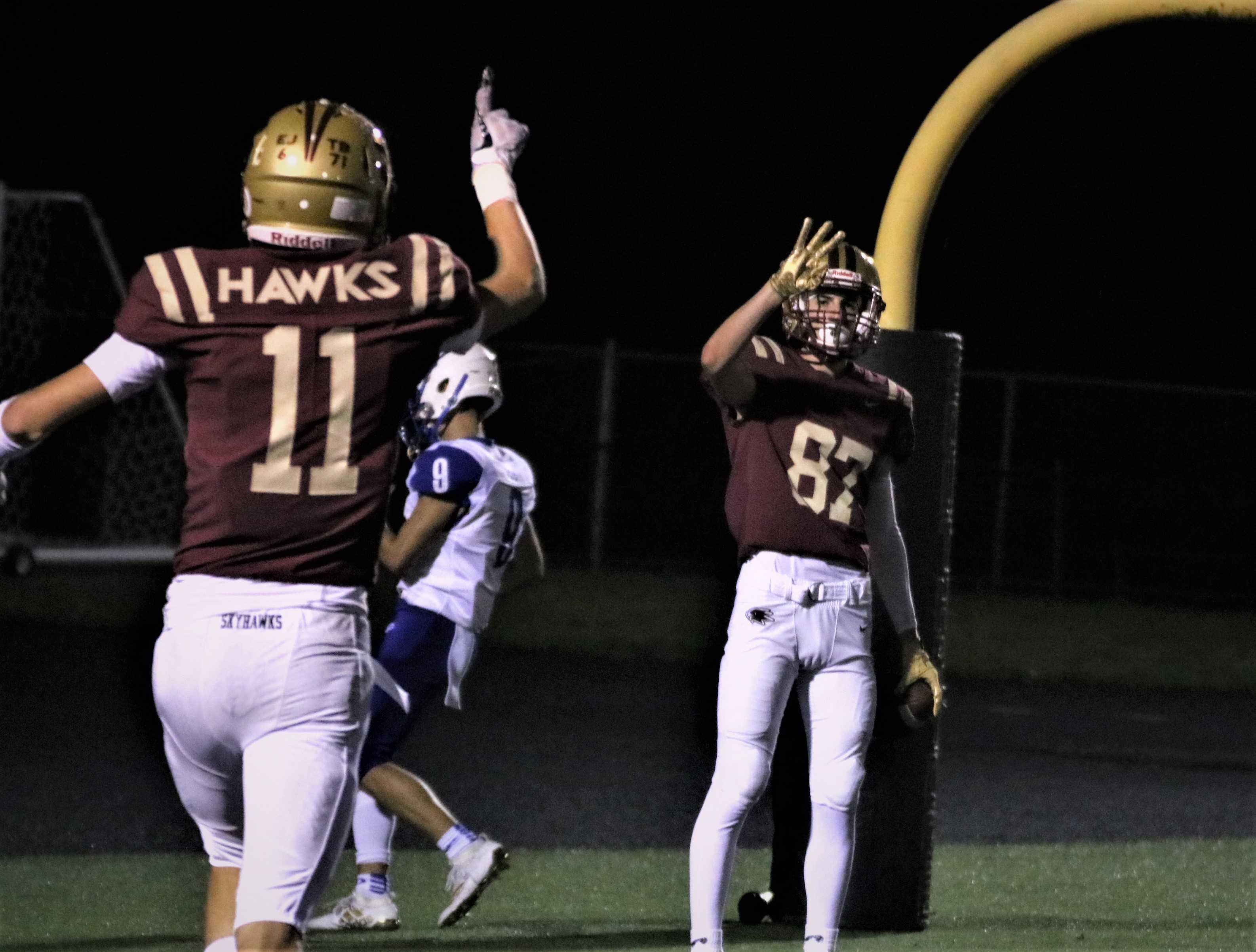 BEAVERTON -- After last Friday's 57-7 loss to the Sunset Apollos, Southridge football coach Kevin Bickler realized that he needed to make a substantial change, and make one soon.
On Monday, Bickler brought his team together at practice and announced that there will not be any captains anymore. Instead, there will be an offense, defense, and special teams player of the week who will take on the pregame coin toss.
"We're trying to establish who our leaders are on this team," Bickler said. "Not our best players, but who's going to lead us. Who's going to make those better around us? By eliminating the captain title, I wanted all kids to have the opportunity to lead."
It was a big leap, but a necessary one after the Skyhawks couldn't generate any offense against the Apollos and seemed to lose interest and discipline as the game went along.
On Friday night, the Skyhawks (2-2) showed early signs that Bickler's decision could be paying dividends as they put last weeks demoralizing result in the rear-view window and lit up the scoreboard in a 56-36 nonleague victory over the Grants Pass Cavemen (2-2).
Quarterback Darik Salinas finished the night with six touchdown passes -- three to receiver Joshua Calo -- and running back Romel Moreland added three of his own as the Skyhawks cruised to a relatively comfortable victory.
"Last week against Sunset giving up 57 we knew we had to come out, we had to play hard-nosed, blue-collar football," Calo said. "So for us to come out and make a statement like that it showed that we can play both sides of the ball, that's huge for us going forward with our confidence."
Captaincy was just one of the changes that Bickler and his staff decided to begin implementing this week, the other brings the team closer together. Instead of going in multiple different directions after school, players stuck around and did some team bonding activities such as yoga and meditation before having a team dinner and watching film.
"You don't know what these kids are eating after school sometimes. Maybe they're not getting good meals and maybe that's the difference," Bickler said about the decision.
Whatever it was, something seemed to click as the offense looked as potent as it's been all year. Salinas found Calo for an 11-yard touchdown on the team's opening drive and the Skyhawks didn't look back. Three different receivers scored on the first three drives which were capped off by a Mason Denlinger touchdown in which he won a 50-50 ball in the air, turned, and fought five yards for the pylon.
"It's just practice," Salinas said about his growing chemistry with his receivers. "I've been throwing together with them since May. It's just that chemistry finally kicking in and I'm happy about that, happy for my receivers."
On the defensive end, the Skyhawks only improved as the game went along. After allowing 21 first-half points, the Southridge defense allowed just one more touchdown outside of garbage time, and that was the opening possession of the second half. Senior Katsuo Steward picked up his third interception of the year in the first half while lineman Zach Slail finished with four sacks and was a nuisance for the Cavemen's offensive line.
"That's a high scoring program," Bickler said. "Grants Pass scores a lot of points, and our kids felt confident that they could stop them. We made some big stops in the second half when we needed to."
Last year it was the Skyhawks who were at the other end of the scoreboard when they fell 38-21 in Grants Pass. This time they'll be the ones going home happy as they prepare for another big Metro League test: a date with the Mountainside Mavericks, a team currently 3-1 and coming off a 56-7 win over Reynolds.
The Skyhawks will be up for that game, the only question is who will be leading them. This week it was Eric Brown, Kaleb Moxley, and Ryan Lovdahl. Next week, who knows? What Bickler has made abundantly clear is that it is a title that will have to be earned every week. And the good news is, it seems as if the players are beginning to buy-in.
"Going forward he wants it to be something that motivates us to work for," Calo said. "We respect that and his decision, so we're going to continue working hard at practice, and hopefully the results will work themselves out."
Added Salinas: "I thought it was for the good, that's all I'm going to say. It's pretty motivational, and I thought it was a pretty good move."
Kyle Pinnell is a senior at Southridge