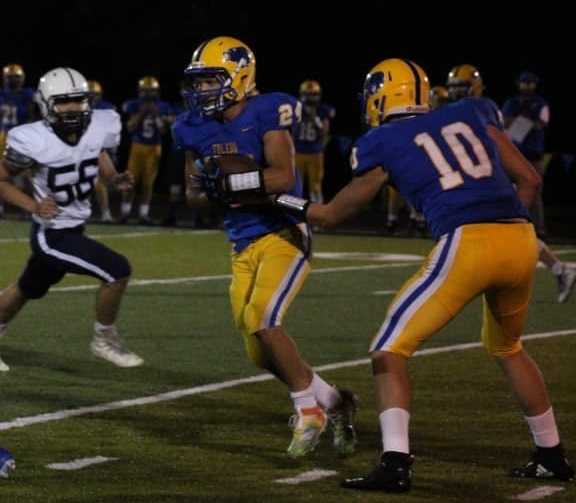 In the spring, Toledo's football program appeared to be ripping apart at the seams after the dismissal of coach Steve Cragun.
Protests from students and community members included a school walkout and an online petition to rehire Cragun, who was relieved of his coaching duties after posting grades on a private group chat for football players.
The team's star quarterback, junior Jaxon Rozewski, even filed waivers to transfer to nearby Newport, according to the Newport News-Times.
Three games into the season, though, Rozewski and the 2A Boomers are thriving. No. 5 Toledo made a statement Friday with a 52-49 home win over top-ranked Monroe to improve to 3-0 under first-year coach Jeff Taylor.
"It's been a real process," said Taylor, a first-time head coach who has assisted at Central, Marshfield and Newport. "I think it really kind of split the community. Anytime you get rid of somebody, it's pretty divisive.
"It was a lot of work. But I put together, in my opinion, one of the best coaching staffs in the state. They're all incredibly great men who helped me get out in the community and get these kids excited about football again."
In Friday's win, the Boomers trailed 14-0 early, led 38-37 at half and outlasted Monroe and standout tailback Zach Young (277 rushing yards), avenging a 54-26 loss to the Dragons from a year ago.
Junior running back Donovan Villanueva (187 rushing yards) scored on a three-yard run to put Toledo ahead 52-49 midway through the fourth quarter. Monroe had first-and-goal at the 8-yard line in the closing minutes, but the Boomers held on, sealing the win when Villanueva batted down a fourth-down pass.
The 6-foot-6, 210-pound Rozewski -- who in a game against Glide last season threw for a state-record 613 yards and eight touchdowns -- tossed two touchdown passes to Villanueva and ran for two scores in the win.
"The kids are bought in, and I do believe we're all pulling on the same rope," Taylor said. "It's been pretty amazing. I'm very proud of the team, and very proud of the coaching staff. We've just got to keep the train rolling."
Taylor's staff includes former Newport coach Kurt Hargett, who played at Toledo and now coaches on Dale Hargett Field, named for his father. The offensive coordinator is Toledo boys basketball coach Eddie Townsend, a Newport graduate.
Cragun -- who went 15-15 in three seasons as coach, including 5-5 last year -- is now at Lakeview.
One for the books
For his team to climb in 6A this season, first-year Jefferson coach Don Johnson Jr. knows that his offense can't be all about junior running back Damir Collins.
Through three games, though, Collins is putting on a tremendous show for the Democrats (2-1).
In Friday's 50-14 win over Century, the 5-foot-9, 190-pound Collins had a career night, rushing for 423 yards and five touchdowns on 31 carries. The yardage total ranks 11th all-time in Oregon and is No. 5 in the big-school division, behind only Aloha's Thomas Tyner (643, 438 in 2012), Barlow's Malcolm Johnson (458 in 2008) and Lake Oswego's Steven Long (424 in 2011).
"And he had two long runs called back," Don Johnson said of Collins.
For the season, Collins has rushed for 943 yards and 11 touchdowns on 81 carries, averaging 11.6 yards per carry. At 314.3 yards per game, he could make a run at the all-time single-season record of 3,609, set by Scio's Anthony Johnson in 2015.
But don't expect Johnson to have Collins chasing numbers.
"We could do that with this kid, but we've got to get better," he said. "Damir's going to get his, regardless, we've just got to do other things better."
Johnson knows that some observers may be skeptical of Collins' numbers because of the competition, even if Collins rushed for 272 yards against unbeaten North Medford (3-0) in Week 2.
"People will talk about Damir Collins and say, 'Well, he plays bad teams, or he plays in the PIL,'" Johnson said. "But if you look at it, what if he was behind Bosco's line or Mater Dei's line, or the line at Katy, Texas?"
Johnson said Collins' unique set of skills makes it difficult to draw comparisons to him. He said Collins has the power and burst of Napoleon Kaufman and the shiftiness of DeAnthony Thomas.
"I call all kind of football buddies, and I'm like, 'Who do you see?' And nobody can explain it," Johnson said. "He's just different. He's kind of a mixture of people.
"They can stack the box and do whatever, but the thing about Damir, he's not just a juky guy, or a go-to-the-house guy. He will run you over, too."
No points allowed
Gaining yards against Santiam Christian is a tough chore. Scoring points? Forget about it.
The Eagles, ranked second in 3A, have not allowed a point this season. They improved to 3-0 Friday with a 39-0 nonleague win over No. 10 Scio.
Santiam Christian opened the season by holding Dayton to 70 yards in a 39-0 win. In Week 2, the starting defense allowed fewer than 100 yards in a 46-0 win over Douglas.
Scio, with its precision double-wing offense, presented a bigger challenge. The visiting Loggers gained 217 yards and penetrated the red zone three times, even driving to the 10-yard line, but couldn't score.
"We were able to batten down the hatches when we needed to and not let them in," Santiam Christian coach Matt Bain said.
The Eagles pulled away after leading 10-0 at half. Junior Marcus Fullbright rushed for 100 yards and three touchdowns and sophomore quarterback Ely Kennel threw for 212 yards, including a score to junior Garrett Cowan.
"By the end of the game we ground them down and kind of wore them out," Bain said. "But it was a tough game through the first half and the first part of the third quarter. They were really in that game. The difference was field position and our defense."
The defense is led by senior captain Luke Mehlschau, a hybrid defensive back and linebacker who is "a really tough-nosed kid who understands what we're doing really well," Bain said. Senior Mason Wirth, a third-year starter at outside linebacker, plays opposite of Mehlschau.
The defensive line features 5-foot-10, 280-pound junior Aaron Schaefer and senior defensive end Miles Henderson.
"Probably the biggest single thing is we were really young last year, so we have a lot of kids back, even a lot of juniors who started as sophomores," Bain said. "That's a big piece, just understanding. We have a lot of smart kids, lot of 4.0 students. That makes a difference."
The Eagles, who lost in the first round of the playoffs last year, are "still a step away from putting things together on offense," according to Bain.
"We run a lot of complex stuff and have a sophomore quarterback," Bain said. "In a little bit, I think we'll be pretty dangerous."
'Under the radar'
Senior quarterback Timmy Dennis Jr. is quietly off to a stellar start for Aloha, which improved to 3-0 with a 48-39 win over visiting David Douglas on Friday.
The 6-4, 200-pound Dennis completed 22 of 38 passes for 349 yards and six touchdowns, three to Regan Wilson. For the season, he has completed 63.4 percent of his passes for 1,046 yards and a 6A-high 15 touchdowns with three interceptions.
He has taken a step forward from last season, when he completed 49.8 percent for 2,446 yards and 29 touchdowns with 11 interceptions.
"The game has slowed down a lot for him," Warriors coach Bill Volk said. "His pre-snap reads are much improved. His patience in the pocket has helped. A combination of a lot of things have come together.
"It's Timmy's second year in our new spread offense. He has a better understanding of what we're looking for. And our receivers do, as well. They've done a great job of route adjustments."
Aloha has a talented cast of receivers that includes Wilson (six touchdown catches), junior Tanner Volk (four TDs) and seniors Sir Charles Mitchell (four TDs) and Ry'montray Reese.
"We have a lot of weapons, which is fun to see," Bill Volk said. "We have a smart quarterback and four or five skill players who can take control of the game at any point in time."
Bill Volk said that Dennis is "flying under the radar" as a college prospect.
"He has the GPA, the leadership, and I think he has the arm strength," the coach said of Dennis, who also plays basketball. "I would hope that college scouts, if they know anything about the game, they'd actually be taking notice of him."
Aloha, which has won its first three games for the first time since 2012, gets its biggest test of the season Friday when it opens Metro League play at No. 3 Jesuit.
Ridgeview honors Rollins
Prior to its Friday home game, Ridgeview named its field after Reece Rollins, a member of the 2013 4A championship team who died in an auto accident in May while on a hunting trip in Idaho.
The school also honored the 2013 team at the game, which Ashland won 60-6.
Rollins was a running back and linebacker on the the school's first team in 2012. He ran for two touchdowns in the Ravens' season-opening 53-6 win over Medicine Hat, Alberta, including a 65-yard score on the team's first offensive play.
He moved to tight end as a senior and was selected first-team all-state for Ridgeview, catching a touchdown pass in the state championship win over Cottage Grove.
Ravens assistant coach Guy Millington spoke of Rollins' character to the Bend Bulletin.
"One of the most unselfish players," Millington told the newspaper. "The second year, we needed a tight end and he was 100 percent good with it. He was a player that would do anything to help the team."
Each year, the team will honor Rollins by selecting a player that best embodies his character to wear his No. 18 jersey.
A glance at Week 3 highlights from across the state:
6A
No. 1 Lake Oswego built a 35-0 lead – getting two touchdown runs from Casey Filkins and an interception return for a score by Joe Hutson – and coasted to a 35-15 win over Oregon City. … Liberty rushed for 487 yards in beating South Medford 53-41, getting 270 yards from Cole Smith. … Devin Bradd ran for 113 yards and two touchdowns and Nolan Morris had two long scores – a 69-yard run and a 98-yard interception return – as North Medford moved to 3-0 with a 47-19 win over Bend. … Chase Coyle threw for 332 yards and four touchdowns, including three to Devik Chiang and the go-ahead, 17-yard score to Joey Valadez with 1:02 left, to lift Grants Pass over Mountain View 49-43. Keenan Harpole rushed for 213 yards and four touchdowns for Mountain View. … Mario Ambrose, filling in for the injured Jake Leitgeb, threw three touchdown passes, two to Charles Willmott, to spark Lincoln past Franklin 40-14. … Newberg forced seven turnovers and scored two defensive touchdowns in beating Suimmit 41-0. Owen Hawley had two touchdown catches. … Sunset amassed 611 yards in throttling Southridge 57-7. Callum Craig threw for 233 yards and three touchdowns and ran for 110 yards and one score. … Kade Wisher rushed for 141 yards in Jesuit's 50-6 win over Westview. The Crusaders had a 468-108 edge in yards. … Lucas Voss ran for 112 yards and Gavin Evans threw two touchdown passes as Sherwood piled up 525 total yards in beating Lakeridge 50-13. … Hunter Gilbert rushed for 195 yards and two touchdowns and Drew Carter was 8 for 9 for 187 yards and three scores to lead Tigard past Canby 51-27. … Tualatin got three touchdown runs from Kainoa Sayre in defeating McNary 52-27. … Cade Knighton threw five touchdown passes, two to Elijah Elliott, in Central Catholic's 67-6 win over Sprague. … West Linn's Ethan Coleman threw five touchdown passes – giving him 14 this season, without an interception – as the Lions dominated Sheldon 55-14. ... Sophomore quarterback Griffin Gardner passed and ran for touchdowns to lead South Salem to its first win, 24-14 at McMinnville. ... Forest Grove overcame a 20-0 deficit to beat Wilson 41-34. Hunter Davis threw three touchdown passes for Wilson, including a 41-yarder to Jaydan Brannan (six catches, 154 yards).
5A
No. 1 Thurston won at No. 3 Crater 31-20 as Cade Crist passed for 385 yards and three touchdowns, two to Kyle Casey, who had seven catches for 160 yards. … Braedon Lowe threw a 20-yard touchdown pass to Hunter Reininger in overtime as Springfield beat Eagle Point 27-20. Reininger had 140 receiving yards and two touchdown catches. … Scappoose moved to 3-0 by defeating Hillsboro 47-30. Jakobi Kessi passed for two touchdowns and ran for two scores for the Indians. … Rieger Sayre threw five touchdown passes in Ashland's 60-6 handling of Ridgeview. … North Bend got its second shutout in three games, beating South Eugene 21-0. Divenson Willis rushed for 154 yards and two touchdowns for the Bulldogs. … Wilsonville's Jayce Knapp completed 8 of 12 passes for 230 yards and four touchdowns and ran for a score to lead a 66-7 win over Cleveland. ... Colt Folston ran for three touchdown runs in Redmond's 38-21 win over North Eugene, giving the Panthers their second win, matching last year's total. …
4A
Jarred Evans and Jacob Slifka caught touchdown passes as Banks won at Marist Catholic 19-14. ... Crook County improved to 3-0 by defeating Sisters 7-0 on a four-yard touchdown run by Clayton Berman in the second quarter. … McLoughlin ended a 13-game losing by holding off Philomath 14-12. Marcellus Brinkley rushed for 123 yards and two touchdowns for the Pioneers, who stopped a two-point conversion attempt with 15 seconds left. … Aiden Tyler passed for 273 yards and a touchdown to lead Sweet Home past Phoenix 22-7 … Sutherlin blanked Douglas 50-0 behind Jake Merrifield (109 rushing yards) and Josh Davis (130 rushing yards, three touchdowns) and a defense that allowed 103 total yards. … Marshfield beat Klamath Union 33-20 as Josiah Nisbett rushed for 199 yards and three touchdowns on 34 carries. … Brauly Mendez rushed for 160 yards and two touchdowns as Tillamook rolled up 490 yards in beating Junction City 49-6. … Mazama turned back Del Norte (Calif.) 21-14, getting 104 rushing yards and two touchdowns from Tristan Lee. ... Nathan Reed rushed for three touchdowns and Parker Robinson threw three touchdown passes to Blaine Shaw in La Grande's 56-6 win over Ontario.
3A
Pleasant Hill got a 50-yard interception return for a touchdown from Garrett Pierce in dropping Dayton 48-14. … Siuslaw won its second in a row since a 10-game losing streak, dispatching Newport 42-20. Elijah Blankenship threw two touchdown passes and ran for three scores and Braydon Thornton had three touchdown catches. … Will Heycke had a 99-yard touchdown run as St. Mary's belted Regis 49-20. … Kristian Fralich led Cascade Christian past Harrisburg 49-0. He had four catches for 140 yards and two touchdowns, ran for two scores and returned an interception 33 yards for a touchdown. … Corbett outlasted South Umpqua 3-0 in double overtime, getting a walk-off, 25-yard field goal from Garrett Brindell. … Vale fell to Weiser (Idaho) 42-13 despite two touchdown passes by Colton Kesey. ... Hidden Valley beat 4A North Valley 24-7 behind LG Matusik (63-yard touchdown catch, interception, fumble recovery), Sam Vidlak (19-27, 288 yards, two touchdowns) and Jeremiah Noga (10 catches, 154 yards, one touchdown).
2A
Corbin Picknell rushed for 232 yards and two touchdowns on 24 carries as Oakland topped Bandon 28-0. … Glide held off Reedsport 18-14 behind Caidyn Cunningham, who threw two touchdown passes and had two sacks on defense. … Coquille raced to a 21-0 lead early in the first quarter and held on to beat Jefferson 50-24. Caiden Yates scored on a 62-yard run and 50-yard interception return and Gunner Yates returned a punt 41 yards for a touchdown to build the early lead. … Warrenton rolled Portland Christian 63-13 as Kenzie Ramsey went 9 for 9 on PATs, setting a state record for a girl. Hordie Bodden Bodden ran for 154 yards and two touchdowns, caught a touchdown pass and returned a punt for a score. … Bryce Beyer rushed for 173 yards and two touchdowns in Kennedy's 28-6 win over Santiam. … Heppner won at Gold Beach 57-20 as Mason Lehman returned three punts for touchdowns in the first half.
1A
JJ Neece rushed for 348 yards and four touchdowns and caught three scoring passes as Mapleton rolled past Siletz Valley 60-20. … Pilot Rock's Tyasin Burns had a monster game in a 58-14 win over Ione/Arlington, rushing for 343 yards and three touchdowns and racking up 250 receiving yards and three scores. Tanner Corwin passed for more than 400 yards and five touchdowns for Pilot Rock. … Butte Falls turned back Oakridge 48-30 behind Kaleb Tiry, who rushed for 280 yards and five touchdowns. … Austin Frieze rushed for 142 yards and two touchdowns, passed for a score and returned a fumble 82 yards for a touchdown to lead North Douglas past Bonanza 60-14. … Enrique Camacho and Troy Warner each rushed for more than 100 yards and two touchdowns in Myrtle Point's 50-36 win over Prospect. … Hosanna Christian blanked Falls City 44-0 as Spencer Crawford completed 7 of 9 passes for three touchdowns. ... Elgin had four touchdown passes in beating Wallowa 54-26, overcoming 170 rushing yards from Zeb Ramsden. ... Adrian/Jordan Valley defeated Cove 86-0 as Conley Martin rushed for 174 yards and four touchdowns and passed for 167 yards and four scores. Wade Bond had three interceptions for the Antelopes, returning one 40 yards for a touchdown.