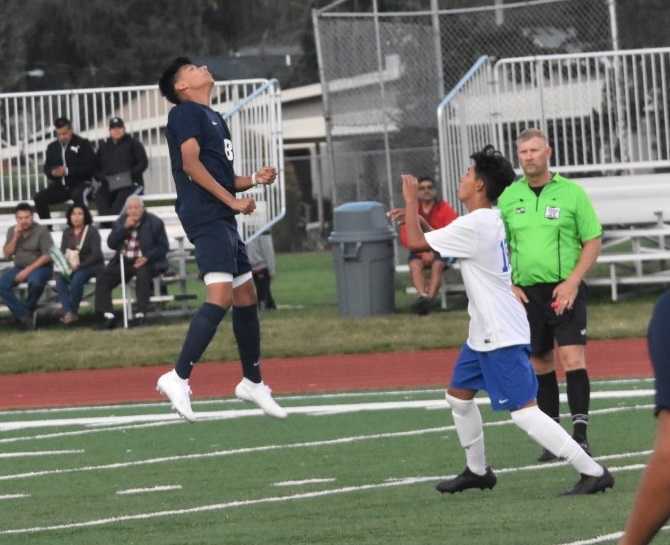 STAYTON – Once again, Stayton is a thorn in the side of Woodburn's boys soccer team.
The Eagles, the only team to beat Woodburn last year, handed the reigning 4A champion Bulldogs their first defeat this season with a 2-0 decision in an Oregon West Conference match Thursday at Stayton.
"They know that we're just as good as they are and we know that they're a team that are going to come out compete every day," Stayton forward Omar Renteria said. "I think next game (Oct. 17 at Woodburn) is going to be just as tough, and it's going to be a better game."
No. 1 Woodburn (3-1-1, 2-1) was forced to play a man down after Adrian Jimenez earned his second yellow card in the 35th minute. The third-ranked Eagles (5-1, 4-0) took a 1-0 lead in the 38th minute on a goal by Ivan Munguia.
Woodburn turned up the pressure to start the second half but the Eagles were able to maintain their lead.
"We just got to work harder. They're a really good team, good, effective offense," Stayton midfielder Jayden Esparza said.
Stayton's Pablo Aceves had a goal waved off due to a goalkeeper obstruction in the 63rd minute, but Esparza connected in the 67th minute to make it 2-0.
The Eagles have outscored their opponents 23-0 during a four-game winning streak since losing to second-ranked Valley Catholic 5-1 on Sept. 5. Following that defeat, Stayton coach Chris Shields made a change in the offensive scheme to better fit his team's athleticism.
"We've moved things around to make things less complicated," Shields said. "We were playing a system that really required people to be smart and make smart choices.
"I feel like my guys are really good athletes … Instead of box that in and be like, 'No we're not going to be athletes, we're going to be footballers, we're going to make smart football decisions,' and just unleash that. … So I think the changes have been really positive."
The Bulldogs' Jimmy Martin, who had a hat trick in a win over Stayton at Woodburn last season, found a few creases late in the game to try to help spark a late-game rally, but could not convert.
Woodburn, which won 5A titles in 2016 and 2017 before dropping to 4A last season, had outscored its foes 32-1 this season. The Bulldogs tied 5A Hood River Valley 1-1 on Sept. 12.