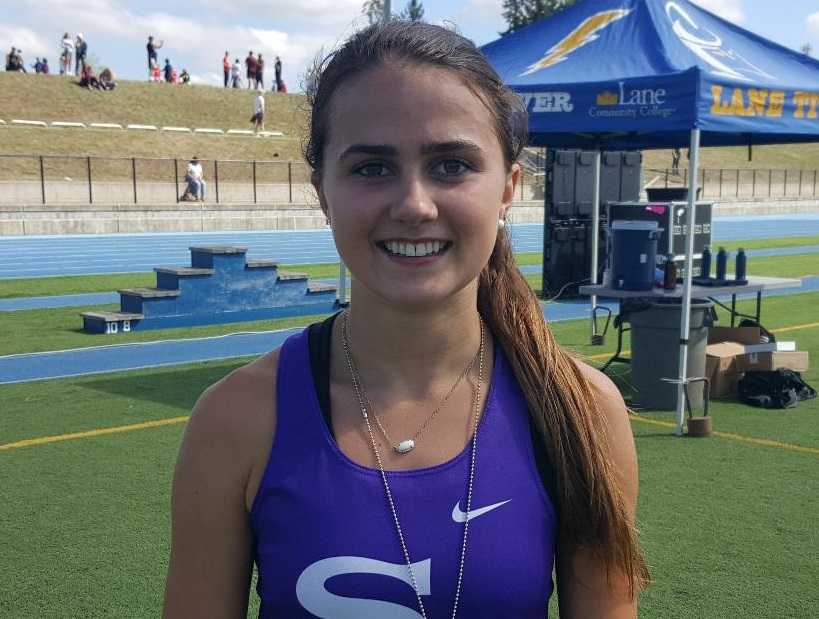 Madison Elmore is running the way she always knew she could, which is good news for a strong girls cross country team at South Eugene.
Elmore dipped under 18 minutes at the Northwest Classic last Saturday on a 5,000-meter layout at Lane Community College that is similar, but not quite the same, as the OSAA state championships course.
Elmore finished second behind reigning 6A champion Fiona Max of Summit, but was happy to cross the finish line in 17:56.5. She also won the Southwest Conference Pre-District meet on Aug. 30, running 18:36.8, also at Lane.
"I think I can build off that," Elmore said Wednesday as she prepared for a recruiting visit to Tennessee. "I'm really excited and also excited about our team."
It hasn't always been smooth sailing.
Between Elmore's sophomore and junior years, she missed three opportunities to compete at state championships.
Two years ago, as a sophomore, a badly timed bout of pneumonia knocked her out of the season right before the district meet. While she lay in her bed at home, the South Eugene girls were unable to qualify for state without her.
That same week, legendary South Eugene coach Jeff Hess announced he was retiring.
"I loved Jeff. Going into South all you heard about was Jeff Hess," Elmore said. "We were all a little surprised when he decided to go."
Capable assistant Steve Richards took the reins and has kept the momentum going for one of the strongest programs in Oregon.
For Elmore, it was an adjustment. After a third-place finish in the 1,500 meters at state as a freshman, she entered her sophomore track season with high hopes.
By the time she reached her district meet, again, she was in trouble. With a dull pain in her lower left leg, Elmore tried to gut it out and qualify for the state meet. But the pain was too severe, and she didn't finish the race.
She had a stress fracture. That meant going into the summer wearing a boot.
"At that point, I was pretty down and out about it," Elmore said. "But I was still a sophomore, so I know I still had time."
She worked hard, cross-trained, and got ready for her junior year of cross country.
That too, started off well. She ran 18:04 at the Northwest Classic and then logged a 5K PR of 17:35.6 at the Southwest Conference Pre-Districts.
But at the district meet on Oct. 24, while leading the girls race, she tore the plantar fascia in her left foot.
"That last 800 I was limping in," she said.
She managed to finish second, but was not able to compete at state. She was not able to run for three months.
When the spring season started, Elmore's coaches crafted a specific workout plan designed to get her slowly back into racing shape. And bit by bit, she got better.
Her biggest moment of high school running finally arrived when she held off Max to win the 6A 1,500 meters final in 4:27.13. It was the first time she had exceeded her eighth grade PR of 4:30.19.
"I was really fast in middle school and so I had this expectation on me, and from other people," Elmore said. "There were times when I felt like I wasn't on the path of the elite group of girls anymore."
The victory at the state track meet, which helped South Eugene carry the day and win the team title, restored Elmore's belief that she belonged.
Along the way, Elmore has learned how to deal with setbacks and how to embrace the everyday progress of being a runner.
"I definitely pushed too hard when I was younger and didn't understand (the value of) recovery," she said. "I was way too focused on times, and defeating my past times. Last track season was all about just being healthy and not focusing on numbers – because that's all I used to focus on."
Now, with a 4:27 1,500 meters PR to her credit, college coaches have come calling.
And she is healthy and ready to help her team compete in what promises to be a spectacular 6A girls state meet. If she can make it there, it would be her first state cross country meet since 2016.
"I had a lot of low points, wondering if this is what I was supposed to be doing," Elmore said. "It came back to I love running so much, and it wasn't really an option to not do it. I had a good support system from my family and coaches and that really helped."
The next big race for Elmore is Nike Portland XC, Sept. 28 at Blue Lake Park.
Doug Binder is the editor of DyeStat.com