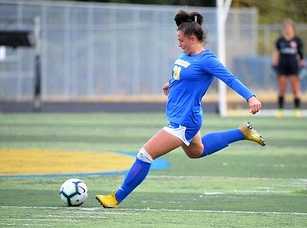 Heading into the season, perhaps the biggest challenge for Barlow's girls soccer team is tempering its excitement.
The Bruins not only have nine starters back from a team that reached the 6A quarterfinals – their deepest run since 2007 – but they finally get to play at their new home stadium.
For Barlow coach Jay Jacobsen, a 1998 Barlow graduate who played his home matches on the outfield of the baseball field, the artificial turf complex is a significant upgrade.
"It means the world to us, the community and the program," Jacobsen said. "I know the girls are super excited to play on it. It's been a long time in the making."
The opening of the new stadium coincides with what appears to be Barlow's best team in decades. The Bruins, No. 8 in the OSAAtoday 6A preseason coaches poll, are surging with confidence after going 14-2-1 last year and finishing as the Mt. Hood Conference runner-up to Clackamas.
"The last couple years with some games we won against some great teams – and last year with the great run we had – it kind of gave our group a taste of what it's like, and what it takes to get to the finals," Jacobsen said. "Our mindset this year is we definitely want to get back and go a little bit deeper."
Barlow has a nucleus of third-year starters in junior forward Abi Hoffman, junior midfielders Mikayla Topaum and Rianna Strain and senior defender Rachel Maness.
Hoffman, who scored 25 goals as a freshman, recorded 34 goals and 14 assists last season. The two-time Mt. Hood Conference player of the year, she was named the United Soccer Coaches state player of the year last season.
Topaum (18 goals, 18 assists) and Maness were first-team all-conference selections in 2018. Maness – along with seniors Krista Dorsing and Allie Riggs and sophomore Erin Marynik, a transfer from Gresham – leads a defense that allowed only 16 goals last season.
After peaking too early in 2017, when they went 9-4-2 and lost in the first round of the playoffs, the Bruins hit their stride midway through last season and powered through to the quarterfinals, where they fell to West Linn 2-0.
"I always have big goals for our team," Jacobsen said. "Did I see us going to the quarterfinals? I'd be lying if I said yes, just because we were on the younger side. I had a ton of sophomores last year. Do I expect it this year? Yes, I expect us to get back to there and even a little bit further."
Barlow shared the Mt. Hood title with Clackamas and Oregon City in 2017 but hasn't won an outright conference championship since 2013.
Clackamas, which has won four Mt. Hood titles in the last five seasons, is a daunting obstacle. The Cavaliers, ranked sixth in the preseason poll, graduated much of last year's 6A runner-up team but have a deep program.
"I respect that team at Clackamas," said Jacobsen, whose team plays host to the Cavaliers on Oct. 15. "They've got some great players. I think they'll still be a solid team. We always have that game circled on our calendar."
In last year's 4-0 loss at Clackamas, the Bruins never recovered after wasting some early scoring opportunities.
"They scored and it kind of took the wind out of us," Jacobsen said. "They got us a little uncomfortable after they scored a few goals, and just got us down."
Barlow's nonleague schedule includes games Sept. 11 at home against Lakeridge and Sept. 24 at Lake Oswego. The Lakeridge game will be the Bruins' debut on their new field.