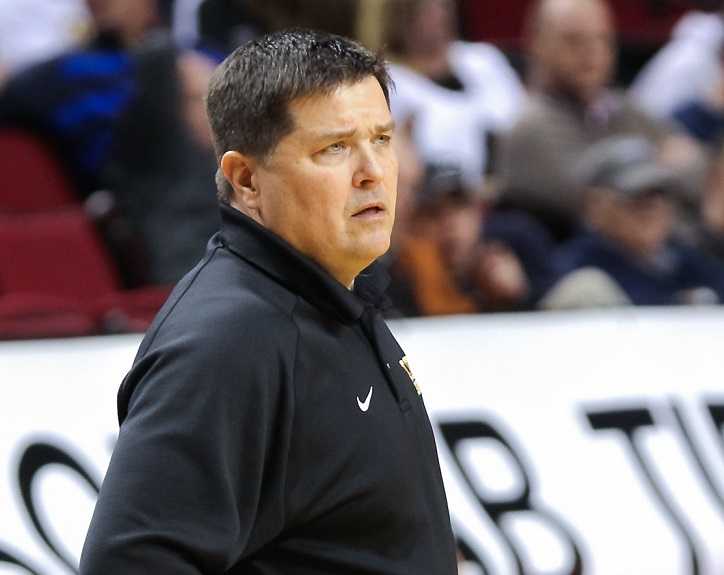 WEST LINN -- Eric Viuhkola thought he knew what to expect this spring when he decided to return as boys basketball coach at West Linn, where he left in 2016 after guiding the Lions to four consecutive 6A titles.
As it turns out, though, putting his stamp back on the program has been an unexpected challenge.
"I didn't know it was going to be that much different," Viuhkola said. "It really is like starting from scratch. It feels like when I first went to West Linn and basically started over."
Viuhkola went 166-55 in eight seasons with the Lions before stepping down to have more time to see his children – Vanessa and Zeke, who are heading into their senior and sophomore years, respectively, at West Linn – play sports.
Tyler Toney, an assistant for five seasons under Viuhkola, took over as coach and went 52-28 in three seasons. He resigned following last season, when West Linn finished 12-14 and lost in the second round of the 6A playoffs.
Viuhkola stayed in touch with the program since his departure, even running practices and scouting in 2017-18, but the Lions' style changed to reflect Toney.
"We're very different," Viuhkola said. "Tyler is a lot more easygoing, kind of laid back, is really good at letting guys kind of do their thing and play with a lot of freedom. I think I give our guys a lot of freedom, but I'm probably a lot tougher on kids. There's a certain way I want us to play, a little bit more disciplined."
Viuhkola's teams were heavy on trapping and man-to-man defense, but Toney favored more switching.
"We just do things differently," Viuhkola said. "He wanted to put his stamp on it and do it his way."
After Toney resigned, West Linn athletic director Mark Horak approached Viuhkola to gauge his interest in returning. Viuhkola didn't want to miss out on watching Vanessa play on West Linn's girls team, but Horak agreed to try to schedule boys and girls varsity league games at the same sites, according to Viuhkola.
It was too good for Viuhkola to pass up.
"I missed it a lot," he said. "I was only going to coach at West Linn, and if Tyler would ever step away, I would consider it and go for it. I wasn't going to coach anywhere else. The opportunity arose, and Mark Horak and I are really good friends, and he put the big sales pitch on me."
The Lions struggled last season. It didn't help that junior guard Micah Garrett missed two games for disciplinary reasons and junior guard Bryson Crockett suffered a season-ending ACL tear in a league game against Lake Oswego.
Garrett since has opted to transfer to Jefferson, his home area before starting high school at West Linn.
"I would've loved if Micah would've came back," Viuhkola said. "I thought I could've helped Micah. I think he could benefit from the way we're going to play."
Crockett is expected to be out until at least late October as he recovers from knee surgery.
"If he's not a Division I kid, he's really close," Viuhkola said.
Several other incoming seniors – wings Parker Durbin and Joe Juhala and guards Gus Michelon and Kelton Herrick -- played key roles last season. And the Lions will welcome one of the state's most highly regarded freshmen in guard Jackson Shelstad, who already has a Division I offer from Eastern Washington.
The 5-foot-10 Shelstad, who also plays quarterback in football, has drawn comparisons to former West Linn star Payton Pritchard.
"Physically, I'd say he's further along," Viuhkola said. "It was above the shoulders where Payton was just a one-percenter. Jackson's got a long ways to go to be mentioned in the same breath, but I think he could be a Division I kid when it's all said and done.
"He's super, super athletic. He's jet quick. He's really skilled, a really good ballhandler and can shoot it. When he was in the fourth grade, I was telling people he was the next one in line at West Linn at being one of the great athletes."
Viuhkola said he likes the improvement he has seen from the Lions during the summer schedule, which concludes this weekend with a team camp at the University of Oregon. He believes they can be contenders in the Three Rivers League.
"It depends big-time on how healthy Bryson's going to be," Viuhkola said. "He can be a first-team all-state guy. He's that good. I'm hoping by the end of the year we're going to be really, really dangerous."