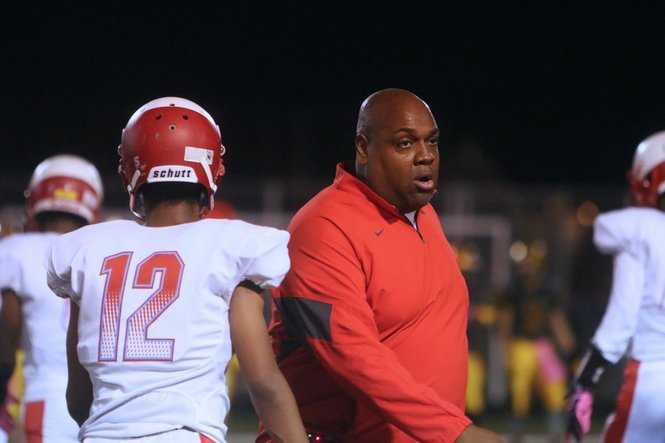 The last time Don Johnson Jr. took a football head coaching job in the Portland Interscholastic League – at Madison in 2015 -- three players showed up to his team introduction.
So when Johnson became Jefferson's coach late last month, and 28 players attended the initial meeting, he was way ahead of the game.
"I think this school is a little more spirited about sports," Johnson said.
No matter, Johnson is undaunted about taking over struggling programs. In his three previous coaching stops – Milwaukie (2012), Evergreen of Vancouver (2013-14), and Madison (2015-17) – he reversed teams' fortunes, along with producing 11 Division I scholarship players.
In Jefferson, Johnson sees a golden opportunity. It was enough for him to get back in the game after taking a year off from high school coaching.
"If there was any place I wanted to be, that was it," said Johnson, who has a day job as an account manager. "I enjoy that community, and I think with a strong basketball program, strong athletic department and strong administration, it was a perfect fit for me. Out of any school I could pick, I'd pick Jeff."
Jefferson hasn't won a playoff game since 2010, the end of a successful four-year run in which the Democrats finished as 5A runners-up in 2009 and went to the semifinals in 2008. They have hovered near .500 in 6A in recent seasons, but dipped to 2-7 last year under first-year coach Ritchie Martin, beating only Madison and Franklin.
Johnson is encouraged by the young talent he is inheriting.
"They have a really strong youth program," Johnson said. "Their eighth-grade team won a couple championships in the last couple years. There's a foundation to build on. The program is really young, a lot of 2021 and 2022 kids. They're athletic and they work hard."
Despite its enrollment of 482 – by far the lowest in 6A – Jefferson always seems to be stocked with elite athletes in its powerhouse basketball program. Johnson would like to see some of that translate to the football field, making it a point of emphasis to appeal to basketball players, with the blessing of coach Pat Strickland.
"I have a great relationship with coach Strickland," Johnson said. "I would say 90 percent of the basketball team has been out playing football. We share calendars, and the kids have been splitting the sports. We ran gassers after one of our workouts, 30 minutes before a summer league basketball game, and all those guys jogged inside and played in the basketball game."
Of the nine basketball players that have joined the workouts, none has played high school football, according to Johnson.
"We have a lot of basketball players that are shocking, that are very athletic and are going to be good football players," Johnson said. "Some of them were stars in the eighth-grade. Some of them were big-time youth players and they just stopped playing in the ninth grade."
Johnson's most important task will be boosting turnout. When he took over at Madison, the Senators were coming off an 0-9 season in which they forfeited their last two games for lack of players. They went 2-7, 8-3 and 5-5 in his three seasons, and by the time he left, they had about 75 players in the program.
The rise in participation was even more dramatic at Evergreen, where turnout rose to 162 from 44 when he took over. Johnson said Jefferson currently has about 40 players, not counting the incoming freshmen.
"It would be great to start off the first year with 75, 80 kids," Johnson said. "In the years after that, you want to have three strong levels, if possible."
Johnson is counting on his staff to draw athletes. His assistants include former University of Oregon quarterback Darron Thomas and Houston Lillard, who played quarterback at Southeast Missouri State and founded the Team Lillard 7-on-7 and skill development program.
"It's a bunch of guys who do things in the inner city anyway, and want to be around inner-city kids and help out," Johnson said. "These kids need a lot of love right now."
Jefferson's roster includes tailback Damir Collins, who ran for nearly 2,000 yards as a sophomore last season and has earned a scholarship offer from Nevada, as well as a talented cornerback in Ashon Hale, who will be a senior this year. The Democrats also have plenty of experienced linemen.
"If we could get these kids engaged, it could be special," Johnson said. "The type of battles that we fight are not football. When you get to know some of these kids and understand their home life, things like that, we can do big things. It can be a lot of fun, and we can save a lot of kids, too."
Johnson said his son, Keenan Speer-Johnson, a freshman receiver in the Central Catholic program last season before transferring to Tigard, will remain at Tigard.