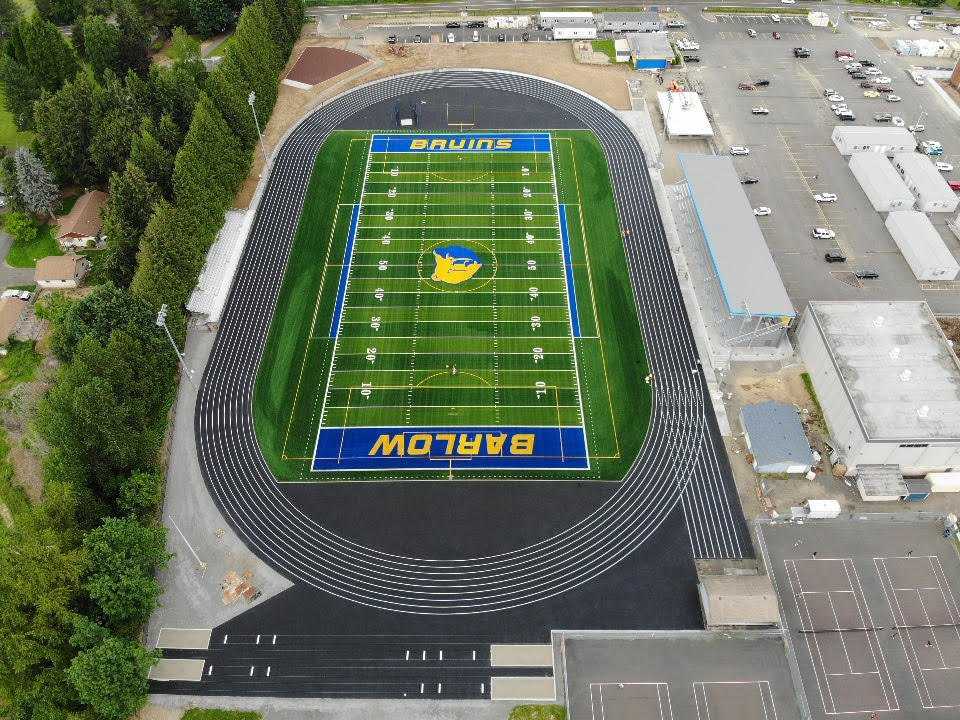 From their first football season in 1968, the Barlow Bruins have not had an ideal home of their own.
For nearly five decades, the Bruins played at one of the state's finest stadiums in Mt. Hood Community College, but it was four miles away and they shared it with another school.
In 2014, Barlow began to regularly play home games on its campus, but the substandard facility had an old, uncovered grandstand and lacked many amenities, such as visiting bleachers.
Thanks to the passage of a recent bond, all that's about to change.
This fall, Barlow will play at a new stadium complex on its campus. The $5.2 million project will include a covered grandstand to seat 1,500 on the home side, bleachers to accommodate 500 on the visiting side, a new FieldTurf artificial turf surface and new lighting, as well as many other features.
"I think it's incredible. It's something we've never had before," Barlow athletic director Greg Kelley said. "We're so thankful to the community for providing this for us. It's going to give the kids so much more to take pride in."
The upgrades include a new eight-lane track and new runways, jump pits and throwing rings. With the improvements, Barlow is scheduled to play host to the Mt. Hood Conference district track meet next year.
The school also made $500,000 worth of improvements to its gym, replacing the floor and adding new vinyl wall graphics, wall pads and a scoring table.
"The gym is an old structure, but everything inside is basically brand new," Kelley said.
Due to the stadium project, Barlow played its home football games at Gresham High School last season. The school is scheduled to gain use of the stadium complex Aug. 12.
The grandstand will have a three-room press box with video wells on each side. A raised area on the north end of the complex will include a permanent concession stand, restrooms and two ticket gates. A new parking area on the north end, off SE Lusted Road, will have 45 spaces.
"It's a pretty darn impressive facility," Kelley said. "Just from walking around, just imagining what it's going to be like, it's going to be pretty awesome. Having a larger stadium, it's just a different experience for high school football. It makes it so much better."
It will be in contrast to the previous stadium arrangement, which Kelley said had a certain kind of "down-home" charm in that it allowed fans to sit on lawn chairs at the edge of the field.
"There were some aspects of the venue that we had that were pretty cool," Kelley said. "That stuff won't necessarily be there as much, but I think the stadium and the atmosphere that it's going to bring will be something completely different that will be even better."